Jordan Barry
Maple, apple and butternut bisque and the Vermonter at Garden of Eatin' Café
Gardeners have the power to save the world. They grow food to feed the hungry, provide habitat for threatened pollinators and help reduce the carbon footprint.
The
Garden of Eatin' Café
has the power to save the holidays — or at least my sanity while holiday shopping. I'd had a stressful morning in the big box stores — whipping through the aisles of soulless shelves, making lists, checking them twice, and trying to get the heck out of there as quickly as I could — when I rejoined reality in a lush greenhouse at the Williston outpost of
Gardener's Supply Company
.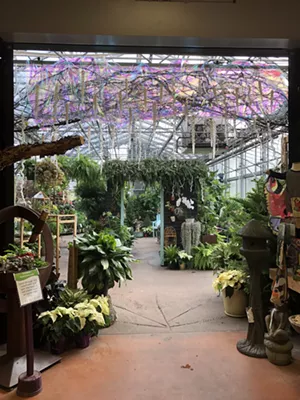 Jordan Barry
Festive decorations at the Williston location of Gardener's Supply
The lunch options in Williston are pretty bleak, and if I didn't eat soon, I was likely to be involved in this year's version of a Tickle Me Elmo brawl. My husband, always a patient shopper, was trying valiantly to convince me that the hotdogs at Home Depot are "really pretty good," when I remembered that Gardener's Supply has an in-house restaurant. It was a Christmas miracle.
Garden of Eatin' has been open since 2003, offering a menu of sandwiches, homemade soups, frittata and salads that changes daily — and everything is under $12.
I ordered a soup and sandwich combo ($9.95): a cup of maple, apple and butternut bisque and half of the Vermonter — turkey, Granny Smith apple, red onion, cranberry spread and cheddar on whole wheat bread, pressed on the grill. My husband, quickly forgetting the hardware store hotdog idea, went for a full Vermonter ($9.95).
Jordan Barry
Garden of Eatin' Café at the Williston location of Gardener's Supply
The café's 25 seats were surprisingly full on a Thursday afternoon, so we took a few minutes to look around at the well-curated (and decorated) gift selections while we waited for our lunch. I had almost convinced myself to return everything I bought earlier in the day in favor of gifting seeds and shovels when my name was called; we grabbed a seat at a hefty wooden table and dove right into our hot-pressed sandwiches.
The Vermonter, with its turkey, apple, and onion, reminded me of the
Red Onion
's massive eponymous sandwich. It has the same hint of sweetness and the bite of the onion, but without bacon and with a tart cranberry spread instead of the sundried tomato mayo. I love the Red Onion sandwich, and was happy to try a reasonably sized riff.
The bisque was piping hot and stick-to-your-bones thick. A healthy shake of black pepper tickled my throat, while the apple notes gave some tang to the maple and squash. I'm not always a soup person, but this bisque made me want to go back and try the rest of the café's homemade options — especially if they make a split pea.
Happily refueled, the good food and the welcoming, green atmosphere of Gardener's Supply washed away my bah humbugs. While composting my soup container and spoon, I thought to myself, M
aybe holiday shopping isn't so bad.
I even bought a wreath on the way out.
Dining on a Dime is a weekly series featuring well-made, filling bites (something substantial enough to qualify as a small meal or better) for $12 or less. Know of a tasty dish we should feature? Drop us a line: food@sevendaysvt.com.