Sally Pollak
Stuffed tomatoes at Friend's Nepali Restaurant
When my computer was getting fixed last week in Winooski, I ducked into a restaurant for lunch across the street from the repair shop. What a lovely surprise!
Friend's Nepali Restaurant opened six weeks ago at 212 Main Street in Winooski. Its chef and co-owner, Ram Kadariya, started the restaurant after cooking at Central Market in Burlington.
Kadariya, 36, was behind the counter when I walked in and he was happy to consult with me about what to eat. Friend's Nepali prepares cuisine from India, China and Nepal. Kadariya told me he plans to introduce food from Bhutan, where he was born.
I was choosing between saag paneer and vegetable korma when Kadariya steered me in a new direction: stuffed tomatoes. What can you do but say yes when the cook tells you what he wants to make?
Plus, knowing that I was eating on a $12 budget, the $8.50 tomato dish — cheaper than the other options — allowed me to order garlic naan ($3). The toasty flatbread with pockets of puff was enough for two.
The tomatoes were cooked to order — starting with Kadaryia scooping out the insides, chopping up the fruit and returning it to the shell with ingredients that spilled over the edge and included potatoes, garlic, ginger, curry and coconut milk. The dish was served in a rich and flavorful broth with a side of rice.
One other party was eating at the restaurant that afternoon. A diner in the twosome spotted my food and noted how delicious it looked. The customer, a woman named Thato Ratsebe, works in support services at the
Association of Africans Living in Vermont
. It was her first visit to Friend's Nepali Restaurant, where she followed Kadariya for his noodles. She's a fan from his time cooking at Central Market.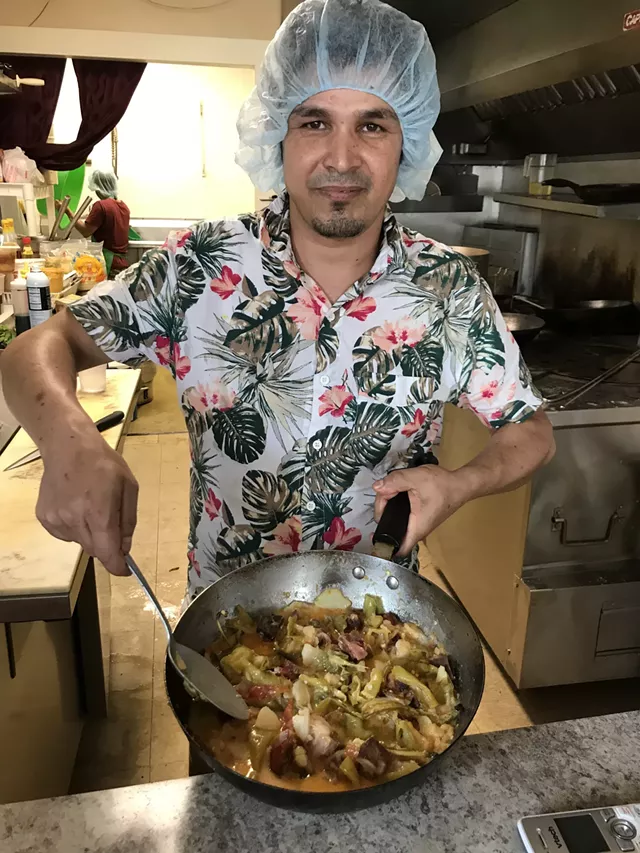 Sally Pollak
Ram Kadariya
I was intrigued by Ratsebe's meal as well, and hope to return for chicken saag and aloo matar.
But the staff meal looked pretty good, too: In the wok where Kadariya was cooking it was a Bhutanese stew of pork, potatoes, peppers, tomatoes, scallions and cheese. It could hit the menu one of these days.
Dining on a Dime is a weekly series featuring well-made, filling bites (something substantial enough to qualify as a small meal or better) for $12 or less. Know of a tasty dish we should feature? Drop us a line: food@sevendaysvt.com.