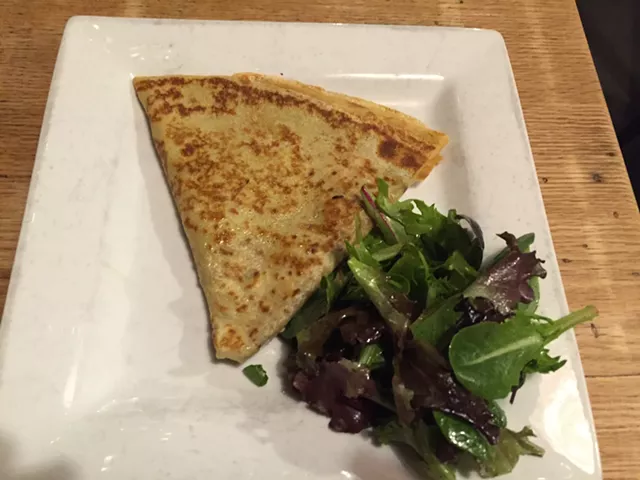 Sally Pollak
Cheesy-pesto crepe
Wednesday was a slow night at the
Skinny Pancake
on the waterfront, where outside the wind dominated the action. By the time I arrived, at around 6:30 p.m., the restaurant was offering a limited menu.
I chose the cheesy-pesto crepe, $7.95, and ate a quick supper — sorry that a few of my favorite things, including salad with goat cheese and apples, spinach-artichoke dip, and the Jonny crepe, were off-limits. (I still haven't recovered from the loss, years ago, of cheese fondue from the menu.)
Although it was a quiet night at the restaurant, the crew was anticipating big things. General manager Mike Kennedy was busy at a chalkboard, teasing new menu items (due March 1) in fuchsia block letters. Kitchen manager Curtis Garrow was looking ahead, too. To today — Thursday, February 1.
February 1 is Free Crepe Day at the Skinny Pancake, which is offering two sweet crepes at no cost. Garrow spent much of Wednesday filling squeeze bottles to prep for today's giveaway.
"We're getting ready for when it gets crazy," he said.
Sally Pollak
Curtis Garrow, kitchen manager of Skinny Pancake
The Skinny expects to give away 1,500 crepes at its Lake Street location, according to Garrow, where free crepes are available from open to close. At the restaurant's University of Vermont outpost, where the giveaway starts at 2 p.m., Garrow plans to serve about 2,500 free crepes. College kids sometimes eat a freebie and get back in line for seconds, he said. Free crepes are also available at the Skinny's Montpelier and Hanover, N.H., locations.
The free desserts crepes are the Sugar Shack — which is filled with maple sugar and butter — and a new creation called, at least for now, Choco-Nutty. The latter features a hazelnut-chocolate spread,
Nutkao
, that Skinny Pancake recently started to use. The restaurant dropped
Nutella
in favor of a similar product that contains no palm oil. This makes the new spread more sustainable, according to the restaurant.
As part free crepe day, the Skinny is hosting a naming contest for its Choco-Nutty crepe. In case I don't make it back for a sweet freebie, I'm casting an absentee ballot for Not Nutella, or
n²
.
Dining on a Dime is a weekly series featuring well-made, filling bites (something substantial enough to qualify as a small meal or better) for $12 or less. Know of a tasty dish we should feature? Drop us a line: food@sevendaysvt.com.