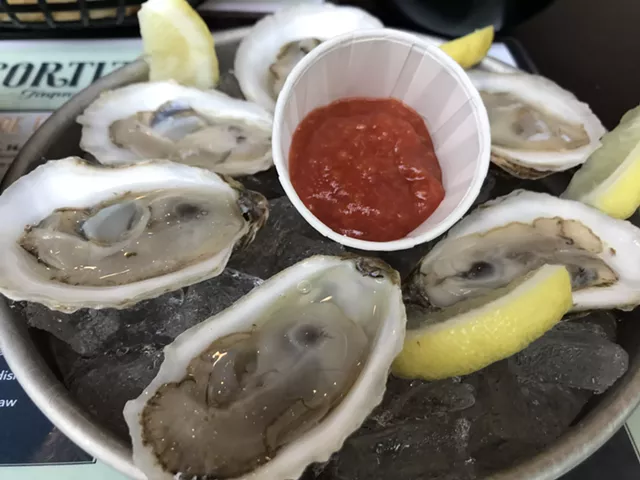 Sally Pollak
Oysters at El Cortijo in Winooski
Here's the thing about raw oysters: Either you like 'em or you don't. If you do, you probably love them. I'm in that category. Big, deep, ocean-size love. Even a little saltwater "farm" that breeds them is OK with me. Who cares?!
So I was pleased to learn that the new
El Cortijo Taqueria y Cantina
, which opened 10 days ago in Winooski, has oysters on its menu. Bivalve happy hour — when oysters are a buck a piece — is from 4 to 5 p.m. and again from 9 to 10.
The Winooski branch of El Cortijo, the sixth
Farmhouse Group
restaurant, is a casual eatery in a former hair salon. It's furnished with about a dozen tables and it's got a bar backed by a brick wall. Like its Burlington compatriot, this El Cortijo specializes in tacos but serves more, including burritos, rice and beans, salads, enchiladas and daily specials. But — and this is a big "but" — it also has oysters.
My friend and I met there the other day. Because there were two of us I made a bold decision to double our Dining on a Dime spending limit from $12 to $24.
We shared 12 oysters from Cape Cod, briny little suckers that went down with a jerk of the neck ($12), and guacamole with chips and salsa ($11.95). For financial symmetry, I threw in a $12 drink: a blood orange margarita. I've been a fan of that strong and good-looking cocktail since I drank my first one more than seven years ago, when the original El Cortijo opened on Bank Street in Burlington.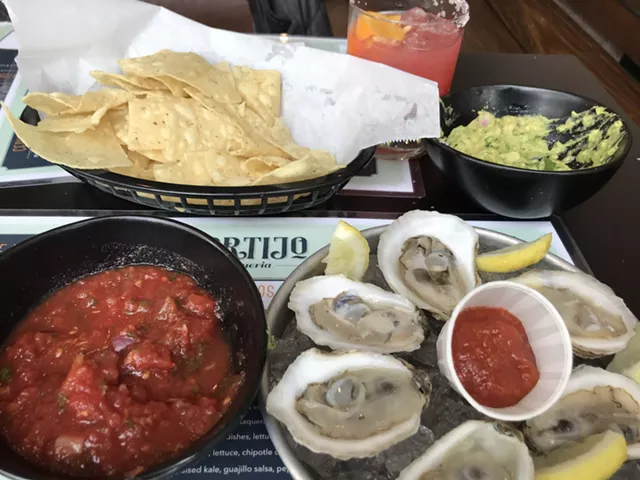 Sally Pollak
Oysters and guacamole at El Cortio in Winooski
Our guacamole was a substantial and tasty serving that came with drizzled olive oil, red onion crunch and scattered cilantro leaves. The salsa was thick, the chips warm. We needed two basketfuls to scoop up every smear of guac and slurp up all our salsa. All this, of course, was just accompaniment for the raw stuff.
The oysters came in two installments — a nice touch — so we slid down the first six while chef Phil Clayton shucked our next batch. He did this with such expertise, we didn't need a baby fork to dislodge the flesh from any tendon-y attachment.
My friend and I developed a quick rhythm: squirt of lemon juice; drop or two of classic cocktail sauce; rocky shell to mouth; a tip of the head to score that instant oyster gratification. You barely need to chew, much less swallow. The prize was grit-free.
I recently asked a few food people in town to describe what an oyster tastes like. I got a little hemming, a little hawing, a cliché or two. One of them referred me to the bathroom in his restaurant and told me to check out the artwork on the wall.
Sally Pollak
Oyster art in a Burlington restaurant bathroom
I did as directed and descended to the toilet. There, I found a framed print of Early Man slurping an oyster out of its shell. The caption reads: "The Very First Oyster Ever Eaten — At First Fright, Then Delight."
True dat.