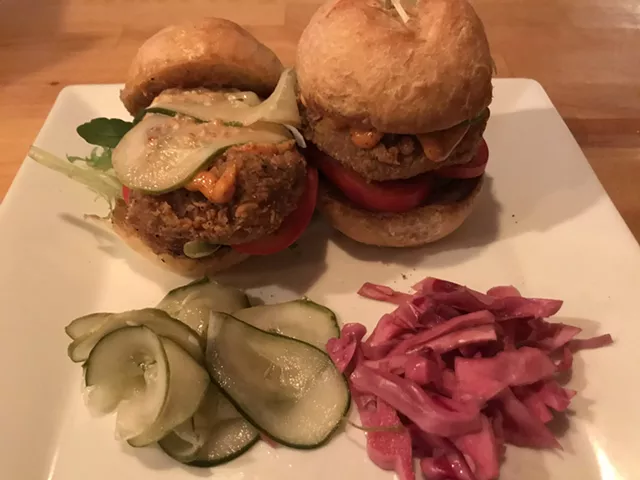 Sally Pollak
Chickpea patties at Drifters
Andrew Ryan wore his baseball cap backward the other night at
Drifters
, his restaurant in Burlington's Old North End. From a dining table that Ryan built from driftwood, I could read the writing on the bill: BUTTER.
But there was none in my meal, nor in many others Ryan cooked that night. I dined happily on the vegan chickpea patties ($12), which were offered last week for a
Seven Days
Burger Week special.
The slider-size fritters came with lettuce and tomato, and were served with cabbage slaw and a mound of tangy sliced pickles. I drank a beer and ate Oreos for dessert. The cookies, filled with holiday-hued red creme, were set in a bowl on the bar, free for the taking. (In spite of "cross-contact" with milk, according to an Oreo's FAQ, the cookie is vegan enough for me.)
Ryan is chef-owner at Drifters, which he opened three and a half years ago. His menu has several vegan options and routine vegan specials, meals that server/bartender Maddy McKenna told me are more popular by the day.
"Everyone deserves to be able to eat out," McKenna said. "You can get creative with vegan food and you can make it delicious, [with] an appreciation for plants."
I count seven vegan items on Drifters' menu, including the house salad with kimchi and toasted pistachios ($6), root vegetable fries ($6), seitan tacos ($8) and veggie sliders ($8).
The chickpea patties I ate for Burger Week were dressed with chile aioli and pickles. I added a little crunch between the buns with a spoonful of cabbage, and enjoyed the meal and the cafe's easygoing vibe.
Before I left, I took a look at the beef burger that Drifters also served for Burger Week. The plate was full and beautiful, but it was the crispy fried shallots — not the meat — that tempted me. Drifters is a good place to drift toward non-meat eats.
Dining on a Dime is a weekly series featuring well-made, filling bites (something substantial enough to qualify as a small meal or better) for $12 or less. Know of a tasty dish we should feature? Drop us a line: food@sevendaysvt.com.