Julia Clancy
Costello's Market with holiday items and a framed Seven Days article
In the back parking lot of Middlebury's Marble Works District,
Costello's Market
is dressed up with string lights and pine wreaths ribboned in Santa Claus red. Christmas music hums from inside — Darlene Love's "Christmas (Baby Please Come Home)" and a smattering of Frank Sinatra.
The market was shuttered for two weeks around Thanksgiving for the owners' annual trip to Italy. For me as a Midd local, it was a bleak 14 days of unquelled cravings. Now, with a fire newly flickering in the market's wood-bellied stove, the place offers double relief: a Costello's fix at a "dime"-worthy price.
As a bonus, I can do some holiday shopping while I wait for my food. Because, like me, my loved ones appreciate a present they can eat. (Another bonus: The store owners visited the Lombardy region and a town in Liguria known for focaccia and pesto Genovese. They brought back goods such as white chocolate and pistachio torrone.)
Costello Market opened a decade ago this February, and has since become a local hub stocked with the trappings of an Italian specialty foods store. The co-owners are Carolyn Costello and John Hamilton. Each day except Sundays and Mondays, when the store is closed, Costello is behind the counter, greeting customers with a hello and a catchphrase, "Thanks for thinking of us today!"
Hamilton, meanwhile, is tucked in the kitchen, pulling fresh lasagna through the pasta wheel or turning tortellini by hand on a long wooden countertop.
Behind the deli case are inky black olives bathing in their brine; fresh orbs of house-made mozzarella; chunks of imported cured meats next to local mascarpone and burrata; deep fried arancini, marinated cucumbers, stuffed peppers and slabs of lasagna Bolognese ready to be warmed for dinner.
A neighboring display holds iced trays of fresh seafood delivered daily from Boston by
Black River Produce
. There are bay scallops and wild Gulf shrimp; sleek fillets of striped bass, haddock, tilapia and snapper; salmon steaks and yellowfin tuna.
Nearby, two standing coolers house take-away items such as chicken stock, local gelati and house-made ravioli with seasonal fillings. A shelf of Hamilton's sauces carries containers of porcini mushroom sauce, Bolognese and sugo di Amatriciana, ready partners for any of the dried and fresh pastas stacked along the market's walls.
Shall we talk about pasta? There are old reliables like De Cecco among the market's stock, but the imported dried varieties make excellent treats and holiday gifts (hint, hint). One counter near the beverage cooler carries enormous tubes of paccheri, saffron-kissed tagliolini, egg fettucini and — for the cooks, the Italians or the ambitious — Neapolitan tipo "00" flour for the pasta wheel.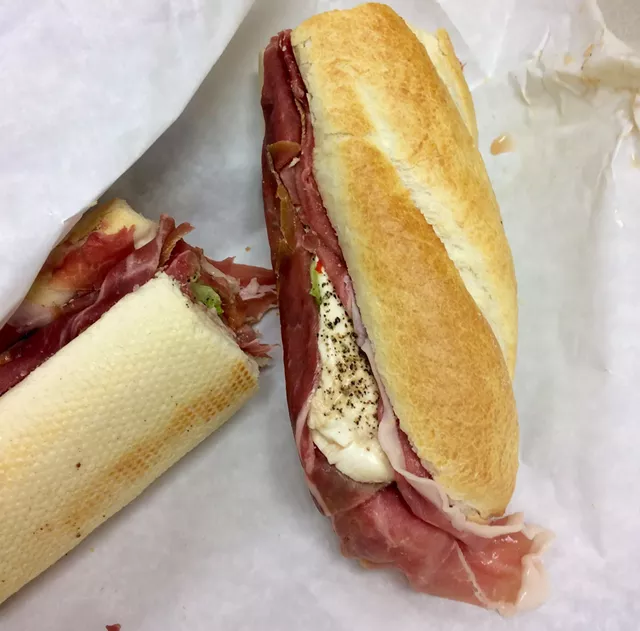 Julia Clancy
The "Soprano" sub at Costello's Market
For a late 3 p.m. lunch, I meander around Costello's with the rarity of having the place to myself. I chat with Costello and Hamilton about their recent trip, and ask them to tell me about those oven-bronzed wedges of Ligurian focaccia.
The soup specials are especially tempting today: pumpkin sausage ($4.95) and Tuscan ribollita ($3.95). Aside from some seafood-based take-away entrées, most menu items fit my "Dining on a Dime" budget. I peruse the menu, ultimately deciding between aged provolone and fresh mozzarella for my sub sandwich. (Full disclosure: I've been known to eat the market's fresh mozz with a knife and fork, like a steak.)
I opt to stick with the classics and order my go-to, the "Soprano": Hamilton's homemade sub roll packed with imported prosciutto, fresh mozzarella, lettuce, tomato and seasoned olive oil. It's $11.95 for a large, $9.95 for a small and, unless I've just hiked Camel's Hump, I go with a small; it's still more than half a foot long. The market has no indoor seating, but it's mild enough this afternoon to take my fare outside to the picnic tables overlooking the Otter Creek waterfall.
More Christmas tunes serenade me out the door as Costello calls behind me: "Thanks for thinking of us today!"
Dining on a Dime is a weekly series featuring well-made, filling bites (something substantial enough to qualify as a small meal or better) for $12 or less. Know of a tasty dish we should feature? Drop us a line: food@sevendaysvt.com.