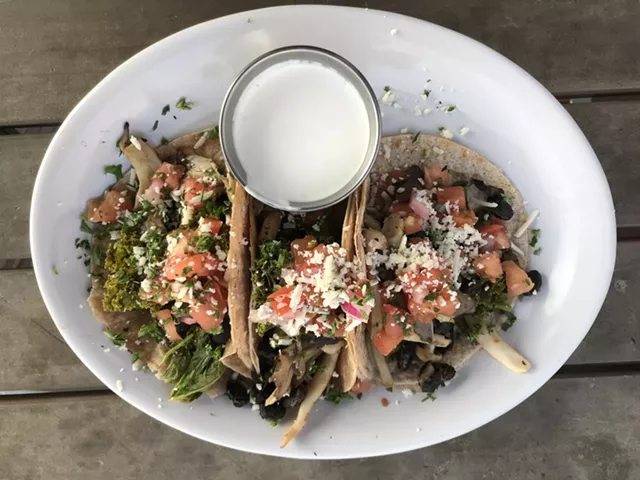 Sally Pollak
Mushroom tacos at Citizen Cider
"What's for dinner?" could be the most-asked question around.
"
I don't know yet" is the standard answer — and it's the one I got at around 11:30 a.m. on Tuesday morning when I called
Citizen Cider
to ask what the $10 special was for the weekly
Supper Club
.
The nonanswer, though a bit surprising from a restaurant, was nonetheless familiar. Who knows what's for dinner until about half an hour before you start making it?
The Citizen Cider employee suggested I call back at 4 p.m. to see what the night cooks had in mind. But by then, close to meal time, I'd have missed the opportunity to enjoy hours of anticipation. Even so, I figured I'd show up and try my luck. It's an approach I recommend.
There were two $10 options on Tuesday evening: wild mushroom tacos and chop chop salad. Because I was eating with three college students, I decided I'd get one of each, keep the tacos for myself and share the salad.
I also decided to cheat and spend more than my allotted $12, the amount permitted by "Dining on a Dime." For an extra four dollars, or $14 total, I added a glass of cider to my meal. The offering that night was Barrel Aged Stan, a dry cider aged in a bourbon barrel. It paired well with a sultry dusk on Pine Street.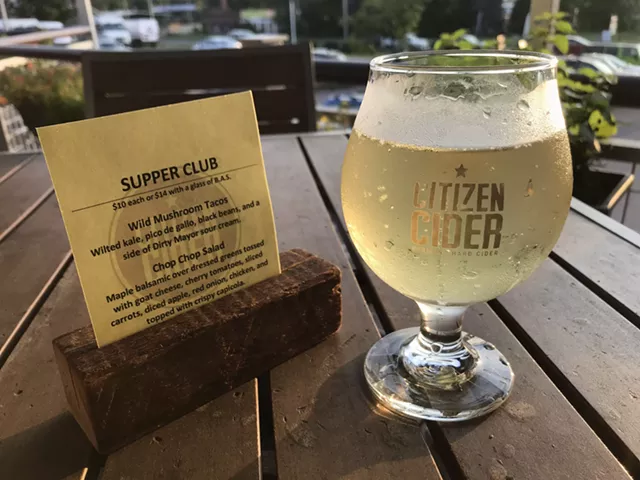 Courtesy of Dylan Francois
Supper Club menu at Citizen Cider
The three tacos, brimming with ingredients, were grounded by earthy and meaty mushrooms. Wilted kale, beans, chopped onion and tomatoes, and sprinkles of cheese filled out the soft shells. These yummy ingredients were enough to fill me up, but I made room for some chop chop salad — an abundant mélange of greens tossed in maple vinaigrette and piled high with chicken, goat cheese, tomatoes, crispy capicola, apples, carrots and red onion. Ten dollars. Wow.
My dining companions ate tacos, a cheeseburger and fries, and chicken wings and Brussels sprouts — and they delighted in our shared salad. At meal's end, they noted with awe that our server, Derek, cleared ten plates from our table in one swoop. He balanced eight plates on his tattooed forearm, put two more in his other hand, and, just like that, evidence of our feast disappeared.
We headed to the waterfront and
Burlington Bay
for the year's most bittersweet eating event: a back-to-school creemee.