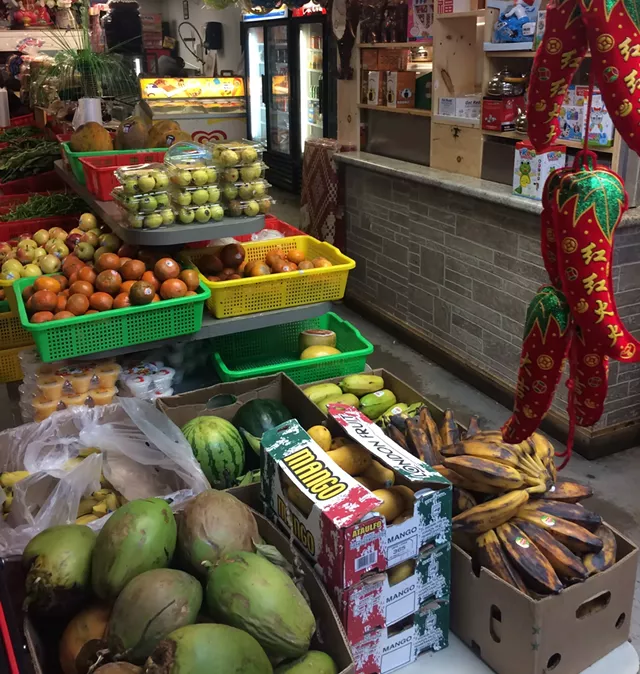 Suzanne Podhaizer
Central Market Taste of Asia
If you walk past 242 North Winooski Avenue in Burlington — which houses Central Market Taste of Asia — you can't tell a restaurant is tucked inside. From the outside, the spot resembles a strip-mall mom-and-pop shop.
And so it is: Upon walking in, visitors might notice the cascade of bananas hanging from the ceiling. Or the long line of people waiting to buy tropical fruits, candy and Asian groceries. Shelves are crammed with items such as grass jelly, boxes of shrimp crackers and bags of spices.
However, off to the left of the front door is a small seating area where people can sit to eat takeout, or a full meal made up of Indian and Nepali specialties.
Suzanne Podhaizer
Mango lassi
Please note: If you are in a hurry, this isn't the place for you. And if you hew to American ideas about "service" — that once you sit down staff ought to be at your beck and call, refilling your water and taking your order at your pleasure — go elsewhere. The pace and the service here are leisurely.
But if you have time to spare and want a delicious, intensely flavored meal, by all means, wander in. Normally, you can sit down, receive a menu and order. But if the retail store is busy, better to flag someone down to get a menu and place your order at the front counter.
After two visits, everything I've tried has been worth eating again. For instance, the sauce on the Chicken Tikka Masala ($10.95) was rich and savory. You could "dine on a dime" by mixing and matching appetizers, such as the Aloo Tikki potato croquettes ($2.95), a bowl of Dal-Aloo Ko lentil soup ($3.95), some Roti bread ($1.95), and a mango lassi laced with just the right amount of cardamom ($2.95).
If you go with a friend and can split the bill, get the Central Combo Platter ($12.95), which comes with small amounts of three entrées as well as fried cheese and a samosa. Just make sure you have at least an hour to hang out.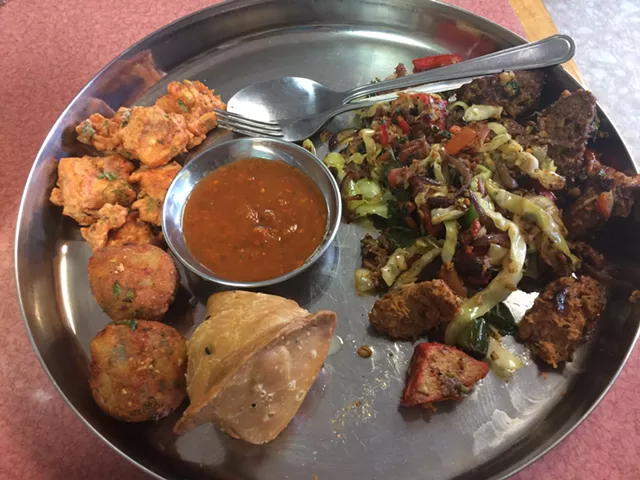 Suzanne Podhaizer
Central Combo Platter
Dining on a Dime is a weekly series featuring well-made, filling bites (something substantial enough to qualify as a small meal or better) for $12 or less. Know of a tasty dish we should feature? Drop us a line: food@sevendaysvt.com.