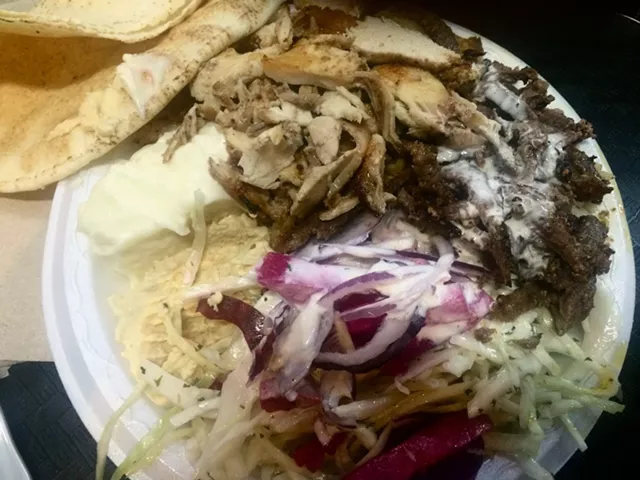 Suzanne Podhaizer
Shawarma combo platter at Boustan
At 3 a.m. on Sunday, a long line snakes into the Saint Catherine Street location of
Boustan
, a Lebanese fast-food mini-chain with five restaurants in Montréal.
Hungry dancers and club hoppers wait, examining the menu or watching sports on a wall-hung TV, until they can reach the counter and place an order. Some grab bottles and cans from the cooler: soda, aloe juice or a strawberry drink dotted with basil seeds.
On the food menu are pita sandwiches, couscous dishes and kebabs, but the most exciting offering is the chicken and beef shawarma platter ($10.75 CAD, or $7.95 U.S., as of November 25). When the guy who whips around putting together takeout orders as he talks asks if you'd like yours "all dressed up," say
oui
.
If you do, you'll receive a pile of spiced rice, roasted potatoes, coleslaw, hummus, red onions, some sort of reddish pickled vegetable (radish? turnip?), and a generous scoop of aioli. In case you don't have enough starch already, he'll toss a pita on top for good measure. Only a competitive eater or a lumberjack would consider this a single meal.
Shawarma is made from meats that are spiced and spit-roasted. Here, both the chicken and beef are flavorful and moist. Alternating through the side dishes, or combining them, provides a wide variety of tastes and textures, including some serious crunch from the slaw, pickles and onions. Especially late at night, it's perfectly satisfying.
When I travel, I rarely visit the same restaurant twice. But this iteration of Restaurant Boustan, located just a couple doors down from
Espace des Arts
— which hosts many of the city's Latin and African dance events — calls me back time and time again.
Why? The winning combination of late-night hours (the spot is open until 4 a.m.), flavorful food and value — about $4 per meal in American currency, or $6 if I wash my shawarma down with a sweet, soothing, strawberry-basil-seed drink.