Sophie X. Pollak
Brisket BBQ Banh Mi at Bluebird Barbecue
Earlier this spring,
Bluebird Barbecue
expanded its hours to include lunch six days a week. Now the restaurant on Riverside Avenue in Burlington is offering a lunch special: $10 for a BBQ Banh Mi sandwich stuffed with smoked meat, chicken liver pâté, pickled veggies, pickles and cilantro.
The timing of this midday deal coincides with weather that's just right for dining on the restaurant's screened-in porch. The indoor-outdoor setting offers a lovely view of woods in the foreground and the Winooski River beyond.
Given three choices for the meat in my sandwich — brisket, pulled pork or turkey — I opted for brisket. (There's also a vegetarian option.) From a choice of sides that includes mac and cheese, cole slaw, smashed sweet potatoes, fries, and baked beans, I chose black-eyed pea salad with grilled broccoli and cauliflower, brightened by minced red pepper and onion.
The sandwich was packed and spilling from its baguette; the salad was a flavorful and healthful accompaniment. A glass of maple lemonade provided a seasonal sip to go with the view.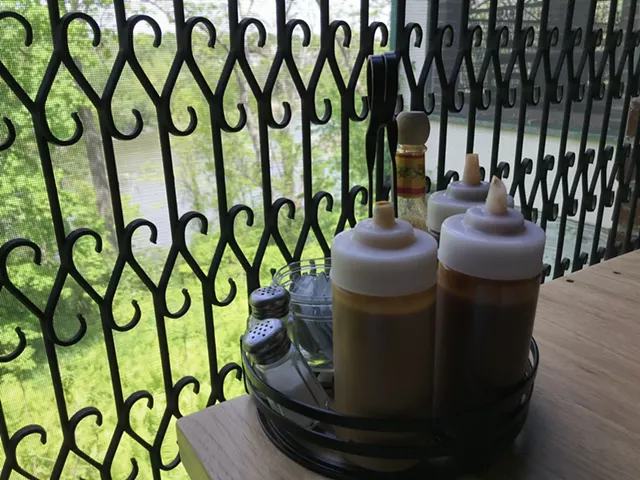 Sally Pollak
Barbecue sauce with a view
Though the week-long BBQ Banh Mi special, which ends June 5, drew us to Bluebird for lunch, there are a handful of other menu items that are $12 or less. Most are starters, including grilled asparagus ($11), six smoked chicken wings ($11), and BBQ Poutine ($11).
The location itself feels like a special deal, a bug-free perch above the river and the trees, as the greens of spring in Vermont reveal themselves. If the outside loses its scenic appeal, you can always look in the other direction at the big-screen bar TV showing baseball.
Dining on a Dime is a weekly series featuring well-made, filling bites (something substantial enough to qualify as a small meal or better) for $12 or less. Know of a tasty dish we should feature? Drop us a line: food@sevendaysvt.com.