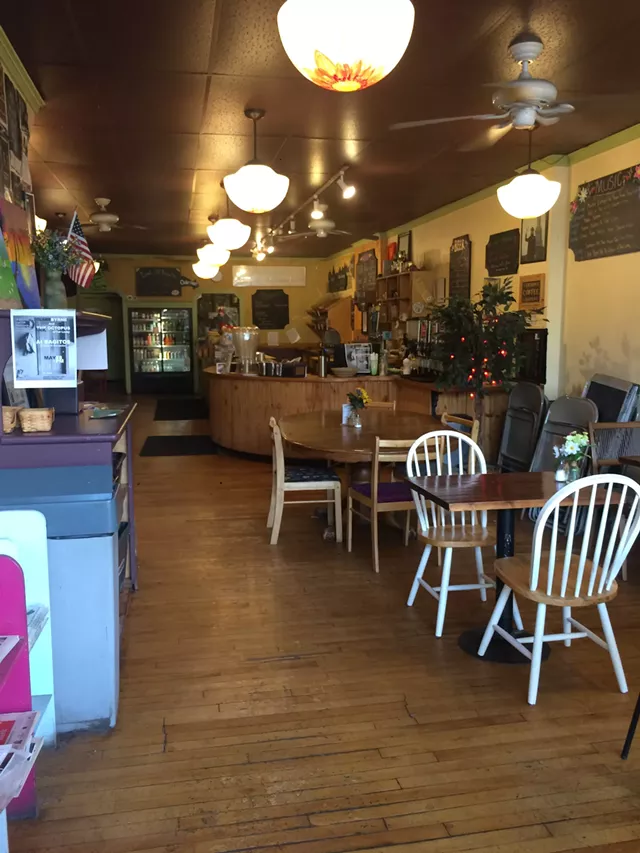 Suzanne Podhaizer
A quiet moment at Bagitos in Montpelier
When I stop by Bagitos Bagel and Burrito Café on Montpelier's Main Street, I'm usually there for a bagel with lox. On my most recent visit, I decided to branch out. Why? Because I noticed that the burrito "bowl" ($8.99) could be made with Vermont Highland ground beef, and rounded out with rice, refried beans, lettuce, black olives and shredded cheese.
I added a scoop of guacamole ($1.25) and sat down at a sunny table, equipped with the Wi-Fi password and blueberry-chaga kombucha from Kingdom Harvest in Cabot. At $4, it pushed me past my "dime," but was probably really good for me.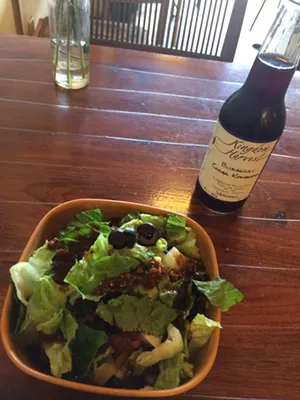 Suzanne Podhaizer
Lunch at Bagitos
As I dined, I scoped out the prodigious wall of flyers, including advertisements for musicians lined up to play at Bagitos — it hosts live music up to six nights a week. There were also real estate ads for central Vermont homes and notices about community gatherings.
The burrito bowl, which came with pico de gallo and chipotle sauce, was just big enough to satisfy my hunger. Were I more ravenous, I would have added a housemade, hand-rolled, toasted "everything" bagel ($1) to the mix. And, sans kombucha, would still have come in under $12.
The bowl was best when all of the ingredients were stirred together, so that every bite included the seasoned meat, the tangy sauces, the creamy guacamole, and the beans. After I finished, I felt welcome to linger, typing on my laptop and listening to the chatter of the teens who drifted in and out, talking dreamily about summer vacation.
Now that Bagitos is on my DoaD roster, I'll return to try other inexpensive options, including nachos topped with pulled pork ($10), a taco sampler ($12), and, before 11 a.m., a breakfast burrito ($8.25 with bacon) or that lox bagel sandwich topped with red onion and tomato ($7.50).
Dining on a Dime is a weekly series featuring well-made, filling bites (something substantial enough to qualify as a small meal or better) for $12 or less. Know of a tasty dish we should feature? Drop us a line: food@sevendaysvt.com.