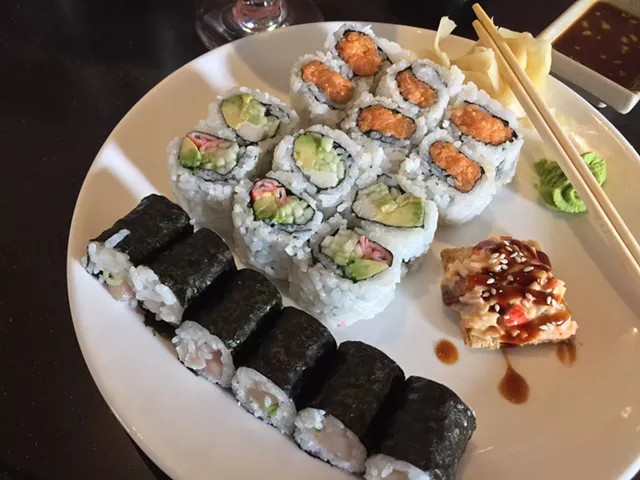 Hannah Palmer Egan
Asian Bistro's sushi lunch
I've said it before and I'll say it again: I'm a sucker for a cheap pan-Asian lunch special. Yesterday, I had dumplings on the brain — and an appointment in Colchester at 1:30 — so I swung by Asian Bistro in Winooski for a quick fix. If you sit at the bar, you can reliably get in and out of there in 30 minutes, or even less, at lunchtime.
In addition to a full-portion menu with apps, entrées, soups and sushi, the midday menu offers an array of combo specials, which include Chinese-American classics ($6.25-8.50) such as beef with broccoli, moo-shi pork and General Tso's chicken, and Pacific Rim items such as shrimp in Thai curry ($7.95) or sushi ($8.50-13.50). All meals include a cup of soup (wonton or hot and sour for hot plates; miso for sushi) and a little salad.
It was hot outside and I was in a hurry, so I decided on sushi (most guidelines now say it's OK for pregnant women to eat sushi) instead of dumplings. I took a seat at the sushi bar and ordered a diner's-choice three-roll special ($12) from the guy behind the fish counter. Within moments, he passed me a small plate holding a briny tangle of seaweed salad dotted with sesame seeds and a mound of thin-sliced cucumbers and crab's claw meat slicked in mayo.
After that came the soup. It could have used a little more miso, but I slurped most of it down anyway — soup is always kind of nice on a hot day. Lots of little tofu bits lingered at the bottom of the bowl.
Finally, the sushi was even better than I expected. The spicy salmon roll had a nice chile kick and light panko crunch, while a California roll nailed the ratio for sweet crab, crunchy cucumber and flawless creamy avocado. The jack fish in the yellowtail roll melted in my mouth without the slightest hint of fishiness. And though I mostly skipped the mayo-seafood salad on a Triscuit that came with it, I'd probably eat it on a day when I was hungrier.
The restaurant was quiet — the only other guests at 1 p.m. on a Thursday were a woman at the bar, sipping a Scorpion Bowl through a long straw, and a couple in a booth near the windows. The AC hummed a soothing melody as the sidewalk soaked up the July sun outside. I soaked up the cool, as well as a few pages of a novel, before heading off to my appointment with a few minutes to spare.
Correction: July 25, 2017: An earlier version of this post misstated the type of fish that is yellowtail.
Dining on a Dime is a weekly series featuring well-made, filling bites (something substantial enough to qualify as a small meal or better) for $12 or less. Know of a tasty dish we should feature? Drop us a line: food@sevendaysvt.com.