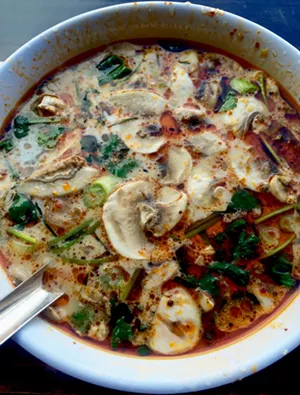 Suzanne Podhaizer
Tom Yum
When I'm under the weather, I go to Wilaiwan's Kitchen in Montpelier. The warmth and spice of the Thai dishes invariably clear my head, and I always leave feeling better than when I arrived.

When I'm sad, I go to Wilaiwan's, and I'm cheered by the interplay of flavors in my bowl of rice noodles in broth, or a salad with pungent lime and fish sauce dressing.

I also go to Wilaiwan's when the sun is shining, and I can take my bowl to a nearby bench on State Street and watch politicians go by on their way to or from the golden-domed Capitol.



Truth is, I go to Wilaiwan's Kitchen every chance I get. This is possible in part because every dish is just $9.75, tax included. It's only $2 more to add a fresh rice-paper roll, with its sweet and tangy dipping sauce.

Suzanne Podhaizer
Gwit Diow
The Wilaiwan's lunch-only menu is tiny — it includes just three items at a time and runs Monday through Friday. Because it rotates, what you eat one week is never the same as what you sampled the previous week, or the week before that. But that rotation
also
means your favorite dishes will come back around before long.
What never changes is that the food at Wilaiwan's is incredibly delicious. Every single thing. Every single time. Whether it's khao soy (chicken curry with coconut milk and pickled mustard greens) or lab moo (smoked pork with herbs, red onion and toasted rice, dressed with lime juice and served with cucumber).
On occasion, one of the offerings is made with local meat. If you tell 'em it matters to you, perhaps that number will increase, in time. While that might make the eats a bit less cheap, I, for one, would be happy to pay a little more. Even at the cost of giving up my spring roll.
Dining on a Dime is a weekly series featuring well-made, filling bites (something substantial enough to qualify as a small meal or better) for $12 or less. Know of a tasty dish we should feature? Drop us a line: food@sevendaysvt.com.