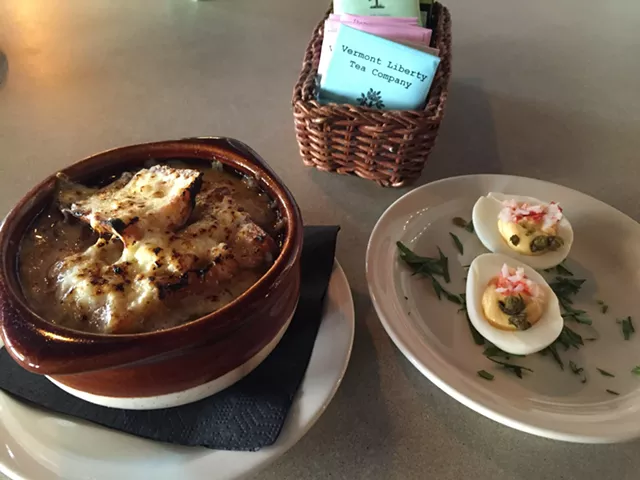 SALLY POLLAK
Onion soup at Allium in Waterbury.
The name of the restaurant is
Allium
, so it seemed like a good idea to order something from the onion family. There was another reason to choose the house soup for lunch at the café on Main Street in Waterbury: price.
The soup costs $8. I was trying to eat on the cheap — $12 or under — at a restaurant where that's a bit of a challenge to do. The house burger is $16. An Italian sandwich is $14, steak frites $19. The $12 grilled eggplant and olive sandwich tempted me, but it was a cold and slushy day. Souped seemed right.
To hit the $12 mark, not including tax and tip, I added a deviled eggs ($4) to my soup. Placing the order from my seat at the bar, I noted that it was perhaps an odd combo.
"No judgement here," the bartender assured me.
That was kind, but I'll go on to make a judgement here: The onion soup earns high marks in my fussy-onion-soup category. This is soup with a potential for greatness that sometimes delivers as much flavor as dishwater.
Allium's version was first-rate: a melange of onions, shallots and scallions in a rich broth sweetened by caramelized onions and a little brandy. Served in a traditional crock-bowl, the soup was topped with crusty
Red Hen Baking
croutons and melted Gruyere cheese made at
Cobb Hill Farm
in Hartland.
As for the deviled egg, topped with minced lobster and capers and sprinkled with parsley, it was a cut above the backyard picnic variety. The pairing had a French flair in an American brewpub town.
Allium
opened last fall
in the space formerly occupied by Arvad's Grill, a Waterbury mainstay for more than 25 years. My purely selfish wish for Allium is that it sticks around long enough for me to get a second bowl of its house soup.
Dining on a Dime is a weekly series featuring well-made, filling bites (something substantial enough to qualify as a small meal or better) for $12 or less. Know of a tasty dish we should feature? Drop us a line: food@sevendaysvt.com.