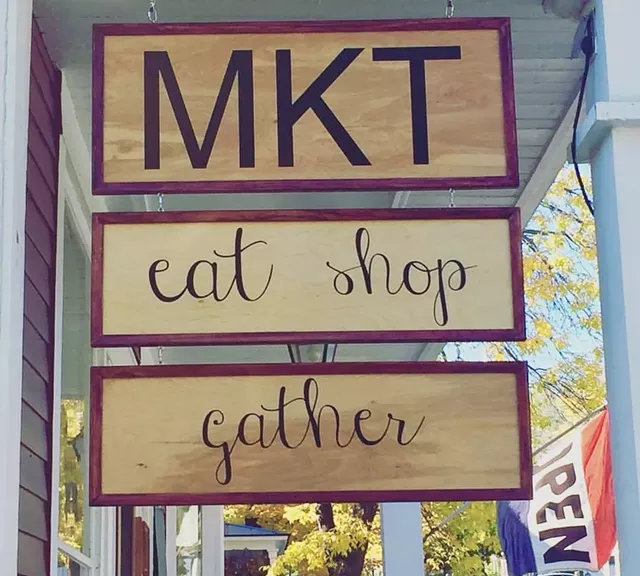 The Grafton Village Store shuttered in May 2015. Records from the Grafton Historical Society indicate that the town had relied on an operating general store since 1787. In 1841, a man named George Barrett erected his general store at 162 Main Street; 174 years later, it closed.
Enter June Lupiani and Alexandra Hartman, co-owners of the town's newly revived country store dubbed
MKT: Grafton
. The longtime friends and business partners purchased the abandoned spot in June 2015, and embarked on a series of renovations on the nearly two-century-old building. Fortunately for hungry travelers and locals, updates included an expansive in-house café helmed by Lupiani, who is a registered dietician and restaurant-trained chef.
Bonus: Nearly everything on the breakfast and lunch menu, save for a $16 pantry board with local cheese and charcuterie, fits the "Dining on a Dime" budget.
"We were so bummed when the store closed in May," says Lupiani during my recent visit. "Ali [Hartman] and I lived in Grafton, we had children in Grafton, and we knew that the town needed a gathering spot."
When doors reopened months later, Hartman and Lupiani cut the ribbon to MKT, an updated interpretation of the classic that doesn't stray from the traditional general-store ethos. Beyond an outer façade indicative of the 1841 original, the minimalist interior opens up with hardwood floors, floor-to-ceiling wooden shelving and restored countertops laden with pastries.
Aided by the in-house baker, Jan Archambault, Lupiani loads the pastry case with a daily roster of house-made baked goods — think tender cider donuts, blueberry muffins and dense chocolate chip cookies sprinkled with flaked salt. Everything prepped in MKT's back kitchen is made with attention to local suppliers, including
Black River Produce
,
Clear Brook Farm
,
Blake Hill Preserves
and
Grafton Village Bakery
.
Stocked shelves mirror the country store's traditional wide range of merchandise and prices. Organic dark roast from
Vermont Coffee Company
sit next to blue canisters of Maxwell House; organic mayonnaise from Woodstock shares space with squeeze bottles of Hellman's; liters of pricey extra virgin olive oil cluster with bottles of Heinz cider vinegar. Standing coolers house local ground beef, craft beers and cold cases of Bud Light.
Julia Clancy
MKT: Grafton
At 10:30 a.m., I'm teetering between breakfast and lunch. I'm tempted by MKT's maple-honey granola over local yogurt, or perhaps the Nutella toast — a sliced croissant slathered with the hazelnut spread and served warm with a glass of cold Vermont milk. But savory wins over sweet this morning, so I query the cashier, "If you could eat anything on the menu for lunch today, what would it be?"
"I like the muffuletta sandwich," responds Amber Dibona. The daily special is a halved toasted baguette loaded with ham, salami, Swiss cheese, lettuce, olive spread and maple balsamic. It looks like three-napkin perfection. But then I spy Your Perfect Egg Sandwich (enough said) and Nonna Tolve's tuna salad — a brunch combination to give me the best of both worlds.
The former is a fried organic egg with
Grafton Village
cheddar on an English muffin or
Orchard Hill
bread ($4); the latter is a pile of mixed greens topped with olive-oil soaked tuna, capers, dill, red onions and Italian spices ($7.50). The total is $11.50, so with tax would put me over budget by about 50 cents. Close, but no cigar. Instead, I make Nonna Tolve's tuna salad into a sandwich augmented by thick slivers of two-year Grafton Village cheddar — a worthy $1 extra. And I'm at $8.50 total.
I devour my sandwich at a quiet corner table overlooking the wraparound front porch, and make a mental note: Good food. Warm crew. Don't be a stranger.
Dining on a Dime is a weekly series featuring well-made, filling bites (something substantial enough to qualify as a small meal or better) for $12 or less. Know of a tasty dish we should feature? Drop us a line: food@sevendaysvt.com.