Julia Clancy
$8 cheddar cheeseburger at Worthy Burger
Some days in the summer I mainly eat tomatoes, bread and doorstop-worthy wedges of cheese to avoid the heat of the kitchen. When I'm not cooking for work, my August meals are often a hodgepodge assembly of things that don't need fire to be palatable.
To be sure, one of the finest things about summer is a heavy, ripe tomato sliced and slicked in olive oil — the heel reserved for coarse salt and eaten in three bites over the sink. Yet there comes a time when I'm hit with a meat craving that halts me mid-stride. Red meat, specifically. A thick, stacked, pub-style cheeseburger. Eaten outside with a beer so cold it hurts my teeth, which is only the proper temperature for beer when it's 90 degrees outside with 85 percent humidity.
That's how I ended up on the shaded patio at
Worthy Burger
last weekend.
After perusing a swoon-worthy draft list stocked with rotating local gems — such as
Hill Farmstead
,
Burlington Beer Company
,
Zero Gravity
and Tunbridge's recently opened
Upper Pass Beer Co.
— I tucked into a cheddar cheeseburger and a draft of Swamp Monster in Love, newcomer
River Roost's
crisp, biting pale ale. The patty was fat and gloriously funky from its former life as a grass-grazing cow from the town next door. It was grilled to a blushing medium rare by the wood fire crackling in Worthy's open kitchen, and trimmed with
Plymouth
cheddar, lettuce, red onion and a slab of tomato.
At only $8 ($7 without the cheese) for a wood-grilled, locally raised and grass-fed cheeseburger with quality accoutrements, this burger quelled my animal-meat craving without eating my wallet in the process. My date and I also split an order of beef-tallow fries and a zippy, perfectly acidic plate of housemade pickles for less than $4 each, which still kept me at my $12 budget.
Nestled in a renovated railway house along South Royalton's train tracks, Worthy Burger is a proper name for such a sterling pitstop. Bonus note: Next door's
South Royalton Market
has a freezer full of ice cream sandwiches and hard-to-find growler fills from three rotating taps.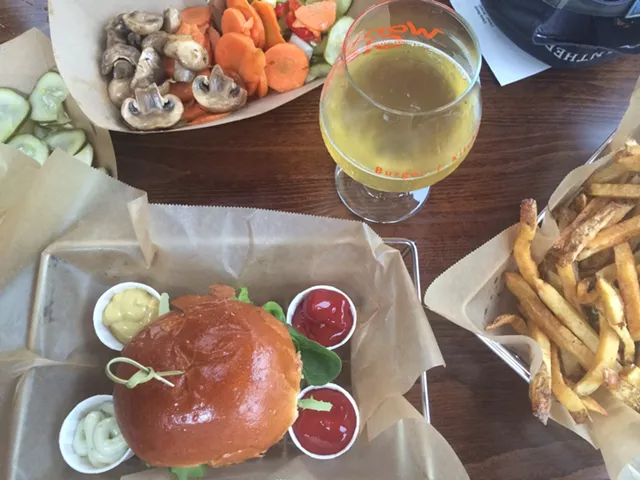 Julia Clancy
At Worthy Burger in South Royalton
Dining on a Dime is a weekly series featuring well-made, filling bites (something substantial enough to qualify as a small meal or better) for $12 or less. Know of a tasty dish we should feature? Drop us a line: food@sevendaysvt.com.