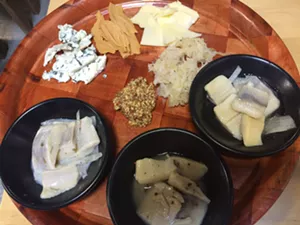 Suzanne Podhaizer
Three kinds of herring with three kinds of cheese
It wasn't hard for me to convince my friend and dance teacher,
Jon Bacon Jr.
, to have lunch with me. "I'm going to a mead hall," I explained. "You'll have to eat herring." Sold.
Neither Beowulf nor Grendel were in sight as we pulled up at
Colchester's Mead Hall
, located inside of the
Groennfell
and
Havoc
meaderies, fairly close to Costco.
The interior is all working meadery, with floor-to-ceiling vats, stacks of cans and a bar at which to order libations and snacks.
After trying free samples of a variety of dry, clean-tasting honey wines — including one flavored with apple and vanilla and another with cranberries — we settled down at a high table, mugs in hand, and awaited our food.
Suzanne Podhaizer
Mead
In order to "dine on a dime," we shared the $20 Viking Feast platter, and it turned out to be plenty: herring three ways (my favorite was the variation with mustard, but the sour cream and wine versions were also fishy and delicious), a trio of Scandinavian cheeses (Gjetost, Jarlsberg and Danablu), dark bread, a pair of bratwurst, and Danish beets, which were cooked for a long time and tasted of the sea. All of the food items are available singly, too.
Sometimes it's hard to ride the line between authenticity and caricature. Colchester's Mead Hall strikes the perfect balance of good cheer and serious attention to the quality of its products. I will definitely return.
P.S. Luckily, it was nothing like this:
...Then was this mead-house at morning tide
dyed with gore, when the daylight broke,
all the boards of the benches blood-besprinkled,
gory the hall: I had heroes the less,
doughty dear-ones that death had reft.
— But sit to the banquet, unbind thy words,
hardy hero, as heart shall prompt thee."
Gathered together, the Geatish men
in the banquet-hall on bench assigned,
sturdy-spirited, sat them down,
hardy-hearted. A henchman attended,
carried the carven cup in hand,
served the clear mead.


—From "Beowulf," translated by Francis B. Gummere
Dining on a Dime is a weekly series featuring well-made, filling bites (something substantial enough to qualify as a small meal or better) for $12 or less. Know of a tasty dish we should feature? Drop us a line: food@sevendaysvt.com.