Michael Verillo
The dumpster setting of Waterbury's Salvage Supperclub
A dumpster can hold 16 people or four and a half tons of trash. The people fit snugly inside if they are seated together at a table for dinner.
This was the configuration at a six-course dinner party earlier this month in a dumpster placed in a Waterbury backyard. The 12-gauge-steel container, cleared of garbage and power-washed, was transformed for an evening into an al fresco dining room. Each component of the space — like the dumpster itself — was an aesthetically pleasing and creative demonstration of repurposing.
A floor constructed of reclaimed wood covered the bottom of the 22-by-8-foot receptacle. A long wooden dining table was built from a pine tree that had toppled over in a storm. Plates and glasses were borrowed from ReSOURCE, a local nonprofit that trades in used goods. Cocktails were mixed with infusions of over-ripe fruit and corn husks.
The centerpiece of the event — the meal — was prepared with ingredients that typically get tossed or composted, including wilted or bruised vegetables, mushroom stems, seconds of artisan cheese and butter, espresso grounds, and flour that had been used to test millstones made at Elmore Mountain Bread.
From this salvaged and gleaned food, Francis Stellato, sous chef at Prohibition Pig, created a feast that was memorable for its resourcefulness and creativity — and its culinary quality.
"I loved it," said Michael Casella, one of the guests. "It was absolutely amazing."
He is general manager at Casella Waste Systems, which donated the dumpster. "My hat's off to the chef," he said, praising Stellato's ability to feed people from food that's usually considered waste. "You've just got to use your Yankee ingenuity."
Waterbury resident Georgia Ayers organized and hosted the August 11 event, called Salvage Supperclub. The dinner was the inaugural Vermont version of the Supperclub that started in New York City as a means to "put great food at the center of a dialogue about a more sustainable food system," according to the organization's website.
Georgia, 37, lives with her husband, Jeremy, and their two sons in the Ayers' ancestral home. The big yellow clapboard house is on a corner near Prohibition Pig, where Georgia works. Jeremy's great-great-grandfather, Orlo Ayers, a carriage maker and wheelwright, built the house in the 1870s. On the property, which includes Jeremy's pottery studio, a barn, apartments and Airbnb rentals, the Ayerses are creating a hub of cultural activity. Using their address — 18 Elm — as the name of the multipurpose space, they host Sunday breakfast clubs and other art and food pop-ups.
"I see the crisis and I see the need," Georgia said a couple of days after the dumpster dinner. "And I'm interested in hosting wow-factor events." She was referring to food waste and food insecurity, and creating experiences that help people make a connection between the two.
Michael Verillo
Smoked carrots with herb pesto
The "wow factor" started for me when I walked into the Ayerses' backyard and saw the dumpster, where I'd soon join 15 other people for dinner. The pine table was the handiwork of Georgia's father, Ken Hamblin, a builder and stonemason who lives in Hartland. Giving off a whiff of fir, the table was a marvel of functional beauty.
Outside the pottery studio, guests gathered for drinks and appetizers. Burlington's Zero Gravity Craft Brewery had contributed bottles of its Belgian ale, called Côte de Champlain. The labels were flawed. Green beans and carrots with imperceptible imperfections, culled and donated by Pete's Greens, were pickled and arrayed on platters. Seconds of cheese and bread came courtesy of von Trapp Farmstead and Red Hen Baking, respectively.
After a time, Georgia gathered her guests to formally welcome us to the event, a fundraiser for the Waterbury Area Food Shelf and Morrisville-based Salvation Farms, each of which received $540.
Georgia talked about moving from Vermont to Boulder, Colo., at age 18 and going with a friend to a food market. Behind the store they found and recovered discarded, still-edible food: cases of produce and flats of yogurt.
"We took it home and made dinner for friends," Georgia recalled. "I sat there [thinking] we struck this organic gold mine."
Some two decades later, she worked for months to organize her dumpster meal. This time, Georgia contacted about 20 farms, restaurants, producers and grocery stores seeking contributions. Some didn't reply, but others responded generously, she said.
At the introduction to the Waterbury event, Theresa Snow, executive director of Salvation Farms, also spoke. She explained how her nonprofit, which is centered on gleaning, aims to get farm food that might otherwise go uneaten onto the plates of food-insecure Vermonters.
Snow described a 2016 Salvation Farms study that showed 14.3 million pounds of edible food is left on Vermont farms each year. Noting that a pickup truck holds about 2,000 pounds of food, she calculated that this much left-behind produce could fill 26 miles' worth of trucks — "a marathon of nutrition."
A gastroenterologist who was among the dinner guests — eating happily, heartily and without evident fear — reassured us by his presence that our meal was safe. And a few good drinks might have helped ease the anxiety of any germophobes attending the dinner.
We oohed and aahed over each course and accompanying cocktail, starting with a cheerful pink drink poured by Grace Meyer — her "spent fruit gin fizz." Meyer explained that she and Mike Dunn, bar manager at Misery Loves Co., are starting Unearthed, a Vergennes distillery that will produce vodka from potatoes. "Our dream is to make spirits out of seconds [of] produce," she said. "I love the idea of eliminating food waste."
When an extra round of cocktails emerged seemingly out of nowhere, diner Jessica Oski, a lobbyist from Burlington, inquired of Meyer: "It's not going to go to waste if we don't drink it, is it?"
Meyer laughed and replied: "It's going to get wasted."
Oski did a little lobbying at the meal: "I'm totally down with people dumpster-diving for food," she said. "It's usually good food."
The evening's chef, Stellato, 31, has cooked at Prohibition Pig for five years. Based on his college job on an organic vegetable farm, he knew "that we would see quality ingredients." But he didn't know what they'd be until close to the date of the dinner.
"There was a lot of scrambling the week of, seeing what would show up and what looked really good and what we could do with it," he explained later by telephone. "That was kind of fun, because it was a lot different from what you normally do as a chef."
Stellato steered us through a meal that started with a terrific kale salad — simple, delicious and chewable. He had massaged the gleaned greens with vinegar and salt to soften them, then dressed them with lemon juice, olive oil, salt and pepper. "It's my absolute favorite salad," he told us. "I make it at home all the time."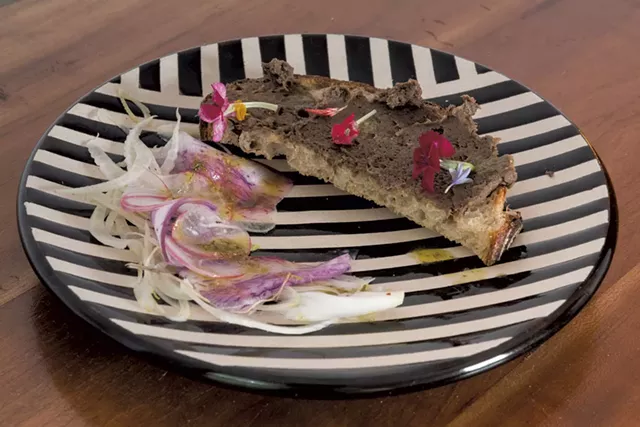 Michael Verillo
Mushroom pâté on toast with a side of summer roots
Using restaurant mushroom stems that are typically tossed, Stellato made pâté and served it on toast with a side of summer roots. "It's a nice little foil to the soft pâté," he said of the crunchy radish roots. "Enjoy, guys."
Then Stellato disappeared to the Airbnb kitchen where, working with minimal prep space and a four-burner electric stove, he prepared the next course.
The chef reappeared to talk about smoked carrots, revived from their wilted state with ice water, and housemade beet pasta prepared with charred broccoli and cauliflower, blue cheese, and herb pesto.
"I pretty much just kept going to Georgia's garden," said Stellato, who said he snipped parsley, dill and carrot tops.
I hit it off with the diner to my right, Marieta Warnstedt, whom I met for the first time in the dumpster. She lives in one of the Ayerses' apartments and works in the local school library. My guess is that Warnstedt has eaten a restaurant meal or two cooked with un-salvaged food: She's the mother of Eric Warnstedt, chef-owner of Hen of the Wood.
"I think this is an extraordinary event," Marieta said. "If people actually can glean their food and make it useful for human consumption, what more can we want? I'm in awe of Vermont and its people. This is a beautiful idea, and I know it's going to grow."
Dessert was a rich chocolate-espresso cake as dark as the night sky. Meyer passed around one more round: amaro with foraged rhubarb, herb stems and bitters.
We learned that you can eat cast-off food of top quality — and that you probably should. We discovered, as well, that you can cheer the chef, the host, the bartender and their all-volunteer team by banging on a dumpster.