Carolyn Fox
Apple bread pudding at Junction
For many of us, a dinner date often means sharing a couple of small plates, perhaps then sharing an entrée, downing a glass of wine or beer, and calling it a night. The whole transaction might take about an hour.
When was the last time you sat down and, at a leisurely pace, ate three full courses at a Vermont restaurant? What if you and your dining companions each ordered a starter, then a main course, followed by dessert? Seven Days' Vermont Restaurant Week, with 118 restaurants participating around the state, invites us to do just that — at a $20, $30 or $40 per person.
By sampling three plates each, you can get a real taste of what a restaurant has to offer. Perhaps that Italian joint in your town has a fabulous new pastry chef. Even if you eat there often, you'd never know unless you ordered dessert. What's more, some of the magic of a multicourse meal happens between courses, chatting with your date or tablemates.
Last weekend, a half dozen Seven Days writers set out to eat in Burlington, Essex, Montpelier, Randolph and Vergennes. Though we each ordered and enjoyed a full prix-fixe meal, we largely focused on one dish in the mini reviews below — consider them wordy appetizers for your own culinary explorations.
Vermont Restaurant Week wraps up on Sunday, April 30. Where will you go, and what will you discover? Join in the fun and, using the hashtag #vtrestoweek, show off your foodie pictures on Instagram or Twitter. See the full menu guide, as well as a schedule of special culinary events, at vermontrestaurantweek.com. And — bonus! — every meal eaten is a meal shared: The Vermont Foodbank is a beneficiary of Vermont Restaurant Week.
Junction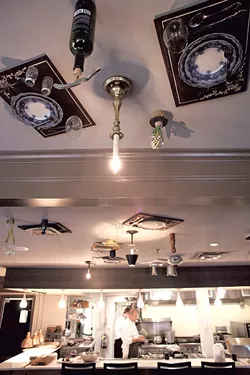 File: Matthew Thorsen
The ceiling at Junction
Perhaps it was the world's strongest maple manhattan talking, but dining at Junction at the Essex Resort & Spa felt a bit like tumbling down the rabbit hole, à la Alice into Wonderland. With the exception of the exciting-looking chef's table, the dining room is dark and conservative — until you notice the ceiling. And then you can't look away.
Scattered around the mini chandeliers are full place settings — daintily patterned china and a rosy-red antique teakettle among them. The ceiling, it seemed, was waiting for guests to arrive for some sort of Mad Tea Party. Had we somehow fallen right through the center of the Earth and come out the other side, where people walk upside down?, I wondered, channeling Alice. But that's silly.
Location Details
Junction
70 Essex Way
Chittenden County
Essex, VT
802-764-1489
American (New)
Despite the strange whimsy overhead, dinner was largely no-nonsense. Drink me, whispered the white-bean-and-garlic soup garnished with a surprising bite of fried goat cheese. Eat me, demanded the charred petite filet sitting in a swoosh of potato purée. But it wasn't until dessert — a deconstructed apple bread pudding — that the food burst with Lewis Carroll-like creativity. In a cast-iron ramekin, the sinfully sweet pudding was crowned with a scoop of vanilla ice cream and golden spun sugar that exploded everywhere when broken. Curiouser and curiouser, I thought, dipping into the artful drizzles of caramel and fudge sauce that were plated separately, with hazelnuts, on a wooden board.
Though dining at Junction fell short of Wonderland, enough of these tiny touches of wild imagination may well transport diners there one day.
— C.F.
Blue Cat Steak & Wine Bar
Suzanne Podhaizer
Lobster ravioli at Blue Cat Steak & Wine Bar
Sitting at the bar at Blue Cat always feels a little sexy. The lights are dim, and there's just enough bustle to remind you that you're in public yet let you feel slightly invisible.
Pair the ambience with a menu that's heavy on red meat and red wine, plus extras such as foie gras, blue cheese and shellfish, and you've got one hell of a hot-date destination.
1 Lawson Lane
Burlington, VT
802-363-3639
Steakhouse/Seafood
Start with a pickled ramp Gibson made with Hendrick's Gin instead of the Beefeater from the well, watch chef-owner Mariasha Giral put the finishing touches on plates and make sure you order the lobster ravioli. (Which I did, along with the beet-and-blue-cheese salad and the salmon tartare.)
The ravioli's shellfish filling is wrapped in squid-ink pasta dough and topped with strands of roasted red pepper, a drizzle of basil oil and a dollop of smoked mascarpone. When you get a bite of everything at once, there's an interplay among briny, sweet and creamy sensations, with the tiniest hint of sharpness from a scattering of baby greens.
If, after your three-course meal, you're in the mood for dessert, snag an espresso and a slice of flourless chocolate torte with raspberry-cheesecake ice cream. And remember to share.
— S.P.
Black Krim Tavern
Hannah Palmer Egan
Citrus-ginger mousse at Black Krim Tavern
A savory first course, the noodle salad, arrived in a square bowl crowned with pearly bean sprouts. Among a tangle of pin-thin rice vermicelli, hunks of kimchi-brined squid were tart and tender, à la ceviche, while verdant soybeans gave way with a green pop. The broth was bright and sour and tinged with chile — the spice crept in slowly, mostly unnoticed until I reached the bottom of the bowl.
We should have made reservations but didn't, so three friends and I sat at the back of the restaurant on loungey couches and benches around an old steamer trunk that doubled as a low table. Outside, temps dipped into the forties. Along with a chilly breeze, the sounds of spring wafted in through the open back door. If I strained my ears enough, I might have heard a stray peeper.
Over three courses, each dish I sampled — a girlfriend's velvet-smooth bowl of carrot soup, soured with ramps; a fillet of trout with pickled onions, fig jam, asparagus and lemony caper aioli; a cup of citrus-ginger mousse — suggested the freshness of the new season, even as root vegetables in almost every dish gave concessions to the last. It was just right for a late-April meal.
— H.P.E.
Bleu Northeast Seafood
Pamela Polston
Fried-oyster Benedict at Bleu Northeast Seafood
Bleu is located inside the Courtyard Burlington Harbor Marriott, and I confess I don't always think of it for a dining destination. But I don't know why. The venue is sophisticated and, in the daytime, has an enviable view of Lake Champlain. Plus, Vermont-born chef Doug Paine — who also oversees Juniper in Hotel Vermont — has a thing for fresh, local ingredients.
So my companions and I opted for Sunday brunch. It was not easy to choose among croissant French toast, rock crab cakes, and fried-oyster Benedict, as well as more standard eggy fare. But, since I abhor raw oysters yet like them cooked, that Bene seemed like a rare treat. And it was.
25 Cherry St.
Burlington, VT
802-864-8600
American (New)
There was just one little problem: In the few minutes I took to photograph and Instagram my dish, it cooled too much. It's best to eat fried food, poached eggs and delicate sauce while they're hot. It's also best for waitstaff to deliver it piping hot.
That caveat aside, in this creative alternative to a traditional Benedict, the oysters (from Wood Mountain Fish) were mushroomy rich with a light, crunchy crust. The plump eggs were beautifully poached. The hollandaise had a lemony tang and gave the dish bright-yellow cheer. I wish there had been a wee bit more of it, as the whole-wheat English muffins at the bottom were dry. A layer of bitter arugula complemented the creamy egg. Also noteworthy: The accompanying small wedges of potato were as crisp and satisfying as French fries.
I'll have to return for that French toast.
— P.P.
Park Squeeze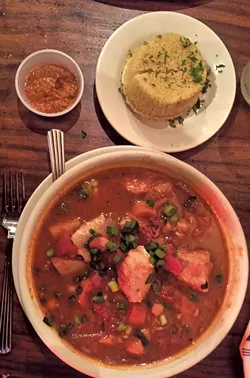 Carolyn shapiro
Fish stew at Park Squeeze
My husband and I had never ventured into Park Squeeze, but then I noticed its Greek-inspired $30 menu for Vermont Restaurant Week. Having grown up on the spinach pie and avgolemono soup of Greektown in Detroit, Mich., I decided to kick off our weeklong dining fest there.
Park Squeeze occupies a narrow, two-story space fronted by its tall neon sign and framed inside by exposed-brick walls, a wrought-iron staircase and simple utility lights. It's a lively neighborhood joint with a regular pub menu, though chef Justin Patras likes to sprinkle in Greek fare. "It's definitely one of his favorites," our server, Lillian, told us.
Once seated upstairs in a cozy corner near the bar, though, I wasn't drawn to a Greek dish but to one originating across the Mediterranean Sea. The Tunisian fish stew married chunks of cod with hearty vegetables in a tomato broth enlivened by harissa, a North African chile paste that kicked up some heat against cinnamony sweetness. Red-skinned potatoes, carrots, onions and chickpeas made the stew filling enough that I didn't really need to bulk it up with the couscous that came on the side, but it did help soak up the scrumptious sauce.
161 Main St.
Middlebury Area
Vergennes, VT
802-877-9962
American (New)
I started with a mezze platter of fresh feta chunks, pita bread, delightfully tangy mixed-olive tapenade and salad dressed with light, lemony vinaigrette. To finish, I opted for baklava, the sweet Middle Eastern staple. Patras' version blended almonds and walnuts inside crispy phyllo drizzled with honey and joined by a scoop of lime-zested pistachio ice cream that offset the sugar.
My husband's lemon tart topped a crisp, shortbread-cookie crust with an ideally balanced tart-sweet custard and a fresh strawberry. The desserts were a highlight, worthy of much finer dining. And that kind of discovery, along with Park Squeeze's inventive selections, is what Restaurant Week is all about.
— C.S.
Kismet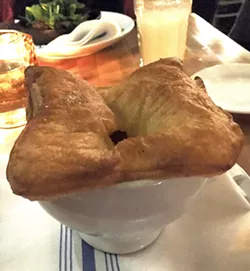 Matthew Roy
Tomato soup at Kismet
As we perused our menus at Kismet on Saturday night, a woman dancing with a partner by the front door twirled to piped-in accordion music. The restaurant's simple, bistro décor — fresh flowers on tables, chandeliers that cast soft light — and its open kitchen suggested that we were in for a treat. A cheery buzz permeated the cozy dining room.
The $40, three-course prix-fixe Restaurant Week menu had lots of choices. Our knowledgeable waitress answered questions about the local lamb and a bread pudding appetizer. We'd never been to Kismet, which turned out to be the kind of place where the query, "How dry is this Riesling?" elicited the response, "Let me get you a taste."
My tomato soup starter arrived with a flaky pastry crust as a topper. I had to plunge a spoon through it to get to the light, cinnamon-spiced broth. Soon, the pastry was falling into the soup, where, dumpling-like, it sopped up the tomatoey goodness.
Location Details
Kismet
207 Barre St.
Barre/Montpelier
Montpelier, VT
802-223-8646
American (New) and Eclectic/Fusion
Kismet is a "You've gotta try this" restaurant, so I sampled my wife's bread pudding app. As our waitress had promised, this signature house dish was like a deconstructed French onion soup. And yet it was so much more: crusty bread, bone-marrow broth, Jasper Hill Farm Bayley Hazen Blue cheese and caramelized onions, all melded into a savory treat.
Unfortunately, the Vermont lamb was sold out. But my beef short ribs, which arrived in a small cast-iron skillet with radishes, mashed celeriac and fresh greens, were delectable — flavorful, fork tender and slightly sweetened with hoisin.
Dessert, a saffron-risotto cake cooked with nuts, topped with fresh whipped cream and sprinkled with powdered sugar, was a creative finish.
"Kismet" means fate. I hope mine includes more meals there.
— M.R.
Sarducci's Restaurant and Bar
Pamela Polston
Cod with gnocchi at Sarducci's
Every town should have a Sarducci's — the kind of place with reliably decent food, nothing too precious or lavishly priced, plenty of seating, a bar, and a companionable buzz. Indeed, Montpelier's Italian institution was buzzing on Saturday night, packed with families, friends and couples looking for a solid meal and a pleasurable time. Pizzas charring in the wood-fired oven and the pervasive perfume of garlic tantalized those waiting for tables.
The Sarducci's $30 dinner menu for Restaurant Week offers three choices for each of three courses. I went with an app of grilled asparagus, fried goat cheese and pistachio chimichurri; a main dish of wood-roasted cod with gnocchi; and a delectable dessert of almond amaretto semifreddo.
3 Main St.
Barre/Montpelier
Montpelier, VT
802-223-0229
Italian
I prepare fish minimally at home: baked with a smidge of olive oil and a rosemary sprig, served with a squeeze of lemon and some salt and pepper. So I always like to see, and taste, how chefs fancy up their fish. At Sarducci's, the cod was exquisitely crisp and nicely seasoned on the outside, tender inside. It lay on a generous bed of housemade gnocchi mixed with spring parsnips, shaved fennel and bok choy — which gave the dish welcome crunch. A light artichoke-cream sauce, with a hint of chile oil, was the finishing touch that brought these separate ingredients into elegant unity (and inspired an upgrade in my home cooking).
One small critique: Except for tiny bits of green, everything was essentially the same hue. A more colorful selection of vegetables — carrots, say — would make the dish look as good as it tastes.
— P.P.