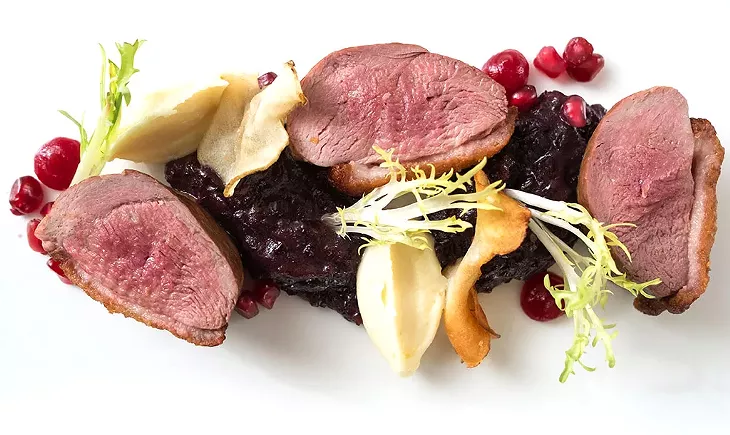 8 slides
"Got a hat?" my chauffeur asked.
"Uh, my sweatshirt has a hood!" I answered. "Got a helmet?"
We were about to mount a snowmobile — a Ski-Doo Grand Touring — and my winter gear was suspect. I was wearing Levi's tucked into a pair of Sorels, and my wool mittens were in the car. The driver, Glenn Toole, was clad in slick black snow gear from head to toe. His helmet was equipped with a visor. I'm pretty sure he wore a hat beneath it.
Toole calls himself the "director of fun" at the Hermitage Club, a 1,400-acre private ski club at Haystack Mountain in Wilmington. On a recent Friday, we were headed to its mountainside restaurant, a casual alpine eatery for club members who pay $65,000 to join the Hermitage and $9,500 in annual dues.

Recently, some nonmembers had dined at the mid-mountain restaurant: the cast and crew of "The Bachelor Winter Games," an international offshoot of "The Bachelor" that will air its finale this week. The Hermitage was the primary location for the ABC reality show — a "global celebration of unity and love" studded with hot tubbing, snow tubing and fireside chats. The competitors stayed at Stag's Leap, a house on the club grounds, and they, too, were shuttled around the mountain by Toole.

"The guys were well coiffed," he commented.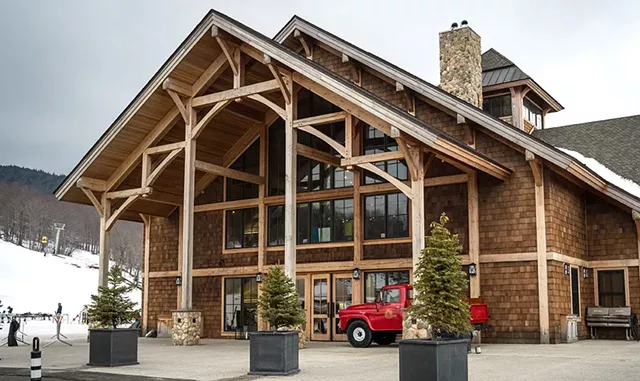 Zachary P. Stephens
The Hermitage Club
Now it was my turn for a meal at the slope-side eatery and a cocktail by the biggest you-know-what in Vermont.

Chimney!
But before the drink in the clubhouse, where the chimney rises to the rafters, it was time for lunch on the mountain.
Toole gallantly fetched me a helmet for the ride up the hill. He showed me how to squeeze it on and even snapped the strap beneath my chin.
"This is my first snowmobile ride," I told him.
"You picked the right guy," he assured me. "I've been snowmobiling 50 years."
He also seemed like the right guy to come clean to: "I don't ski," I said.
"Why'd they send you?" he wondered aloud, clearly meaning, What's a reporter like you doing in a place like this?
"It's a food story," I answered.
With that, I climbed aboard Toole's Ski-Doo, and in a few heart-thumping minutes he delivered me to the restaurant on Haystack Mountain. Soon I was alone at a two-top by a window on the second floor, watching skiers in a light snow, sipping a flat diet Pepsi and feeling psyched for my grilled-cheese sandwich with tomato soup.
Zachary P. Stephens
Tomato soup and grilled cheese sandwich at the Mid-Mountain Cabin at the Hermitage Club in Wilmington
It turns out the very meal I ordered — creamy soup with a wonderful zing; oozing Grafton Village Cheese cheddar on golden-grilled sourdough — is a favorite of Hermitage founder and president Jim Barnes. He told me a few days later by email that he likes to pair it with a glass of cabernet.
Barnes also explained how "The Bachelor Winter Games" came to film its four-episode season at the Hermitage, giving a big dose of exposure to the resort he purchased in 2011 and started to develop.
"Our outside sales consultant ... is a huge fan and reached out to connect to people she knew in production," Barnes wrote. "She was ecstatic that they chose to film here."
I'd never heard of the Hermitage until I followed cast and crew there. But as a longtime viewer of "The Bachelor," I was intrigued. And budding romance isn't the only resort topic getting press coverage this year: A little digging revealed that the Hermitage is behind on its property taxes by $357,840 as of February 16, according to the Wilmington tax collector. In early January, the club averted a water and sewage shutoff by making a late payment, according to the local water district.
Meridith Dennes, the club's senior director of marketing, advertising and communications, said the Hermitage is "engaged with a restructuring officer to work through its outstanding [financial] issues."
My big-money transaction came at the bar, where I laid down $27.27 for a dirty vodka martini. Enthralled by my surroundings, I failed to notice that the $22.27 bar tab included a gratuity, and I added $5 for the friendly bartenders.
At the bar, I faced the ski mountain with my back to the tall chimney. The stone structure rises from a four-sided fireplace in the center of the post-and-beam clubhouse. It is, according to the club, the biggest chimney in the state. This was the site of the TV show's Rose Ceremony, when contestants learn if love awaits them or if it's time for the old heave-ho.
But my talk at the bar was about real-life stuff: food and skiing and President Donald Trump (who is not a member of the club, although the Hermitage does have a golf course). I struck up a conversation with Chris Hessert, a currency trader from Chappaqua, N.Y., who joined the club four years ago. He and his wife, an anesthesiologist, and their three sons drive up every weekend so the boys can ski. "We don't have to worry about the kids," Hessert said. "They do their thing."
The food at the club is great, he added, giving a shout-out to the fondue with steak tips: "That's the bomb." At the Hermitage Inn, a nearby affiliated restaurant, Hessert loves the lobster mac and cheese.
"It will kick your ass," he assured.
Every year, Hessert makes a gift of food to the club — a 200-pound big-eye tuna for its ski team's end-of-year party. He has the fish flown in from New Zealand and trucks it the last few hours of its journey in his Dodge Ram. Chef Chris Bonnivier works his magic with the fish, said Hessert, who has a blast helping the chef create raw-tuna treats in the kitchen.
"The kids devour it," Hessert said.
Bonnivier, 49, is director of food and beverage at five Hermitage dining establishments, including the two that are open to the public — the Hermitage Inn and White House Inn.
Each restaurant has a different theme and emphasis, ranging from soups, burgers, sandwiches and sushi to European fine dining with a Vermont twist. Bonnivier and his team cater private parties at a dining space on the summit and serve lunch to more than 1,000 people on Saturdays at the clubhouse. When the TV people were at the Hermitage, he fed them, too.
"They ate a lot," Bonnivier said. "They were always hungry." And they liked to drink, he noted. The Hermitage created a cocktail for "The Bachelor Winter Games" gang: a martini with rosemary-infused gin called the Snowdrift.
Zachary P. Stephens
Mixing a vodka tonic at the Hermitage Club in Wilmington
"I make it my business to know everybody, and I cater to everybody," Bonnivier said. Watching kids grow up at the club is a joy, he added.
"It's a family environment," the chef said. "Where else do you get to be friends with your customers?"
Bonnivier has a seasonal staff of 178 people, including kitchen and front of the house. He estimates that 75 to 80 percent of his employees are foreigners, many from Jamaica, Mexico and the Philippines, and employed through work- or student-visa programs.
"There is no [local] workforce here," Bonnivier said. "It's nil. It's a very difficult place to find staff."
Bonnivier uses an app on his smartphone to check which of his restaurants is currently busiest. Then he hustles there — sometimes by snowmobile — to "jump on the line."
I made my way from the clubhouse to the Hermitage Inn by more traditional means: a Subaru. It was a short drive, out the big stone gateway of the private club and over the covered bridge to the inn's public restaurant and tavern.
At the restaurant, I met Max, an old friend from Philadelphia. We sank into plush chairs at a table by the fireplace, this one standard size.
Two bachelors from Connecticut, probably 5 and 6 years old, stood barefoot at the hearth, drying their boots and socks by the fire. Max ordered a whopper of a cocktail — a Manhattan made with WhistlePig Rye Whiskey — while young Edward chatted me up.
He and I discussed the perils of winter sports as Max and I waited for our meals. My appetizer of lobster tartare with beet terrine was wonderful, though I would've been happier with bigger chunks of lobster meat. Its delightful presentation looked like something Edward might have made: splotches of bright color — sauce, leaves, beets — surrounding the tartare in a sunburst pattern.
Zachary P. Stephens
Chef Chris Bonnivier
Max's lamb was excellent. Although I liked my duck — medium rare, as requested — I was most enamored of its pomegranate sauce.
The chef came out of the kitchen to say hi, and a pleasure of the meal was listening to Max and Bonnivier reminisce about restaurant work. Both had worked at restaurants in the Berkshires, where Bonnivier got his start at age 14, and by chance they had several acquaintances in common.
By now, snow was falling. A horse-drawn sleigh (available to Hermitage Inn diners) or Ski-Doo might have been the optimal way to leave the restaurant, but I'd already had my snowmobile ride for the day. I put on my trusty hood and headed to the car. The show was over but for scraping ice from the windshield.