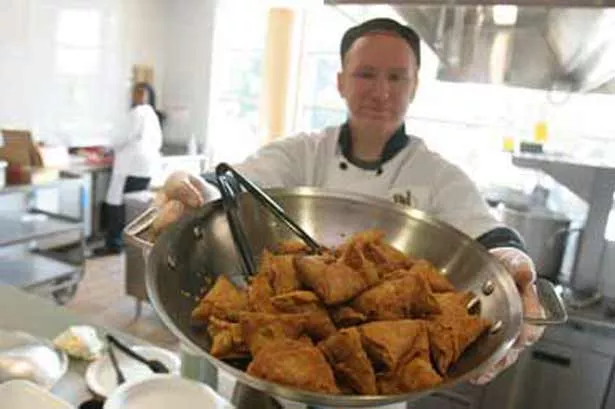 Lunch at the University of Vermont has come a long way since cafeteria lines and mystery meat. At noontime on a recent school day, the entire campus appeared to be converging on the new $61 million Dudley H. Davis Center - and it wasn't for the "green" LEED certification; it was for the food.
The building's edible offerings - a café, pub and marketplace with a multiplicity of options - are even more impressive than its flushless urinals and gender-neutral bathrooms. On the "ground floor," past a lounge with squishy chairs and pool tables, hungry academics can chill in a casual restaurant that serves beer and wine to students old enough to drink. No time to relax? There's an airport-style convenience store with snacks and frozen foods galore.
Up a wide, curving flight of stairs is the main dining area, called The Commons Marketplace. Envision a classier version of a mall food court, where signs advertise the local vegetables being showcased each week and vegan selections are de rigueur. Plus, unlike at a food court, you can pick up items from various vendors and pay on the way out - three check-out stations accept cash, Catscratch, UVM meal points and credit cards. Coolers line the walls, filled with ready-to-eat fare and beverages including Vermont Soy soymilk and local cider.
What's competing with the grab-and-go cold sandwiches and containers of fruit 'n' cottage cheese during the bustling lunch rush? Long lines form in front of Sakura's sushi counter and a stand called Capers, which is tucked away in the corner and serves Mediterranean-inspired vegetarian fare. That particular day they served a savory baba ganoush flatbread sprinkled with pine nuts, cheese and flecks of parsley. Not as sexy-sounding, but every bit as satisfying, was the black beans and rice with salsa and slivers of perfect avocado.
Across the way, at "590 Main," students find comfort in a small selection of dining hall standards. One station holds turkey club sandwiches and slices of glistening cheese pizza; another serves up brownies and Rice Krispy treats.
Slightly more adventurous students and faculty members queue up at Sukhi's Quick-N-Ezee Indian Food to get a taste of the Southern hemisphere. The eatery began as a stand at the Ferry Plaza Farmers' Market in San Francisco and expanded into a minor prepared-foods empire. At its Vermont outpost in The Commons, staffers serve up three Indian entrées each day, blending the company's prepared sauces and spice pastes with freshly cooked meats and veggies. Sukhi's slogan, "Indian food for everyone," is code for: It won't burn your mouth.
That day, the trio of options consisted of chicken curry, lentil dal and matar paneer - peas with cheese in a delicately spiced, tomato-based sauce. A plate piled with all three on a bed of long-grain rice rang up at $6.49. Not enough starch? A piece of puffy nan bread comes on the side.
The gluey lentil stew was just OK; a bit more salt would have been nice. The peas in the matar paneer tasted canned - but hey, this is a university. (Hand shelling might precipitate an increase in tuition.) The addictive chicken curry was the best of the three, with chunks of meat smothered in a sauce that hinted at garlic and ginger. It tasted great on the perfectly fluffy rice.
Like the Indian dishes, the soup offerings at "Stocks and Stems" change daily, but five choices ensure there's something for everyone. Last Thursday, these included beef noodle, egg drop, pasta fagioli, carrot rosemary and fresh tomato tarragon. Chef Bob Shea said the kitchen aims to offer two vegan soups each day, though sometimes it only manages one.
The bright orange, carrot-rosemary puree passed the vegan test and the flavor one: The rosemary was detectable but not overpowering, and the mixture had the sweet flavor of freshly cooked carrots. The pasta fagioli resembled the Progresso version I ate as a child. There were beans, pieces of floppy pasta and a few beads of oil atop the reddish broth. The paler, gentler egg drop was elegant in its simplicity, tasting mainly of chicken broth. Tender slips of egg added textural interest.
Chef Shea admits that, though his staff makes as many soups as they can, they do resort to using packaged broth. "We would like to make at least veggie stock in-house," he says, looking to the future. "That would be easier than getting a bunch of chicken bones."
Too bad they can't use the leavings from Brennan's Pub and Bistro downstairs. That establishment aims to get students chomping on as much chicken as possible. The pub, named after donors Robert and Carolyn Brennan, has partnered with a New Orleans operation named WOW Café and Wingery, and offers WOW's American fusion menu chock-full of sandwiches, salads and, obviously, wings.
Once cooked, the poultry is coated in the company's sticky, pre-made sauces, and here they don't stop at hot stuff or barbecue. Those who like their wings with an exotic tang can opt for one of many toppings, including Parisian lemon pepper, Polynesian or Asian teriyaki. They're pricey, though. A dozen wings with the sauce of your choice costs $11.99. Local delivery joint Big Daddy's charges only $7 for the same number of chix sticks with one of their 15 sauces.
Are WOW's saucy wings worth it? On my visit, the Buffalo II, a spicier version of the traditional hot wing sauce, fit the heating bill nicely; the soy-flavored Asian marinade worked if you like your wings both salty and sweet. Thick honey-barbecue and Polynesian sauces, on the other hand, were fairly cloying. The Polynesian was just a chunkier version of duck sauce. The default side dish - a serving of wilted fries - can be replaced with a healthy combo of carrot and celery sticks with Bleu cheese dressing.
Early university press releases touted the "local foods" the Davis Center would offer. Pungent as its taste of the South may be, WOW is underwhelming in that regard. Paul Bahan, director of marketing for University Dining Services, explains that students gave WOW's products top marks in a brand fair hosted by the University, and giving them what they want is a top priority. Plus, the N.O. company "committed to using as many local products as they can." By way of localvore conciliation, Bahan points out that a sauce made with local ingredients, perhaps maple, would be an excellent addition to WOW's repertoire.
If you want to stick exclusively to edible offerings from the Green Mountains, two food stands just outside the marketplace proper will do you right: a Ben & Jerry's scoop shop and a branch of the hyper-popular burrito joint New World Tortilla. It's clear that the UVM alums who own NWT are selling a slew of Thai chicken wraps on their old stomping grounds. The line of chattering chowhounds stretched out the door of the eating area.
Exiting the building, it's worth checking out the CAT Pause. The convenience-style store carries Advil, condoms, chewing gum and energy drinks, but is also stocked with mounds of Vermont products, most of which are prominently displayed. Hungry students can slog back to their dorms with everything from chai-flavored yogurt made by Woodstock Water Buffalo to local salsas and dips to frozen American Flatbread. An unscientific count found 24 brands from the Green Mountain state.
At Brennan's and in The Commons Marketplace, food is still more sensible than sensual, but with all of the options, it's pretty easy to find something appealing. And the man who is responsible for the birth of the building, UVM Prez Dan Fogel, seems to think so, too. As I gnawed on nan at a comfy booth in the waffle-cone-scented dining area, he was waiting in line to pay for his lunch.