Sarah Priestap
Duo Restaurant in Brattleboro
Stephanie Bonin and Keith Arnold might have been referencing their own partnership when they opened a restaurant in Denver and called it Duo. Nine years later, the couple made it a perfect pair when they moved with their kids to southern Vermont and opened a second location in funky, food-loving Brattleboro.
136 Main St.
Brattleboro/Okemo Valley
Brattleboro, VT
802-254-4141
American (New)
While the Denver Duo continues to win accolades, including a ranking on Gourmet's top-100 list of farm-to-table spots in America, its sister restaurant opened on the town's main thoroughfare, behind an elegant glass storefront in the 145-year-old Brooks House. Inside are high ceilings, exposed brick walls and an open kitchen, plus a menu featuring a vast collection of partner farms and artisans.
Sarah Priestap
Duo Restaurant in Brattleboro
Part of the delight of dining at Duo is getting acquainted with those food producers, many hailing from tiny towns in southern Vermont. There's cheese from Parish Hill Creamery in Westminster West, where famed dairy consultant Peter Dixon has settled down to make his own products, and booze from Windsor's SILO Distillery, run by eighth-generation Vermonters. Veggies and meats might come from nearby New Hampshire or Massachusetts' fertile Pioneer Valley.
The local haul is combined in dishes such as thick pork chops with collard greens and leek-roasted potatoes. The kale Caesar isn't on the menu in Denver — but bison pastrami is. Some dishes, such as the fried calamari with black garlic, pickled sweet peppers and cabbage, are offered at both locations.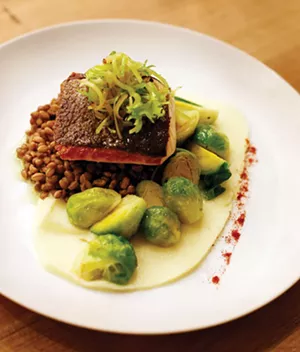 Sarah Priestap
Duo Restaurant in Brattleboro
The cocktails also derive from local sources. The brilliantly colored Main St. Beet Down melds beets, jalapeños and cilantro with tequila, and the Bittersweet blends Saxtons River Distillery's Sapling Maple Bourbon, Caledonia Spirits' Barr Hill Gin and Eden Ice Cider's Orleans Bitter with petite pickled peppers.
Rather than simply mimicking the Denver menu — a ready-made recipe for success — it's clear that Bonin and Arnold have allowed the ingredients from their adopted landscape to lead the way. And, ultimately, that's what today's food movement is all about.