Matthew Thorsen
Solstice at Stowe Mountain Lodge
Plenty of restaurants are pretty. But the earth-toned dining room at Solstice has a grandeur that's at once rooted right here — the room's furnishings and pottery were created by Vermont artisans — and totally out of this world. There is nothing else like it in the state.
7412 Mountain Rd.
Stowe/Smuggs
Stowe, VT
802-760-4735
American (New)
The kitchen team crafts elegantly simple and seasonal fare that perfectly complements the décor. À la carte ordering is available, but the five-course $75 tasting menu is a special treat. On a given night, it could include a bite of crisped Duclos & Thompson pork belly with a drizzle of spiced honey, a dish of lamb and gnocchi with local ricotta and braised leeks — or both. Since they purchase food from nearly 40 area farmers and producers, the chefs have oodles of meats, greens and other products to choose from.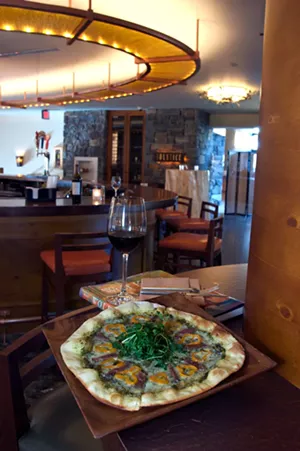 Matthew Thorsen
Solstice at Stowe Mountain Lodge
The fruit tarts and house-made ice creams are divine — and few can resist a dessert called the Chocolate Triple Bypass. For those who can, the cheese plate is exceptional, a wide assortment of nutty, creamy or stinky wedges. Wash 'em down with a glass of sweet and tangy, amber-colored Eden Ice Cider, one of Vermont's premier dessert wines.
Can't swing dining-room prices? Just steps away, at the Hourglass Bar, patrons can snuggle up near the fireplace and snack on Moroccan-spiced chicken wings with blue cheese dressing and house-pickled veggies, or a flatbread — recently touted in Food & Wine magazine — and a pint of beer or a snazzy cocktail.
Another budget option? Get your fix pre-mountain instead of post. At breakfast, Solstice offers build-your-own omelettes for $12, while an egg, cheddar and bacon sandwich is $9.
No matter when you go, the ambience, service and fare conspire to make everyone feel like a VIP.