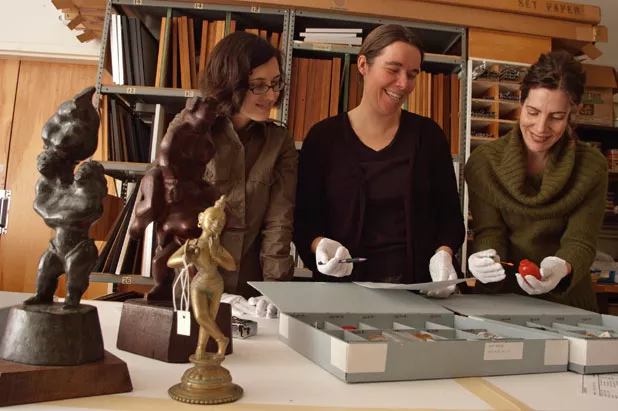 Matthew Thorsen
Nicola Astles, Margaret Tamulonis, Aimee Marcereau DeGalan
Janie Cohen walks through the stacks on the top floor of the University of Vermont's Fleming Museum of Art, running a finger along the shelves and pointing out favorites. Ancient Native American pottery shares a shelf with pre-Columbian artifacts, which perch next to small-scale European sculpture. Cohen, the museum's executive director, stops to point out a tattered-looking collection of maps created by Napoleon and his troops, then continues down to the end where the paintings hang. A nearby table displays smoking apparatuses, under consideration for a winter exhibition; a row of hunting spears hangs above a drawer full of Native American beadwork.
This area of the museum — where the Fleming keeps its treasures — is generally off limits to visitors. It's one of three on-site storage vaults, and it's crammed with objects dating from 3500 BC to the present day. Cohen knows them all. Visitors, even regular ones, probably haven't seen a quarter of the collection.
All museums struggle to represent the full range of their holdings, and the Fleming is no exception. Cohen estimates that only 5 percent of its 24,000 items are on view at any time; the other 95 percent sit on shelves upstairs, neatly labeled but as good as invisible.
That will change in January. Thanks to a couple of grants — more than $87,000 from the Institute of Museum and Library Services and a matching grant from the 1675 Foundation — along with internal sources, the museum is beginning to photograph, inventory and research its permanent collection. The funding will support a part-time collections assistant for two years.
Simply put, the Fleming is going digital.
Although bookkeeping is a routine part of museum upkeep, a digital database has the potential to dramatically influence the way the Fleming interacts with its visitors. Digital images open the door to universal information sharing. A student anywhere in the world will be able to reference the museum's Fragonard in a book report; a photograph of a never-before-displayed object might spark a conversation on Facebook. For the first time, art lovers on the outside will get a peek at what the Fleming's staff already knows about: the hidden treasures in those stacks.
As a university museum, the Fleming is charged with supporting a full range of academic initiatives, and the staff works closely with faculty to integrate art studies into courses ranging from nursing to mathematics to engineering. Currently, faculty seeking information simply ask Fleming curator Aimee Marcereau DeGalan.
"We have so many requests that it's often difficult to keep up," she says. "I can usually think of relevant objects off the top of my head, but professors have to start from scratch every time. Digital access to the collection would at least give them somewhere to start."
Not only would the project streamline collegiate lesson plans, but Cohen also sees its potential to enhance the museum's interaction with grades K-8. In recent years, she's observed with "pleasure and a little bit of amusement that, when kids come to the museum after seeing something online first, they get really excited," Cohen says.
That may be a commentary on the state of the arts these days, but there's no denying that technology can greatly enhance an in-person cultural experience. Indeed, it has been an arts game-changer for the past decade — never mind critics who claimed that digital photography and live broadcasts would kill off paying audiences. The Metropolitan Opera and the New York City Ballet proved exactly the opposite true, attracting broader audiences by streaming live performances at movie theaters across the country. (You can see the NYCB's The Nutcracker live at the Palace 9 Cinemas on December 13; and the Met's The Enchanted Island on January 21.)
The Fleming, which has digital records for less than 1 percent of its collection, is late to the technology game, but it is striving to catch up. One way it will do so is by plugging into the DIY craze that has struck museumgoers across the country.
"Everyone wants to conduct their own art experiences," Cohen remarks. "There's a huge emphasis on do-it-yourself museum visits, whether that means curating a digital exhibition or conducting your own site tour. That's exciting to me because that's really at the heart of museum work, and too few people understand how creative the process can be."
To craft do-it-yourself experiences, though, the museum needs feedback from its audience.
Traditionally, museums have been stewards of fine art that invite visitors to come and look at — but not interact with — carefully organized shows. But you can only look at the same works of art for so long. While changing exhibitions reinvigorate the experience, conversation about the arts is impossible if it only goes in one direction.
"This needs to be a two-way street if we're going to truly serve the community and the university," Cohen says. "What if visitors could vote on their favorite artwork, and we could then incorporate it into an upcoming exhibition? What about members' choice? Visitors' choice? Having access to the collection digitally opens up brand-new possibilities."
It opens up new options for DeGalan, too, who will be able to compare and evaluate objects digitally when planning exhibitions.
"It'll save many hours of time, but I will miss going treasure hunting," she says. "We have such a large and comprehensive collection that I'd go up there looking for one thing in particular and find myself getting lost in the boxes. One idea leads to another, and you end up discovering things you weren't even looking for in the process."