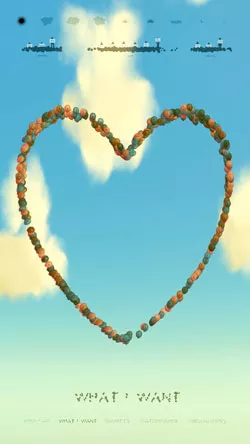 Details from "I Want You To Want Me"
Jonathan Harris spends way too much time on the Internet.
That much is clear from his obsessional show, "Inner Landscapes," which is currently attracting gaggles of geeks to the Firehouse Gallery. Based on the nine interactive and photographic works on display here, Harris, 31, comes across as an electronic bag lady, collecting scads of data that mean a lot to him but may seem meaningless to those not similarly fixated.
Consider the multiple, multicolor lines of yarn that intersect in the gallery's rear room. This head-height web links photos on one wall to photos on two other walls. While the visual and tactile effect is startling, the reason for these connections isn't apparent. It may have something to do with the diary-like narratives that accompany some of the photos, but these are so solipsistic that viewers may well stop reading them soon after they start.
Harris uses the same connecting-lines technique in another of his works, "We Feel Fine," which is the product of daily scans over a three-year period of 15,000 sentences in blog posts containing the words "I feel" or "I am feeling." Across from this piece, visitors can click their way through the 3214 photos Harris took at five-minute intervals over seven days while chronicling an Eskimo whale hunt. Nearby hangs "Balloons of Bhutan," in which 117 subjects of the Himalayan kingdom have been photographed holding a specific number of balloons corresponding to what Harris perceives as their respective levels of happiness.
In keeping with its narcissism, "Inner Landscapes" makes laughably overblown claims for what it presents. "We Feel Fine," for example, purports to be "a constantly evolving portrait of human emotion," but all that Harris and cocreator Sep Kamvar (a computational math professor at Stanford) have actually assembled here are the random babblings of bloggers, most of whom, judging from some accompanying photos, are young and white. Only someone who lives life online would confuse such a scrimpy sampling with the feelings of the entire human race.
Similarly, "10x10" is billed as "a continuous photographic tapestry of human life." In fact, it's a difficult-to-navigate, constantly updated compilation of the top 100 words and pictures found on news organizations' websites.
And then there's "I Want You to Want Me," a giant iPad displaying pink (for females) and blue (for males) balloons (again) that, at a touch, pop into pleas posted on dating sites. To Harris, this piece "chronicles the world's long-term relationship with romance, across all ages, genders, and sexualities…" To some viewers, it offers no more than a digital version of the voyeuristic thrills available by skimming, say, the personals section in the back of this newspaper. "I Want You to Want Me" also plays annoyingly anodyne computerized music that can be heard all over the gallery's front room.
All this said, "Inner Landscapes" also qualifies as a dazzling, funny, imaginative and, quite likely, prophetic show.
Harris, a native Vermonter who studied computer science at Princeton, just might be pioneering the future of visual art through works that take viewers on copiloted journeys through systems so complex they'll make one's head hurt. Many of the pieces at the Firehouse are as entertaining as they are engrossing. In "Word Count," for example, mouse clickers will learn that the most common of 86,800 cataloged English words is "the," while the least common is — wait for it — "conquistador."
"We Feel Fine" provides the reassuring revelation that people grow less sad and angry as they age. A geographic chart that's part of this piece, meanwhile, indicates that residents of the richest U.S. states — New York and California, for example — are the least happy. (Vermont, sadly, is also included in this less happy group.) And who's happiest? According to the findings of Harris and Kamvar's software programs, it's the residents of some of the reddest states — Arkansas, West Virginia, Tennessee, Kentucky and Oklahoma — where priority is said to be placed on family rather than money.
"Inner Landscapes" continues the Firehouse's run of challenging, adventuresome shows that require a significant time commitment on the part of viewers. But, unlike some of its predecessors at the Church Street venue, this mesmerizing and maddening exhibit makes the minutes sail by.