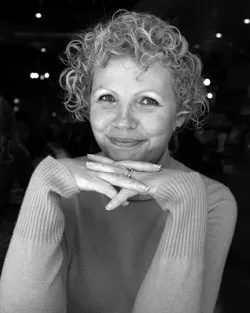 Washington County could be the next Silicon Valley. Or at least the next Montréal. Since last winter, a group of gaming industry vets has been meeting with the Central Vermont Economic Development Corporation and local legislators to discuss growing the digital economy in Central Vermont.
One of the chief techies behind the effort is Jackie Joy Weyrauch, currently content manager at ORCA Media in Montpelier. Weyrauch is new to Vermont, having fled after two years in what she calls the "golden handcuffs" of giant Montréal game manufacturer Electronic Arts. She now lives in East Calais with her husband, photographer Peter Weyrauch.
Despite her résumé, Jackie Weyrauch isn't a programmer or even a gamer. She started in the music and film biz and spent 10 years as the in-house sound designer and dialogue specialist at Insomniac Games, the Burbank studio behind classics such as Disruptor, the Spyro the Dragon series and, most recently, the Resistance series. In other words, she's the one who pairs human voices with the animation, sometimes before there's even a character sketch to use as a template.
No longer associated with a studio, Weyrauch now works as a freelance contractor in addition to her job at ORCA Media, casting and directing voice actors for some of the top names in the $74 billion gaming industry. Also a consultant and a union-regulations expert, she's beginning to show Vermonters how to get their voices into the action. Weyrauch sat down with Seven Days in her ORCA office to discuss casting games, telecommuting and why Vermont could be the next big thing in the gaming world.
SEVEN DAYS: What makes you the Dialogue Dame?
JACKIE JOY WEYRAUCH: After 15-plus years making video games, I became a specialist in all things dialogue, sound effects and localization. Now I'm able to do it on my own and do it in Vermont, because Vermont rocks.
SD: Localization — what's that?
JJW: Localization is where you ensure that every territory's dialogue is covered correctly — Spanish for Spain versus Mexican Spanish — and is not offensive and matches the movies [game visuals] exactly and that the actors are cast appropriately. Even though I don't understand the language, I can tell by their inflection and performance if it's a good match.
SD: Speaking of localization, how do you cast games while living in Vermont?
JJW: I send [Los Angeles casting agents] a character breakdown. They send me the [recordings of auditions], and I can make my suggestions to teams on who I think are the best actors. ... Most of us communicate via email these days. That can be done at 11 p.m., so the time difference isn't really an issue.
SD: How has the gaming industry changed since you started?
JJW: Every time there's a new platform [gaming console], it changes because there's so much more that it can do. What you can do has dramatically increased. What hasn't [changed] is finding a way to make the most out of what you've got and decreasing the files to as little as possible, where you're not losing quality but are covering everything that's happening — you're telling a much bigger story.
SD: Have you lent your own voice to your productions?
JJW: I did. I'm not a good actor, but I've got a good ear, and I know what's believable and what isn't because of my love for movies. My talent is finding it.
SD: How is voicing a video game character different from doing voice-over narration or advertisements?
JJW: I think it's harder. I've had the opportunity to work with celebrities who are on camera who cannot perform without someone to act off of. So a voice-over actor has to be able to really lose themselves and be able to put themselves in the mind-set of an environment that doesn't exist. One of the tricks I'd use if I were doing a war game is to put war sound effects in their cans [headphones]. As they were doing their lines, they felt like they were in battle. If you can do voice-over, you can do anything.
SD: Has motion capture — which digitizes footage of real human bodies into animation — superseded classic voice-over?
JJW: No, it's making it so much better. The trick is hiring a talent who can do the physical action, who can also do the voice work. I've been involved in projects where we did it completely wrong: We'd just hire someone to do the physical action, then have a voice actor mimic them based on their motion. It really doesn't work. It has to grow, because motion capture is becoming the wave of the future. It makes such a huge difference.
SD: Why do you think Washington County is a spot ripe for game development?
JJW: My belief is we have this abundance of resources two hours north of us — talent that may not really be happy in Montréal that we can lure to Washington County to grow a digital economy here.
I've gone through cycles of PlayStation 1, 2 and 3. It may not be the console, multimillion-dollar games people want to be working on here; [in Vermont,] it may be more people working to make social games and mobile games. We have the opportunity to nurture and grow the next Insomniac Games. Why not?
Dialogue Dame, dialoguedame.com. Jackie Joy Weyrauch and other Vermont digital economy leaders will host an open house on November 13 at noon at Local 64 in Montpelier.