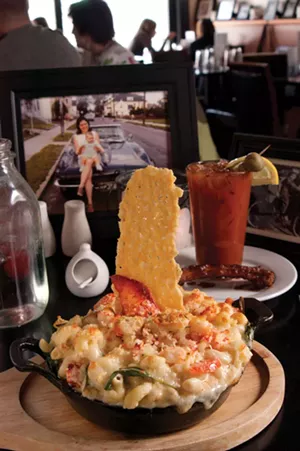 Matthew Thorsen
Our House
Men with Burt Reynolds mustaches. Ladies with blue eye shadow and big hair. Grandparents who have long since left this mortal coil. These portraits from the past adorn the walls of Our House.
While the décor engenders a family feeling, it only hints at the satisfactions of the food served in the cozy Winooski restaurant. Its married owners, Maggie Barch and Matt Pearsall, who also run Spice of Life Catering in Moretown, describe their fare as "twisted comfort food."
Diners shouldn't expect to be too jarred by the promised twists. Take Our House's variation on classic mac 'n' cheese, served in a black cast-iron pan and made with corkscrew cavatappi pasta coated in a thick, cheesy sauce. A pile of herbed bread crumbs adds a crispy coating. From there, diners can choose their own touches: Lobster is the decadent option, but you can put anything from housemade sausage to jalapeños to sweet pulled pork on the pile of pasta.
36 Main St.
Chittenden County
Winooski, VT
802-497-1884
American (New)
The "Yardbird" needs no dressing up. Each guest who orders the entrée is treated to a tiny, whole rotisserie chicken slathered in barbecue sauce, teriyaki glaze or herbs. The bird, with gravy and field greens, is almost upstaged by the side of bacon-cheddar bread pudding.
Speaking of breakfast ingredients, Sunday brunch at Our House is worth a few rotations in Winooski's roundabout. Cider doughnuts are served in a paper bag even after apple season. Eggy Dutch pancakes come in the pan, topped with a waffle and fresh berries or chocolate. Just like home? If only.