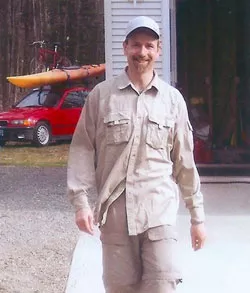 The state troopers suited up in woodland camouflage and smeared black paint on their faces. They were armed with submachine guns, Tasers, night-vision goggles and 12-gauge shotguns loaded with beanbag projectiles.
Their commander briefed them on the mission before deploying them into the woods of rural Corinth, Vt. A local man had made camp in the woods and threatened his family members at gunpoint earlier that day when they confronted him there. Left unchecked, he posed a danger to any hiker or camper who might cross his path.
Radio silence was imposed to avoid alerting anyone with a police scanner of the secret operation. Two troopers were sent to the man's parents' house to distract them while police searched for their son. The trooper in charge hoped it was much ado about nothing, but reminded his men of deadly force protocols in the event an armed standoff developed.
Their suspect was Joe Fortunati, a 40-year-old paranoid schizophrenic with an intense fear of police. After going off his medication some weeks before, Joe had packed up his car and disappeared into the woods with a kayak, a bike and camping gear. He also made off with his father's handgun, a .22-caliber Beretta.
When the Vermont State Police's Tactical Services Unit (TSU) found Joe, he was walking in nervous circles around his hillside campsite. They called out, "State police!" and ordered him to come down to them.
Joe waved to the troopers, but refused. "Why don't you come up here?" he replied.
Eleven minutes later, Joe Fortunati was dead in a pool of his own blood, a bullet in his head and another in his chest. Electrodes from two Taser stun guns were lodged in his back, delivering high-voltage shocks to his lifeless body. Joe's parents, meanwhile, were at home, expecting a call from state police informing them how troopers planned to bring Joe safely in. They wouldn't find out he was dead until four hours after it happened — the bad news came from a neighbor.
What really happened that night in June 2006 may never be entirely clear. The only first-hand accounts, including the description above, come from the Vermont state police troopers at the scene, nine of whom are now defendants in a federal lawsuit accusing them of using excessive force and covering up key details of the case.
Four members of Joe's family — his father Bob, stepmother Susan and brothers Robert and Mark — are suing the state troopers who planned and executed the failed mission to arrest Joe for wrongful death in the U.S. District Court in Brattleboro. The case echoes two others in Vermont — the fatal shootings by state police of Robert "Woody" Woodward in a Brattleboro church and of Darren Tufts in his Bradford home — and raises questions about how Vermont law enforcement responds to armed suspects who are mentally ill.
The official story from state police was that, after refusing to obey verbal commands to show his hands and stay still, Joe drew a handgun from his waistband, and police fired in self-defense.
"[Joe] had moved to a point of cover and pointed a firearm at myself and other trooper's [sic] present," Trooper Andrew Campagne wrote in a police report. "I knew I had to use deadly force to protect myself and others from an immediate threat of serious injury."
But now the story has changed. New documents in the Fortunatis' lawsuit paint a fuzzier picture of the events leading to Joe's death and cast doubt on the state police's official version.
Trooper Campagne, one of two who fired live bullets at Joe, recently gave sworn testimony saying Joe pointed the gun at him and two of his team members. Both those troopers now dispute that account.
Capt. Marc Thomas, the other trooper to fire live bullets, has testified that Joe pulled a gun out in a "very fast aggressive motion" but said the barrel was down and not pointed at him or any other TSU member.
Trooper Rob Snetsinger, who pelted Joe with numerous beanbag rounds from his pump-action shotgun, also said under oath that he did not see a gun in Joe's hand when he heard the gunshots ring out. Trooper Jeremy Hill said he never saw Joe point a gun at TSU members, and would have included that fact in his report had he witnessed it.
Other details are in question, too. In the shooting's aftermath, numerous troopers on the scene reported to superiors and one another that officers were "under fire" and shot back in self-defense. As long as four hours after Joe's death, his brother Robert was told by police "there was an exchange of fire."
Police now say they were mistaken. What they heard over the radio from the tactical team was "shots fired," not "we're under fire."
The issue of where, precisely, the shell casings from the troopers' rifles were found is also raising questions. Troopers reported being exposed in a field while Joe took cover behind a clump of trees and drew his weapon, giving Joe a tactical advantage. But new testimony from forensic investigators suggests the casings were found in a wooded area, not an open field, meaning the troopers may have been better shielded than they claimed.
The family's lawyer says the mounting questions point to a "cover-up."
"They're not telling the truth about what happened. There's too many different versions," says attorney George Spaneas, whose practice is based in Hanover, N.H.
The state recently asked U.S. District Judge J. Garvan Murtha to rule from the bench in favor of the troopers, arguing that no material facts are in dispute. Spaneas maintains that there are serious factual disagreements and wants a jury, not the judge, to decide the case at trial. Both sides filed hundreds of pages of evidence last week to support their claims: police reports, telephone transcripts and sworn statements from cops, family members and expert witnesses.
Joe's family contends that state police provoked a deadly confrontation by sending a SWAT team armed with M-16 and MP-5 assault rifles after a mental patient with a history of paranoid delusions about cops. They argue that shooting him with beanbags before he became confrontational, as at least one officer acknowledged in his account, led Joe to the point where police had to fire bullets at him.
The Fortunatis question why police left their hostage negotiator down in a van while the tactical team confronted Joe. The police also rebuffed Joe's mental health counselor when she offered to help de-escalate the situation.
"They went up there, pumped with fear," says Spaneas. "It was a mission to take him in, not to negotiate and have a safe resolution."
What police should have done, Spaneas says, is follow the guidelines of the International Association of Chiefs of Police for dealing with mentally disturbed suspects, which say, in part, to "use a calm, quiet, nonthreatening approach toward the individual" and "do not excite the disturbed person."
Instead, according to their own testimony, state police confronted Joe with weapons raised and fired on him with beanbag projectiles when he ignored their commands. Joe darted around the camp during the 11-minute confrontation, repeatedly yelling, "Just shoot me in the fucking head," police reports say. Minutes later, that's exactly how it ended.
"Everything you're not supposed to do, they did," Spaneas says.
State police couldn't see it more differently. Joe Fortunati was a volatile and dangerous individual camped along a public road with a loaded gun. His criminal record included a stolen car, a 43-mile police pursuit (during which Fortunati allegedly displayed a weapon to the officer trying to pull him over) and an altercation with police that reportedly left one cop with a broken thumb.
Eugene R.D. Deisinger, an Iowa-based psychologist enlisted as an expert witness by the state, argued that Joe was first and foremost to be treated as a criminal threat, not a distressed person. Negotiating with him would have been "impractical" and "ineffective" because his movements, and his ability to pose a threat, could not be contained. Introducing civilians, such as family members or his mental health counselor, would have been totally "irresponsible" on the part of state police.
"Family members had already failed in their attempt (at great risk to themselves), and the threat continued to be too great to expose other civilians at the time of the VSP contact with Fortunati," Deisinger wrote in court papers.
Joe's family describes him as a happy young man before he descended into mental illness in his late twenties. Born in Revere, Mass., in 1965, he grew up in Corinth, the third in a family of four boys.
He graduated from Oxbow High School, where he holds the record for discus throwing, and afterward found work in carpentry, welding and steelwork.
Joseph married and had two kids — Adam, 19, and Andrea, 17 — but divorced some time after he was diagnosed as bipolar and a paranoid schizophrenic.
Joe's own family came to feel he was a danger and asked for state police help in dealing with him peacefully. Joe had pulled a gun on his father, stepmother and brother when they confronted him at the campsite about moving onto family land and away from the public road.
Joe's father, Bob, called state police to report what had happened, saying the family believed Joe was a threat and "absolutely" capable of pulling the trigger. He told the dispatcher that troopers shouldn't feel safe near Joe in bulletproof vests, because "they could get it in the eye or the nose, the ears, the mouth."
A state trooper who took Bob's phone call agreed to "brainstorm" with the family about a way to get Joe down, but that appears not to have happened. Instead, the TSU was assembled and deployed to apprehend Joe.
Five months after Joe's death, investigations by the Vermont attorney general and Orange County state's attorney cleared the troopers of any wrongdoing, concluding the use of deadly force was justified.
Weeks later, to the Fortunati family's shock, the TSU troopers received medals of commendation at the annual Vermont State Police Awards Ceremony. Sgt. Marc Thomas and Senior Trooper Andrew Campagne, who fired the fatal shots, received the Combat Cross award for demonstrating "remarkable discipline in a stressful situation while attempting to bring this action to a conclusion." Five other TSU members each received the Director's Award.
Assistant Attorney General David Groff, who is defending the state in the lawsuit, notes that Joe was suspected of aggravated assault, a serious felony. During the confrontation, Joe was moving around the campsite, reaching into his car, disobeying verbal commands — all of which constitute threatening behavior, Groff says.
"He could have driven off and injured someone, grabbed a weapon," Groff says in a phone interview. "The fact a suspect doesn't shout, 'I'm going to kill you' doesn't mean they're not threatening."
The conflicting statements from troopers about what, exactly, Joe did with the gun once he grabbed it are basically irrelevant, Groff says.
"It doesn't matter, legally, where he pointed the gun," Groff says. "You pull a gun in a fast, aggressive manner at a police officer, they are justified to fire. They don't have to wait until the bullets are flying to respond to that threat."
Following Joe's death, state police launched a program to give troopers a minimum level of training in dealing with mentally ill suspects. It's a good start, but nowhere near adequate, according to Leah Matteson, president of the Vermont chapter of the National Alliance on Mental Illness. "Vermont needs to adopt the Crisis Intervention Training model, which teaches police how to use de-escalation methods and uses mental health professionals to help calm situations," she says. "Usually when there is a crisis, everyone goes in full barrel."
The state police made no apologies for how the mission went down. Asked under oath whether using the tactical team was a mistake, Capt. Walter Goodell answered, "Absolutely not."
"You'd do it again?" the Fortunati family's lawyer asked.
"Hundred times in a row," the captain said.