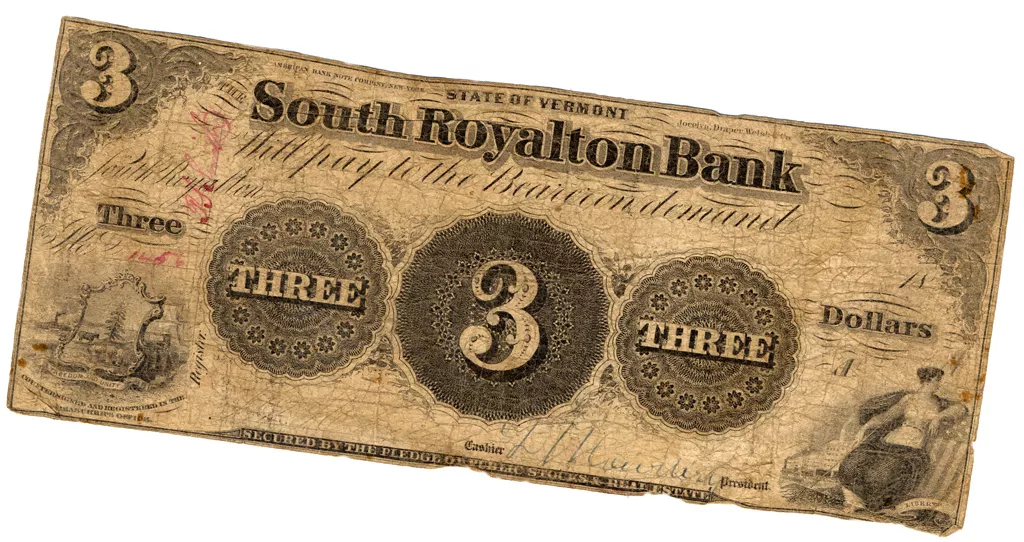 Last month on Town Meeting Day, voters in 18 communities approved nonbinding resolutions calling on the Vermont legislature to create a state-run bank similar to North Dakota's.
Why create a Vermont bank? According to a December 2013 study by the University of Vermont's Gund Institute of Ecological Economics and the University of Massachusetts at Amherst, there are many advantages to a publicly owned state bank, removed from global financial scandals and Wall Street's corrupting influences. It could create as many as 2,535 new jobs, raise Vermont's gross state product by $192 million and save Vermonters nearly $100 million in capital interest costs annually.
For now, the idea is in limbo: The measure, which voters rejected in four other towns, has not yet resulted in action on the proposed legislation, S.204. But the notion of a state-owned bank is far from new in Vermont.
In fact, says Marjorie Strong, assistant librarian at the Vermont Historical Society, Vermont created one of the first such banks in the country back in 1806. Years before that, Vermont was the first local government on this side of the pond to mint its own currency. Yet both efforts were remarkably short-lived. WTF?
For many years after the American Revolution, Strong explains, most transactions in Vermont were conducted with foreign currencies, generally those of England or Spain. (This was true throughout the original 13 states.) However, the war created a shortage of metal coins, and many citizens avoided paper money and notes for fear that they were counterfeit or worthless, choosing instead to conduct daily transactions by barter. In fact, before its admission to the Union in 1791, the Vermont Republic enacted a law recognizing cattle, beef, pork, sheep, wheat, rye and corn as legal tender, with their value determined by an appraisal of "competent men under oath."
Swapping pork loins for liquor and gunpowder may have been the standard modus operandi in the 18th century, but Vermont's early lawmakers quickly recognized the limits of a livestock-and-produce-based currency. Simply put, it was hard to ensure the safety of deposits of heifers or bushels of corn when the former were liable to eat the latter.
In June 1785, the Vermont Republic authorized Reuben Harmon Jr. to start minting copper coins on his property in East Dorset. Tyler Resch, a research librarian at the Bennington Museum and author of the 1989 book Dorset: In the Shadow of the Marble Mountain, offers an account of this state currency.
Harmon's coins, dubbed Vermont Coppers, were backed by a bond of £5,000 executed to then-state treasurer Ira Allen. Between 1785 and 1788, Harmon minted a variety of copper pennies in his 16-by-18-foot shed in Dorset. One side of the coin showed the sun rising over the Green Mountains and the words Res Publica Vermontensium, or Republic of Vermont.
"What was interesting to me," Resch says in an interview, "was the Latin quotation on [the other side of] these coins, which said, Stella Quarta Decima, which meant 'the 14th star.' It expressed the early aspirations of Vermonters to be the 14th state."
Resch, whose museum has one of the largest known collections of Vermont Coppers, doesn't know how widely they circulated. Strong claims that they were coveted throughout New England, as they contained more copper by weight than many other coins of the era.
Indeed, Vermont Coppers are still highly sought after today, in part because so few were struck and only 5,000 are believed to exist. A numismatist at Bunker Hill Rare Coin in Boston, Mass., reports that they can sell for $1,400 to $7,000 apiece, depending on their condition.
Vermont's first and only state bank arrived years after its first and only currency. Because Vermont had joined the Union after the revolution, Strong says, it couldn't be hit up for the war debt and enjoyed better fiscal health than other states in the early 1800s. Yet questions about the validity of various currencies and bank notes lingered.
Vermonters began agitating for a state-run bank where profits would accrue to the state rather than to a foreign entity. "It was the same argument," Strong notes, "for creating a state bank today."
In 1803, the citizens of Burlington and Windsor petitioned the legislature for permission to establish their own banks. Both were rejected. But in October 1806, the legislature acquiesced and voted to form the Vermont State Bank, with branches in Woodstock and Middlebury.
The enterprise was profitable: In 1809, then-governor Jonas Galusha described it as having "saved many of our citizens from great losses and probably some from total ruin." Alas, it was also short-lived. In 1812, the legislature voted inexplicably to close the Vermont State Bank and burn all its currency.
Vermont remained bankless until 1818, when the Bank of Windsor opened. That one later went bankrupt, Strong says, though the Bank of Burlington survived, became a national bank and was eventually absorbed into a larger entity.
By the Civil War era, Vermont had at least 40 state-chartered banks operating, according to data from the Vermont Department of Financial Regulation (DFR). That number rose to a high of 59 banks in 1925 but declined to 25 by the mid-1970s, then to just seven in 2012 — not including federal credit unions and national banks chartered elsewhere.
As of December 31, 2012, financial institutions and credit unions in Vermont had combined assets of $9.4 billion, the DFR reports. Fully one-third of those assets are kept in state and federal credit unions. Evidently, many Vermonters would rather trust not-for-profit financial institutions than out-of-staters with their hard-earned money.