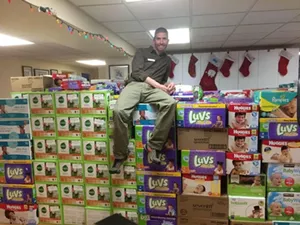 Jason Fitzgerald atop the diaper wall
Get Jason Fitzgerald taking about the annual Dee Physical Therapy Diaper Drive and he sounds like a kid at Christmas.
"I love this time of year, because — from the middle of October until the end of December — I get to see all these people that I, literally, only see once a year," says the clinical coordinator and exercise physiologist.
Now through Dec. 22, all three Dee clinics will collect disposable diapers for families served by the Committee on Temporary Shelter (COTS). This is the ninth year for the project, which has yielded donations of about 160,000 diapers since its inception.
The 42,000 diapers collected last year are just now running out, says Becky Holt, development and communications director at COTS. The drive has provided a full year's worth of diapers for COTS clients for each of the last two years, Holt says. "We are beyond grateful."
Fitzgerald came up with the idea while out for a run one morning. Recognizing that there were already many worthwhile fundraisers, he wanted to help give families a necessity that can be a financial burden. The father of two didn't have to think on it for long.
One child uses about 3,000 diapers a year, which adds up to about $720, Holt said via email. "For homeless families who are struggling to save money to return to stable, permanent housing — or for those working hard to make ends meet to keep their housing — the diaper drive is an incredible way to help them reduce costs, save money and care for their child."
Dee patients — past and present — chip in. "So it's this huge reunion every year," Fitzgerald says. One woman, who was a patient eight years ago, collects diapers all year and delivers a carload. A guy in Connecticut and a guy in Florida each order online and have the diapers delivered.
They all get stacked in the three Dee PT clinics. "The Great Wall of Diapers" in the South Burlington location is 8 feet tall, 30 feet long "and it literally bisects our entire clinic," says Fitzgerald.
If you'd like to help build the wall, you can drop off diapers at these three locations:
• Dee Physical Therapy, 23 San Remo Dr., South Burlington

• Dee Physical Therapy at the Field House, 166 Athletic Dr., Shelburne
• Dee Physical Therapy 52 Farmall Drive, Hinesburg
Hours: 7 a.m. to 6 p.m. Monday through Thursday, 7 a.m. to 4 p.m. on Fridays.
If you'd like your donation picked up, call 865-0010.