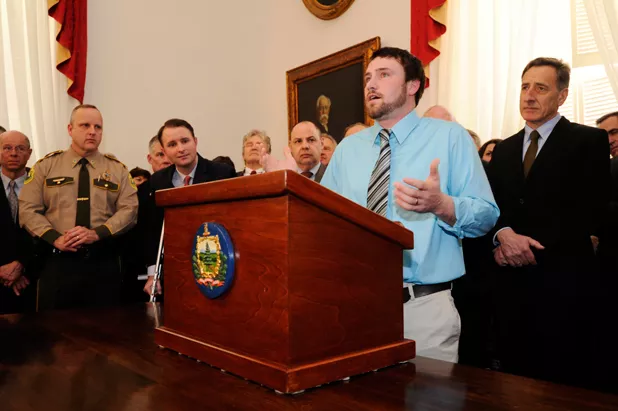 Jeb Wallace-Brodeur
Recovering opiate addict Dustin Machia speaks at a Statehouse press conference last week
Gov. Peter Shumlin grabbed state and national headlines last week when he used his State of the State address to launch a campaign against a "rising tide" of opiate addiction and related crime.
"In every corner of our state, heroin and opiate drug addiction threatens us," Shumlin declared to a packed House chamber as the 2014 legislative session began. "It is a crisis bubbling just beneath the surface that may be invisible to many, but it's already highly visible to law enforcement, medical personnel, social services, addiction treatment providers and far too many Vermont families. It requires all of us to take action before the quality of life that we cherish so much is compromised."
There is little doubt that Shumlin was correct in identifying opiate addiction, and a shortage of treatment options, as serious problems. Vermont had the nation's highest rate of illicit drug use in 2010-2011; police are making more arrests for heroin and other drug-related crimes; and 1,000 people are on waiting lists for treatment.
But was the governor correct to assert that there is a "growing epidemic" and a "rising tide" of addiction and drug-related crime spreading across Vermont? The answer to that question is far from simple.
While the measures of opiate addiction and drug-related crime cited by Shumlin and his supporters are going up, other key indicators have remained unchanged — or even fallen — in recent years. Consider:
• A 2013 Vermont Department of Health report found the number of people hospitalized for opiate overdoses in the preceding 10 years has remained "consistent."
• The number of opiate-related deaths in Vermont has not changed significantly since 2006, and actually dropped 8 percent from 2011 to 2013. The Department of Health said it could discern "no specific trend" in opiate deaths in the past decade. (In 2013, as Shumlin noted, the number of heroin deaths nearly doubled, from nine to 17. Deaths from prescription opiates fell from 46 to 39.)
• Shumlin correctly stated that the number of Vermonters in treatment for opiate addiction has surged nearly 800 percent since 2000. However, health experts say that figure likely overstates the increase in new addictions; at least some of the jump can be traced to existing addicts claiming a greatly expanded array of treatment slots.
• While Shumlin accented the growing problem of heroin, he also suggested that prescription drug abuse was part of the "rising tide." However, 2013 Vermont Health Department surveys of adults, high school students and middle school students have shown that the misuse of prescription drugs, most of which are opiates, has not increased since 2007.
• Overall property crimes, which include larceny, burglary and vehicle theft — the category of crime that law enforcement officials typically identify as being committed by addicts seeking money to buy drugs — have steadily declined in Vermont since 2008, according to federal statistics.
The Shumlin administration referred most questions to Health Commissioner Harry Chen. While acknowledging figures that seem to contradict the assertion of a "rising tide," Chen said his boss was right to draw attention to opiate addiction and those who cannot access treatment. "The case can be made very easily that it's a huge problem in Vermont," Chen said. "Most Vermonters agree that this requires focus and attention, and I applaud the governor."
Treatment Tells
In his State of the State address and appearances afterward, Shumlin painted a grim picture of opiate addiction spreading from big cities into a peaceful state, leaving shattered lives in its wake. He pointed to the example of Dustin Machia, one of the addicts featured in The Hungry Heart, Bess O'Brien's documentary film about drug abuse in the St. Albans area.
A young man raised on a dairy farm, "Dustin started using drugs in 10th grade, during a 15-minute break between school exams," Shumlin recounted. His addiction to OxyContin, a prescription painkiller, quickly grew from a $100-a-week to a $3,500-a-week habit, leading him to steal more than $20,000 worth of farm tools and equipment from his own parents.
"'Be careful because your addiction is waiting out in your driveway, just getting stronger, just waiting for you to slip up and take you away,'" Shumlin quoted Machia as saying. With support from his family and treatment from Franklin County pediatrician Fred Holmes, Machia beat his drug problem and has been clean for five years.
Machia is just one of many Vermonters who have seen their lives — and those of their families, friends and communities — ravaged by addiction. Shumlin cited a 770 percent jump in people receiving treatment for opiate addiction since 2000 and a long list of people waiting to enroll.
But health experts acknowledge that those numbers should probably come with a disclaimer: The dramatic rise in people enrolling in opiate treatment is at least partly a product of successful initiatives to open new treatment centers and allow doctors to treat addicts in their own offices. The 770 percent is attributable not just to a surge in demand for treatment, they said in response to questions, but also to an increased supply of treatment.
"We began to look at, 'Is there a better way to put the pieces together to expand access and getting it to more people who need this treatment?'" said Barbara Cimaglio, the state health department's deputy commissioner for alcohol and drug abuse programs. "It's in everyone's best interests to get people help and get them into recovery."
In 2000, the baseline year of Shumlin's treatment statistic, there was no place to receive treatment for opiate addiction in Vermont; patients had to travel out of state. But in 2002, the HowardCenter opened a methadone clinic in Burlington and other clinics followed — in West Lebanon, N.H. (2004), the Northeast Kingdom (2005), Brattleboro (2007) and Berlin (2008). On January 1 of this year, a regional treatment facility opened to serve St. Johnsbury and Newport.
The treatment efforts went well beyond new centers. In early 2004, Vermont doctors got the green light to administer patients buprenorphine, another drug used to treat opiate addicts, in the privacy of their own offices.
By 2012, more than 4,200 Vermonters were in treatment for an opiate addiction, according to the Department of Health.
Asked whether an increasing number of addicts, or the expansion of programs, accounts for the surge, Cimaglio said: "I think it's a combination of both. If you look at all the data and listen to law enforcement, they are seeing a spike. At the same time, you're seeing us provide more treatment."
In response to questions about whether the increased supply of treatment accounts for a portion of the treatment statistic, Chen said: "Your point is well taken. I don't really know that, but right now we're getting Vermonters treated for their addiction, and that's what my [focus] is."
Demand for treatment has held steady — rather than increased — in recent years, said Bob Bick, director of mental health and substance abuse services at the HowardCenter. But demand is strong, he stressed, noting he welcomed Shumlin's pledge to devote $200,000 to expand treatment options in the short term and to devote more resources to the problem over time.
"Part of the talk for the state and providers is we don't know how much of this iceberg is below the water," Bick said. "We know what's above the water; that's the people in treatment. We're trying to predict what actual unmet demand is. Right now, the goal is to meet the demand that we know exists, and then we will see what continues to exist."
Source: Vermont Department of Health
Top Three Threats
Derived from the opium poppy, all opiates fall into one of two categories: legal but often-abused prescription drugs such as morphine or OxyContin, which are designed to alleviate pain or bring sleep; and illegal varieties such as heroin.
Last week, the governor, along with House Speaker Shap Smith (D-Morristown), Senate President John Campbell (D-Windsor) and others said they were concerned about an opiate "epidemic" in Vermont. Shumlin also spoke of a "full-blown heroin crisis."
The administration's case for a surge in heroin use, however, seems strongest. Shumlin and other officials say that as the prescription drug wave seems to be subsiding, heroin may be rising to take its place. The number of people receiving treatment for heroin jumped 40 percent from 2012 to 2013, Shumlin said.
Several factors have fueled heroin's popularity. In 2010, makers of OxyContin changed the formula for the drug, making it more difficult to get high by snorting it. Heroin is now cheaper than OxyContin or other illegally obtained prescription opiates, according to Burlington Police Chief Michael Schirling. And dealers can triple their money by traveling from big East Coast cities, where a bag of heroin goes for less than $10, to Vermont towns, where it sells for as much as $30.
State police estimate that $2 million in heroin and opiates makes its way into the state every week.
Vermont health researchers say other problems are just as severe — if not worse — than the state's opiate abuse. In 2012, the health department's State Epidemiological Outcomes Workgroup set out to identify areas in which Vermont should focus its substance-abuse efforts. The group identified "clearly and unambiguously" three problems "that should continue to receive high priority in the state's prevention efforts ... underage drinking, high-risk drinking and marijuana use."
The top problems — alcohol and marijuana abuse — were unchanged from 2007, when the question was last addressed; opiates didn't make the list in either year. In response to growing concern about opiate addiction, the workgroup's 2012 report noted that it conducted meetings that were "generated by a noted discrepancy between the perception of the extent of the prescription-drug misuse problem in Vermont and data that appeared inconsistent with this perception."
SEOW's John Searles said he was not surprised by the findings. Despite the alarm about heroin and prescription-drug abuse in recent years, historical patterns show that people abuse alcohol and marijuana more than opiates, cocaine or other substances.
The report found 26 percent of Vermonters age 12 and up had engaged in binge drinking in a one-month period and 11 percent had used marijuana. By comparison, 4.6 percent had misused a prescription drug, and 3.9 percent had used an "illicit drug." The study did not provide specific figures for heroin.
"Alcohol is the No. 1 problem we look at in every data set. The data suggest that alcohol and marijuana are more significant in terms of burden on the system," Searles said in an interview. He added, "But the increase in people on opiates, that's a huge public health concern. It's clear to me, in terms of treatment data, something needs to be done."
The Crime Connection
In a press conference following his State of the State address, Shumlin, who faces reelection in November, was flanked by key legislators, police officials, prosecutors — even Vermont Supreme Court Chief Justice Paul Reiber, who has been unusually outspoken in declaring that the court system cannot keep pace with drug crime. They were there to reinforce the point that opiate addiction is directly linked to increased criminal activity.
"He travels the state almost every single day and has heard from addicts, providers of treatment, police chiefs, the U.S. Attorney … he's heard from just about everyone, and he gets the same response everywhere he goes," Shumlin spokeswoman Sue Allen said.
The Vermont Judiciary says that felony filings have increased by 9 percent in the past five years, half of which can be attributed to drug crimes. Additionally, the judiciary says, abuse and neglect cases are up 33 percent in the same time frame; Reiber said he believes much of that is tied to families ravaged by drugs.
U.S. Attorney Tristram Coffin said his office has seen a big spike in indictments of heroin defendants. In 2010, the office saw 12 heroin indictments; the number rose to 72 in 2013. The amount of heroin seized during busts also seems to have increased, said both Coffin and Schirling. For example, last March, state police stopped a Cadillac in Williamstown that was allegedly returning from Brooklyn with 2,600 bags of heroin in the trunk.
"Anyone who works in law enforcement or the treatment field will tell you we have a huge problem here," Coffin said.
Max Schlueter runs the Vermont Justice Research Center, a state-funded group that examines crime trends and the impact of policy decisions. He said drug-crime arrests may not be as useful a barometer as they might seem. Drug arrests, he said, are usually a product of police enforcement efforts — searching a car, for instance, or setting up a sting.
"It's important to understand that arrests for drugs are really a measure of police action," Schlueter said. "They aren't a measure of actual crime." Thus, he said, it's impossible to determine whether the increase represents a dramatically increased drug-crime rate, heightened enforcement efforts — or both.
Schleuter and other experts say a more reliable measure of whether opiate addiction is fueling additional crime is property-crime statistics, which tend to rise when addicts break into homes and businesses and use other types of theft to pay for expensive habits.
The most up-to-date figures on crime rates come from the Federal Bureau of Investigation, whose numbers show that nearly every type of crime in Vermont has fallen in recent years, including property crime, which law enforcement officials have long described as an outgrowth of drug addiction.
In 2008, the state recorded 15,903 property crimes. By 2012, that number had dropped 6 percent, to 15,016 property crimes.
'Tomorrow Could Be Too Late'
In his speech, Shumlin called for an array of initiatives to address the opiate problem. He proposed setting aside $200,000 to bolster staffing and reduce waiting lists at treatment centers; $760,000 for county prosecutors to conduct evidence-based screenings and redirect addicts out of the court system and into treatment; and $20,000 to fund a high school tour for O'Brien and her movie's subjects. He also proposed stiffer sentences for out-of-state dealers who come here to sell drugs and for anyone who breaks into a house using a gun.
Those proposals have already gained support in the Statehouse, where lawmakers are pondering a variety of related measures.
"We do believe the opiate problem has risen to a level where we have to take action. I don't think there's anybody in this building who would proclaim it isn't a problem," Republican State Sen. Joe Benning, a defense attorney, said in an interview.
People directly involved with efforts to combat addiction were cheered by Shumlin's push to immediately improve access to treatment. Standing at the governor's side, Machia explained: "If I'm an addict today, and something major happens, and I decided it's time to go, find a bed at a rehab somewhere, and I'm ready to go right now, I need to go right now because if I don't go right now and I wait until tomorrow, tomorrow could be too late," Machia said. "I could be dead."
In Burlington, Bick said even if the statistical case is more muddled than what officials presented last week, it matters little to the addicts trying to get help, and to the providers who don't have enough resources to go around.
"To the individuals and families affected by this, it's one person at a time. Sometimes we look at treatment numbers and waiting lists, we lose sight of the trees for the forest," HowardCenter's Bick said. "When I'm talking with a mother who has just lost her 25-year-old son to an opiate overdose, all the data and statistics become meaningless. It's very personal, and it's very real."