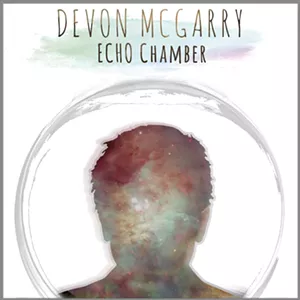 (Self-released, CD, digital download)
I've often heard a theory of a time vortex that keeps Vermont stuck in the 1990s. If such a vortex exists, I'm cool with that. The '90s were a fairly comfortable time — or at least felt like it, because of the baggy pants trend. Burlington's Devon McGarry seems to be down with the '90s vortex, too, as evidenced by his debut EP, Echo Chamber.
On the opening track, "Fortune Teller," lead songwriter, singer and guitarist McGarry makes some heavy claims while attempting to explain why someone should have a baby named Crystal Ball with him. Musically, McGarry and multi-instrumentalist Mitch Tericciano — who also mixed and mastered — push the aesthetic toward that of alt-rock giants Train and Nickelback.
McGarry's lyrics depict a scenario in which he holds your hand and you see a future of you and him, together dancing around Faneuil Hall — which, conveniently, rhymes with Crystal Ball. He's closing his eyes and imagining the paradise he could create for you and your unborn child if you would just "open up to him." There's a nice balance to the mix and, per '90s alt-rock law, a pretty good guitar solo in the middle.
Appropriately enough, "Nostalgia King" induced a persistent feeling that I had heard it before. The song totally would have been big in 1998. McGarry really hits the quintessential '90s radio-rock formula — this EP is like a thesis on that sound. Crack at least three cold ones and kick back to this cut.
The EP hits a bit of a pothole on "Dominoes." The track is clunky, with strained vocals and an awkward mix, which makes its sentiment sound forced. Once again, the defining moment of the song is a lengthy guitar solo.
McGarry rebounds on "Breakfast in Bed," which seems to be about rising above the expectations of others and defying low self-esteem. It has a nice message about doing whatever the heck you want to do in life. Like, for example: If you want to make an alt-rock EP, make a dang alt-rock EP and stick that baby on the internet! Be your honest self so that others feel inspired to do the same.
Echo Chamber closes on the title track — and some Puddle of Mudd vibes. "Echo Chamber" presents as a bit more of an upbeat bar jam than does the rest of the EP, at least sonically. Lyrically, however, McGarry confronts the "monsters under my bed." He overcomes them by recognizing he has the power to change his own perspective. The song ends with the hopeful words, "I talk to ghosts sometimes / I make the most of times / I've seen the worst of times / I save the world sometimes."
Trip the '90s vortex by streaming Devon McGarry's Echo Chamber at devonmcgarry.bandcamp.com.
The Devon McGarry Band perform on Saturday, September 30, at the Skinny Pancake in Burlington.