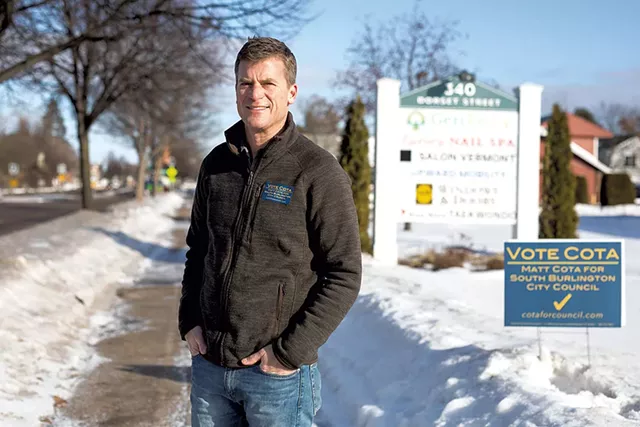 Oliver Parini
Matt Cota
One of the fiercest city council fights in Chittenden County is being waged in a pair of South Burlington parking lots.
In one lot: outspoken five-term incumbent and current vice chair Meaghan Emery, known for her willingness to tussle with airport officials and her counterparts in Burlington.
In the other lot: Development Review Board chair Matt Cota, who is running his first political campaign.
It may not sound like a close race, but Cota is no stranger to politics. He leads the Vermont Fuel Dealers Association, a lobbying group for the heating oil industry. He has degrees in political communication and public policy, and he honed his public speaking skills in the '90s as an on-air reporter for WPTZ-TV.
He used his reporter's flair for a punchy sound bite to draw first blood.
"Hi, I'm Matt Cota, and I'm running for city council here in South Burlington," he said in a 25-second video recorded in a full parking lot in City Center. "Did you know there's a new law that says a commercial developer doesn't have to provide parking for their customers or their employees? That they can just simply push it off into neighborhoods or other properties?
"That's not right. That's one of the reasons I'm running for city council. Please vote for Matt Cota on March 3rd."
A week later, Emery, who is an associate professor of French at the University of Vermont, responded with a video of her own, also filmed on a SoBu parking lot — an empty one. "My opponent has made parking the centerpiece of his campaign, and I'm here to tell you that parking is one of the biggest impediments to new businesses moving in," she began. She then pivoted to ecological concerns: "Every new impervious surface leads to more stormwater running into our lake."
South Burlington voters may have bigger issues on their minds heading into Town Meeting Day, including development of the city's remaining open space and a proposed $209 million school. But against that political backdrop, both candidates are jockeying to portray themselves as pragmatic Democrats whom voters can trust to navigate those challenges in their interests. And each believes the parking issue shows how the other is out of touch.
That debate centers on a decision last fall by the city council to eliminate minimum parking standards, allowing businesses to determine how many spaces they need. Cities around the country have begun rolling back parking requirements based on the belief that they increase building costs and perpetuate car culture. Shortly after South Burlington eliminated its standards, Burlington planning officials proposed doing the same in that city's downtown district.
Cota, whose role as Development Review Board chair has been to ensure that projects comply with city planning rules, says the change will enable irresponsible development. In a recent interview, he described the council's approach as "the chaos theory for climate mitigation," adding that it doesn't make sense for a suburban city such as South Burlington, where cars remain indispensable. Last October, he presented the council with what he called a compromise proposal that would let the board grant parking variances only when appropriate. Councilors eliminated parking minimums over his objection on a 3-2 vote, with Emery voting in favor.
"That's when I said, 'I've got to run,'" he said.
Cota saw an opportunity to introduce himself as a commonsense realist, while painting Emery as idealistic.
Emery doesn't believe that parking is Cota's chief motivation for challenging her. She notes that she's been a political "lightning rod" since she pushed back a decade ago against airport expansion and F-35 basing plans over impacts to affordable housing stock in the nearby Chamberlin neighborhood, where she lives. In the years since, she's survived contested races waged by some of the same opponents who are now backing Cota.
Emery has nonetheless been quick to defend her parking standards vote. Even before Cota filmed his parking lot campaign ad, she uploaded to her website a seven-page white paper outlining her research on the subject. Her rebuttal video was not as concise or well staged as Cota's, but she said she wanted to show voters that her policy positions are well reasoned.
"You can't leave challenges unanswered, especially when there are gaping holes in his arguments, or, I would say, really unfounded claims," she said.
It's a tactic she's used throughout the campaign, wading into Facebook comment threads. During a recent Channel 17 candidate forum, she managed to pose more direct questions to Cota than the moderator did. When Cota referred only vaguely to his lobbying job, Emery pointed out that his work is for the petroleum industry — a point she hammered home during an interview with Seven Days.
Oliver Parini
Councilor Meaghan Emery
"What is his interest in making sure parking lots remain large?" she asked. "We have petroleum products going into that blacktop."
The sparring has extended to the most consequential issue of the campaign, as well. For years, residents in South Burlington have fought over new development built on former dairy pastures and farmland. Councilors have pushed to create an urban core, while developers continue to eye the city's so-called "Southeast Quadrant" for new suburban neighborhoods. Residents' lawsuits have stymied construction of two proposed developments, Spear Meadows and Dorset Meadows, which would result in hundreds of new homes. The issue is now before the Vermont Supreme Court.
In 2018, the city council voted 4-1 to adopt "interim zoning" to slow new development in the city's outlying areas so it can revise planning regulations to control future growth. The council extended interim zoning last week for an additional three months, ensuring that whoever wins on Town Meeting Day will have a say in how much open land becomes suburbs. Emery's two-year seat is the only contested race in the at-large, nonpartisan council elections.
"I think it's terribly important for Meaghan to win this race," said Sarah Dopp, president of the South Burlington Land Trust. "Our experience has been that the developers are just lined up, waiting for interim zoning to be over."
As part of the planning process, a council-appointed committee recently unveiled a list of 25 parcels that should be prioritized for land conservation. Some of the properties are prime for development, such as a privately owned 100-acre lakeside parcel near Red Rocks Park. Dopp called it a natural "gem."
Cota opposes interim zoning as unnecessary and advocates an approach that his supporters believe would lead to responsible growth.
"There's got to be some balance and equity between the housing agenda and the open space agenda," said longtime real estate agent Michael Simoneau, who narrowly lost a council race to Emery in 2016. "Meaghan is supportive of limiting, if not stopping, development in the Southeast Quadrant, and I think Matt has a more moderate approach."
After Cota's parking lot video garnered 1,000 views, he released a second clip in which he criticized interim zoning as unfair. "It allows the five city councilors to go behind closed doors and decide whether or not someone gets a building permit," he said, this time in front of a grassy field. "It's not transparent, and that's not OK."
At the forum, he further criticized the city for spending $400,000 on the process. He posted a line-item accounting of the planning studies and related contracts on his website. The vast majority of that bill was racked up during South Burlington's first round of interim zoning, enacted eight years ago. Emery pointed out that she voted against interim zoning back then and that the subsequent costs were incurred during a two-year period when she left the council.
Simoneau argues that the current planning process is being "orchestrated" to halt further building in the Southeast Quadrant. Cota, too, criticizes the ongoing planning efforts as too extreme. The city shouldn't designate entire parcels as conservation priorities when only a portion of the lot might contain critical habitat, he contended.
"There's a way we can preserve critical habitats but yet not shut down development in the Southeast Quadrant," he said.
Emery sat on the committee that created the list of priority parcels for conservation. She said Cota and his supporters are misrepresenting the committee's approach and that she expects city planners will consider whether certain portions of those parcels can be developed for either residential or commercial use.
"This is not wild-eyed, ideological planning that he likes to paint it as. This is very realistic, very pragmatic and practical planning to make sure our resources are used wisely," she said.
The council debate will only continue to heat up as Town Meeting Day nears. As of February 2, Cota had raised $4,600 — more than any other city council candidate in the state, according to campaign finance disclosures filed with the Vermont Secretary of State's Office. So far, he's bought yard signs, newspaper ads, buttons, bumper stickers and T-shirts. Cota's Facebook videos don't cost a dime.
"I've had to respond more assertively online than I have in the past," Emery said, "because that's the nature of his campaign."