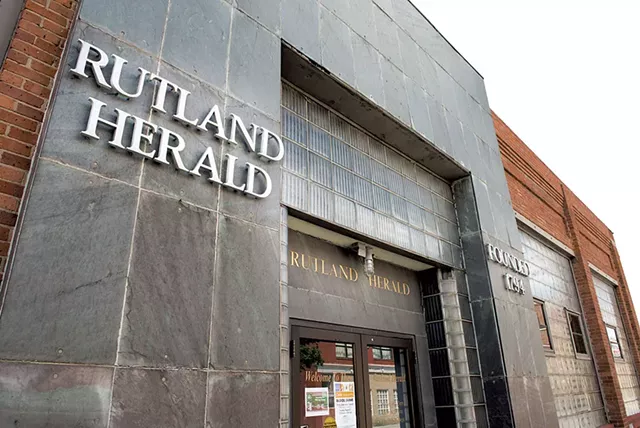 Late Friday afternoon, Rutland Herald owner R. John Mitchell fired news editor Alan Keays for holding accountable one of the community's most powerful institutions: the newspaper itself.
After publishing a piece in that morning's paper about the company's inability to pay its own employees, Keays had informed Mitchell and publisher Catherine Nelson that he was planning a follow-up for Saturday's edition.
"[Mitchell] said there wouldn't be another story. I said there would be," Keays later recounted. "And eventually it got to the point where I was fired."
The 46-year-old editor, who had spent most of two decades at the paper, left the meeting and exited the Herald's downtown Rutland headquarters.
"People asked if [Mitchell] had fired him, and he nodded his head and walked out," education reporter Lola Duffort said moments later in a tearful phone call to Seven Days.
"The entire newsroom is walking out," she reported. "The paginators are leaving. The editors are leaving. I don't know how many people are going to stick around, but I don't think a paper's coming out tomorrow."
After commiserating with their former boss in the Herald's parking lot, staffers returned to their desks and put Saturday's paper to bed. But the damage had already been done. The follow-up story for which Keays had been fired had been spiked. And when readers opened their papers the next morning, they found not a word about the turmoil that had wracked the venerable institution.
"It's a shame the state's oldest newspaper — a Pulitzer Prize winner — has been run into the ground by mismanagement, with the excuse that 'times are hard for newspapers,'" said one staffer on hand for Keays' departure.
Tensions at the Herald and its sister paper, the Barre-Montpelier Times Argus, have been simmering for years. Faced with declining advertising revenue and shrinking circulation, the once-dominant Vermont newspaper company has ordered several rounds of layoffs and retreated from its strongholds in Windham and Bennington counties.
Its problems were compounded in May 2011, when a flood inundated its Barre printing press. Insurance covered less than a quarter of the $4.5 million in damages.
In a bid to save the papers and forestall further layoffs, Mitchell announced in June that the Herald and Times Argus would no longer publish print editions on Mondays, Tuesdays and Wednesdays.
"We've cut, I think, all the jobs we can without really decimating the newsroom," he explained at the time. "This is an attempt to keep from having dramatic layoffs in the newsroom and to try and monetize the technical base we've built for social media."
Whether it would work wasn't immediately clear.
Eliminating print editions can save serious money in the short term, according to Rick Edmonds, a media business analyst for the nonprofit Poynter Institute, but it's not a "proven strategy" for long-term success.
"There are pros and cons," he said. "I don't think there's a real established record that this saves papers."
As the company has floundered, its top brass have kept employees in the dark, they say.
"Management has always operated in secret, never sharing details of policy or decisions with staff," said a second employee. "The effect of that atmosphere has been a consistent sense of unease — not to say paranoia — among staff, low morale, high anxiety, cynicism and rampant rumors."
Case in point: When Mitchell announced last December that Nelson would succeed him as publisher, he kept from his own reporters the news that she had been cited two days earlier for driving under the influence and leaving the scene of an accident. Keays said at the time that he learned about Nelson's crash not from his bosses, but from an "off-the-record tip." The Herald reported the story, but not before VTDigger.org scooped the paper.
Employee discontent boiled over last week when management refused to explain why they weren't being compensated in a timely fashion. As Seven Days reported last Wednesday, writers weren't being reimbursed for expenditures and freelancers weren't getting paid at all.
According to Keays, he and his reporters first considered writing about the paper's problems early last week. They pulled the trigger last Thursday after learning by email that they wouldn't receive their pay that week via direct deposit. Instead, they would have to pick up physical checks a day later than normal.
"I thought it was important that we do a story," Keays explained. "I think because we're going to hold other institutions and entities to a standard, we need to meet that standard ourselves."
On Friday morning, the story appeared on the front pages of both the Herald and the Times Argus. The piece, written by Rutland City reporter Gordon Dritschilo, was tough but fair. It quoted five staffers and freelancers by name, some of whom described bounced pay and reimbursement checks. Keays gave Nelson a heads-up that the story was coming, he said, and was not told to desist.
That changed Friday when Keays and his staff began planning a follow-up story.
"I think we kind of left it hanging on Thursday if employees were going to be paid Friday," he said, explaining why he thought another piece was necessary.
By the end of the day, Keays had lost his job. The second story never saw the light of day.
Edmonds, the Poynter analyst, said Keays and his reporters made the right decision to cover their company's finances.
"I think when there's big news about a newspaper itself, the newspaper ought to report on it," he said. "I would say, generalizing, that most papers I know don't do a very good job of that. It's just difficult, even under the best of circumstances, to be objective about yourself and your situation."
Whether or not Keays acted appropriately, Edmonds added, Mitchell had every right to fire him.
"I don't like that call, but it is their call to make," he said.
The decision prompted a staff revolt. Some threatened to quit if Keays wasn't reinstated. Others quietly implored Mitchell and Nelson to reverse their decision.
"Alan went to the mat for us, so we should do the same," Duffort said Friday afternoon. "And they shouldn't be able to get away with this."
On Monday morning, management finally held an all-staff meeting. As reporters from other news outlets waited outside for word, Mitchell and his son, editor in chief Rob Mitchell, sought to reassure their employees.
"While it may look bad from the outside, it's not as bad as it looks," the younger Mitchell said, according to prepared remarks he later provided the media. "There is a future for these newspapers."
The third-generation newsman reminded his audience that his family had labored for the Herald since his grandfather and namesake, Robert W. Mitchell, took a job as a Statehouse reporter in 1935. The clan has held an ownership stake in the Herald since 1948 and the Times Argus since 1964.
"These newspapers have had hard times and have had good times in those years," Rob Mitchell said. "What is at stake right now is whether we can prove that a strong, community-oriented news organization can and will continue. I am here because I believe it will, and my career and my heart are dedicated to figuring that out."
The editor in chief called the financial situation "embarrassing, humiliating and difficult," but he did not explain what had caused it. Nor did he mention Keays in his prepared remarks.
At a later meeting with newsroom staffers, Dritschilo read a letter signed by eight employees calling for Keays to be reinstated. The letter said his firing "had dealt a hammer blow to the paper's credibility," according to a story the Herald's Susan Smallheer wrote for Tuesday's paper. She reported that the younger Mitchell, who had been on vacation the previous week, was "open to the idea" of bringing Keays back.
Keays wouldn't say Monday whether he had heard from his old bosses, nor whether he'd consider returning.
"I don't know if I can answer that right now," he said.
What he'd be returning to remains uncertain. While several staffers and freelancers told Seven Days this week that they'd since been paid in full — or, at least, promised they would be — the company's financial outlook still appears gloomy.
Those close to the situation have wondered in recent weeks whether the Mitchells might declare bankruptcy or sell the papers to another Vermont publisher — or, perhaps, to a national chain. The Mitchells declined a request for further comment.
But according to Smallheer's story, both R. John Mitchell and editorial page editor David Moats alluded Monday to some sort of positive development.
"There is light at the end of the tunnel," the elder Mitchell told his employees without elaborating.
"I think there will be good news at the end of the week," Moats told Smallheer.