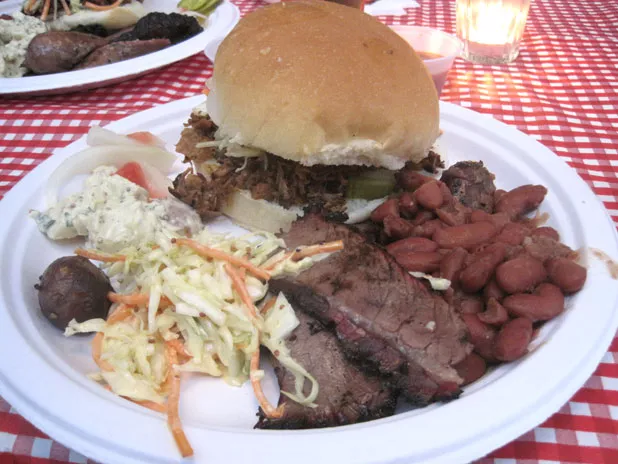 "Pop-up restaurants" have been hot in cities across the globe for more than a decade. Ludo Lefebvre has made an international name for himself with his Los Angeles pop-up business, LudoBites. Always a little behind the times, Vermont is finally riding the trend of short-term, on-the-down-low restaurants, thanks to a new caterer called Misery Loves Co.
The faces behind the downbeat name are familiar ones. Bartender extraordinaire Laura Wade, of blog BoozeBlock.com, and her husband, original Bluebird Tavern chef Aaron Josinsky, are in charge of drinks and food, respectively. Instead of settling down at a restaurant, the two are using their catering company to feed the public on a small scale and to serve whatever they choose, when and wherever they choose.
Josinsky chose not to comment for this piece, but late this spring, word started going around about Dirty Bird, a weekly event at the Monkey House in Winooski. Each Wednesday starting at 5 p.m., Misery Loves Co. serves up chicken to diners who make it to Main Street to grab their food on the go or stop to listen to DJ Disco Phantom. Last month, the bird was fried. This month, there are smoked-chicken sandwiches and "dirty chicken wings." According to the company's website, miserylovescopresents.blogspot.com, "We get bored easily, so the menu changes every month."
This month, the team is also serving an international array of barbecue at In the Hood, a series of public but hush-hush Thursday-night dinners at the Hood Plant in Burlington. The Texas barbecue on July 7 included ultra-tender brisket, pulled-pork sandwiches with homemade pickles and slaw, smoky homemade sausages, and pickled watermelon, all served on red-and-white-checked tablecloths. Sweet tea and watermelon drinks were poured to order at the bar.
The whole spread was an appealing preview of what the company could do when hired for private events. This week's Hood dinner is a New England-style clambake. Next week, the series wraps up with a luau.
Diners hungry for more will soon have another way to taste the handcrafted fare. Within the next few weeks, Misery Loves Co. will set up at the Sunday Winooski Farmers Market. The edibles on offer will change regularly, but Winooski Community Partnership president Jessica Bridge says to expect something meaty. That makes us far from miserable.