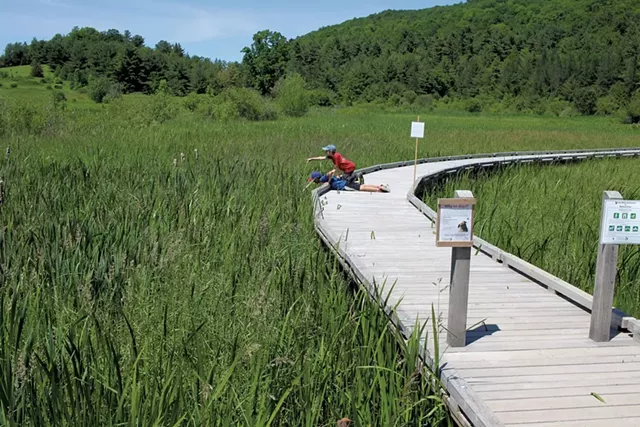 Heather Fitzgerald
Jesse and Noah explore the wetlands from the boardwalk
My 11-year-old son, Jesse, and I have been visiting Raven Ridge, a Nature Conservancy preserve, for years. It's located at the intersection of Charlotte, Hinesburg and Monkton — with a mailing address in North Ferrisburgh.

There's lots to see here, including beautiful ridgetop views and small caves. A wheelchair-accessible boardwalk and path lead visitors from the parking lot, over a wetland that brims with vocal frogs in summer, to a beaver meadow. Several truck-sized boulders, dropped by glaciers 10,000 to 12,000 years ago, sit near the path. Nature poems, including a few kid-friendly haiku, are mounted on posts along the way.
During a recent visit with Jesse; his friend Noah; and Noah's grandmother, Annie, we left the accessible path before reaching the beaver meadow and headed up toward the ridge on a well-marked trail. We soon came upon the burned timbers of a house. According to Lynn McNamara, director of stewardship for the Nature Conservancy in Vermont, these are the remains of a house that was built in the 1970s and struck by lightning twice. The second time, it burned down almost completely except for some cedar posts, the chimney, and pieces of glass and pottery.
Heather Fitzgerald
A deep, narrow cave makes for a perfect climbing spot
Down a short, steep set of stone stairs next to the house is a cave, known to geologists as an exposed anti­cline. This rainbow-shaped fold of rock brings to mind a gigantic pizza oven, hence its name, "The Oven." At times, it has been used as a den by porcupines, who have left "a big pile of porcupine poop at the entrance," said McNamara.
Back on the ridgetop path, you'll pass a few overlooks of the Champlain Valley, Lake Champlain and the Adirondacks. Further down the trail, you'll see some rocky crevices leading to another cave that begs to be explored. My son and his friend pretended to be bats and used my camera to "practice echolocation," activating the flash in the deepest reaches of the cave. Ravens, who nest on the cliffs, circled above us as we climbed through the rocks.
The caves along the ridge are of great interest to female bobcats, who use them as denning sites. For this reason, the uppermost portion of the trail is closed from March 15 through June 15, when the bobcats gestate and give birth. Not to worry, though; bobcats tend to steer clear of humans.
On the return leg of the loop you'll find an enchanted-feeling woods with some venerable old trees, a few vintage kitchen appliances that were part of an old dump site used by a farmer, and an aging apple orchard. We once found a nest of very cute baby mice in the stove.
If you find yourself with a quiet moment while your kids are exploring, you might consider the remarkable ecological properties of this land, which led the Conservancy to purchase it in 2009. It is home to an amazing number of plant and animal species, and it is part of a wildlife corridor of more than 1,600 acres between Shelburne Pond and the Bristol Cliffs Wilderness area.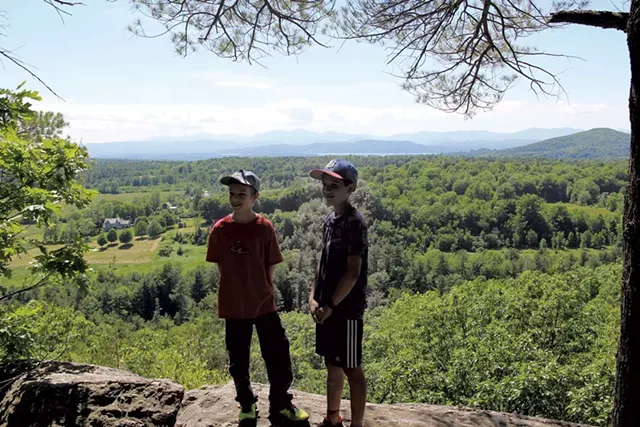 Heather Fitzgerald
Taking a break at a ridgetop overlook
Female Indiana bats, an endangered species, roost with their babies in a stand of mature shagbark hickories and find food in neighboring wetlands. Otters travel along the tributary of Lewis Creek that runs through the preserve. Vernal pools provide a breeding habitat for the wood frogs and spotted salamanders that live in the adjacent woods. Some of these woods look a lot like they did before European settlers arrived.
The loop to the ridgetop and back is about 2 miles round trip. To protect the wildlife, no dogs are allowed in the preserve. Many smaller trails are closed — they are blocked with branches — to promote restoration.
It is important to check for ticks after all above-freezing nature outings. In my family, we try to wear light-colored clothing and immediately throw it in the laundry upon returning home. The Centers for Disease Control and Prevention recommends washing them in hot water or putting them in the dryer on high heat for 10 minutes. We check each other for ticks before showering or putting on fresh clothing.
If you like to end your nature expeditions with a sweet treat, visit Papa Nick's for a creemee or the Parkside Café (formerly the Hinesburg outpost of Bristol Bakery and Café), both located nearby on Route 116.
Raven Ridge Natural Area, 1279 Rotax Rd., North Ferrisburgh
Heather Fitzgerald teaches field ecology and environmental science at the Community College of Vermont and the University of Vermont.