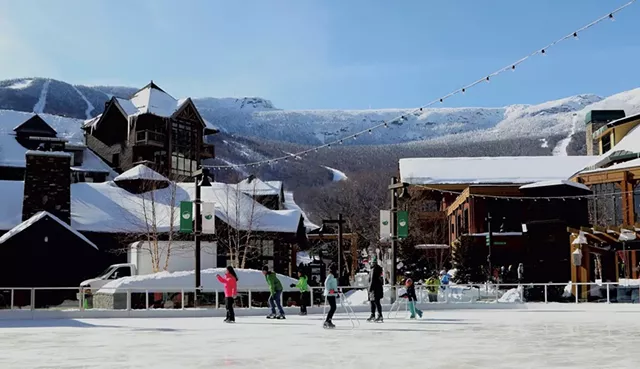 Tristan Von Duntz
Skating is free in this picturesque ski village
On a crisp and snowy day, my family packed our car with our winter gear and headed to the mountain — not to ski, but to ice skate.
We had heard there was free ice skating at the base of Spruce Peak, the smaller sister mountain at Stowe Mountain Resort. It was ideal skiing weather, and we arrived to find the Spruce Peak parking lot full. Two helpful parking attendants advised us to park on the Mount Mansfield side of Route 108 (also called Mountain Road), then take the Over Easy Gondola to Spruce Peak. That gondola travels high above the parking lots and offers excellent views of Smugglers' Notch and a crystal clear stream below. (Note: This is a different gondola than the one that takes skiers to the top of Mount Mansfield.)
Once at Spruce Peak, my partner Tristan, our 5-year-old daughter, Elise, and I located the base lodge, where skate rentals are available. There's an efficient computerized system for renting skates. I was happy to find mine warm, fresh out of the resort's fancy drying racks, when I put them on.
We headed back out into the bright, sunny winter day and made our way through the crowds of skiers toward the skating rink. There, a patio was set up with cushioned chairs and rubber flooring that is safe to walk on with skates. Outdoor speakers played music, like fun, upbeat tunes by Tears for Fears and Lizzo.
As soon as Elise's skates were on, she jumped up and headed straight to the ice. I, on the other hand, felt a little wobbly on my blades. As I tottered toward the rink to join Elise, I had the most elementary thought: Ice is very slippery.
Tristan Von Duntz
Elise uses a skate trainer for balance
It had been about 20 years since Tristan or I had skated, and it wasn't entirely like riding a bike. It took a few rounds to get our legs under us, and I still wouldn't say I felt confident. But it put a huge smile on all of our faces to feel our bodies gliding over the ice. Elise did fall a few times, landing softly on her bum, but she wasn't deterred. We found a metal skate trainer that kids can hold onto for support, and that turned out to be key for her getting comfortable on the ice. There were three of these devices available, and we saw many other kids using them throughout the day.
The views at the rink were incredible, allowing us to watch skiers snaking down the Spruce Peak trails. Mount Mansfield towered over us, shining bright white against the clear blue sky.
The fun tunes, picturesque environment and warm sun kept the vibes high while we enjoyed the rink. And, once our feet were too tired to skate any more, we sat in the cushioned chairs to soak up the scene. We decided then and there that we would buy our own ice skates so we could enjoy the rink again before the season ended.
GET THE DETAILS:
Ice skate at Spruce Peak Village from noon to 6 p.m. on Thursday and Sunday, and from noon to 9 p.m. on Friday and Saturday. The skating season lasts until April 5 if conditions allow. As the weather gets warmer, call ahead to check hours. Bring your own skates or rent them at the Spruce Peak base lodge for $17 per pair. Park for free at Stowe Mountain Resort, on the other side of Route 108, then take the free Over Easy Gondola to Spruce Peak. While you're there, check out the indoor Kid Zone where, for $32 per child and $38 per adult, families can enjoy top rock climbing and bouldering. Dining options in Spruce Peak Village include the Skinny Pancake for crêpes, the Pantry for gourmet sandwiches and the Canteen for pizza and subs — but expect to pay high prices for food and drink. For shopping, check out the children's outdoor outfitter and a toy and candy store. Find more information at sprucepeak.com/play/winter-activities-iceskating.
Skating Rink at Spruce Peak Village, 7416 Mountain Road, Stowe