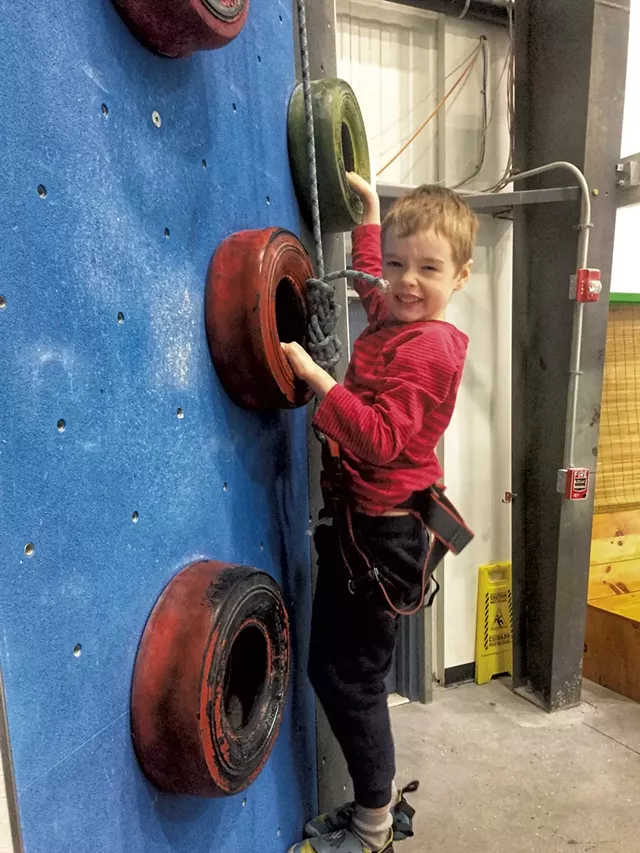 Liz Cady
Luke tackles the tire wall
My 2-year-old daughter leaps without thinking, while my 6-year-old son strategically plans and calculates risks before taking the plunge. So when Luke and I arrived at Essex Junction climbing gym MetroRock for our private rock-climbing lesson, I could tell he was nervous. "You only go as high as you want," I told him.
I worried that we might have arrived at our one-hour session with general manager Matt Butler-Bugher (better known as Boof) only to spend the entire time on the ground.
Liz Cady
Luke scales the traverse wall
That would have been a shame, since MetroRock is a playground just waiting to be explored. It offers more than 18,000 square feet of brightly colored 50-foot climbing walls, ropes courses suspended in the air with various obstacles and bridges, and a bouldering area for those who want to scramble up and across a wall without a harness. A large, extremely friendly and lazy dog, aptly named Bear, waits at the entrance, putting anxious patrons at ease.
Boof greeted us with a warm smile and quickly fitted us with shoes and harnesses. After explaining each section of the gym, he led us to the auto-belay area, which allows climbers to scale a rock wall without the assistance of a belayer — a person on the ground who works the ropes attached to a climber's harness to prevent a fall. MetroRock has eight auto belays on walls of varying difficulty.
Boof showed us how to hook our harnesses to the auto belay. Luke shook his head at the prospect of going first, so I stepped up to give it a try. Although I had never climbed before, I found it easy to make my way up the wall, as long as I took time to find the best hand- and footholds. When Boof told me to lean back from the top of the wall and fall, I had to put on my brave face for Luke. The initial letting go was a bit scary, but I relaxed when I saw that the auto belay controlled my descent as intended.
Courtesy of Metrorock
Rock wall climbers
Next, we went to the traverse wall, a very short climbing wall with a large mat at its base that doesn't require the belay hookup. The goal was for climbers to move from one side to the other using hand-and footholds, making it a good option for more cautious kids. Boof gave Luke a side-to-side challenge, telling him to step on the lowest climbing holds at first, to help him overcome his fear of heights. Shouting encouragement along the way, Boof made Luke feel like a rock star, then encouraged him to reach for a handhold just a little higher up the wall.
Luke finally agreed to hook up his harness to a belay once Boof pointed out the tire wall, where small go-cart tires provide hand- and footholds. Boof encouraged him to try putting his foot in different places, and he let Luke belay down often, so he could get comfortable with how it felt.
As Boof and I discussed the different walls and programs, Luke made his way back to the short wall and, without any prompting or hesitation,climbed twice as high as he had in the beginning, then started the side-to-side challenge. We left MetroRock with smiles and confidence. As a mom, that's the best ending I could hope for.
MetroRock, 6 Susie Wilson Rd., Essex Junction, 878-4500
Open seven days a week offering after-school and homeschool programs, camps, open climbing time and birthday parties. The gym sells day passes, punch cards, and monthly and yearly memberships. A $60 Intro to Climbing class teaches participants 14 and up how to belay and use safety equipment. Private one-hour sessions, like the one we had with Boof, cost $25 for one child and $20 per child for two or more kids.

In "Destination Recreation," local parents review family-friendly attractions. Got a spot you think we should feature? Email us at ideas@kidsvt.com.