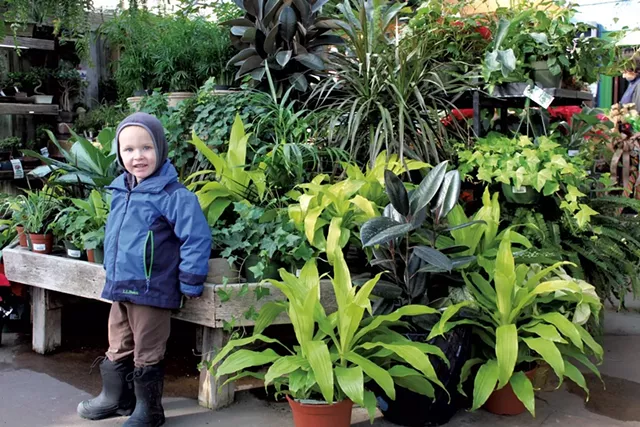 Katie Titterton
Russ in the greenhouse
Soaking up some warmth and humidity in the Gardener's Supply greenhouse in Williston, an arrangement of cacti transported me to one of my first childhood memories: falling butt-first into a similarly spiky greenhouse display as a toddler.
Fortunately, my own 2-year-old, Russ, was less interested in prickly succulents than just about everything else. The indoor koi pond, for starters. The stone pool, built into the front corner of the greenhouse, is filled with fat, orange fish swimming under fanciful sculptures and bonsai trees, with a cascading fountain in the center. Café tables ring the outside.
Katie Titterton
The koi pond
In our family, we call the pet store the "free aquarium." Using that logic, Gardener's Supply could be called a free botanical garden. It's easy to relax, breathe deeply and let the orchids and ferns transport you to greener days while global music plays in the background. Plants range from familiar houseplants like peace lilies and spider plants to air plants encased in soil-free glass bulbs and vividly colored, spiky bromeliads — making it a particularly appealing place for little ones with short attention spans. The environment provides a good opportunity to play category games like "What color?", "Short or tall?" and "Which one has spots?"
Because every inch of the greenhouse is filled with plants, it's probably better to visit during quieter hours if your kid's energy level or coordination makes you wary of stepping into a place filled with dirt and pottery. Even so, Emily McCarthy, a staff member at the store's Garden of Eatin' Café, said that on weekends, the place fills up with families. Unlike a regular sit-down restaurant, McCarthy pointed out, brunch in the greenhouse offers plenty of distractions and opportunities for kids to explore while parents eat and engage in grown-up talk.
The in-house café has a simple and spot-on kids' lunch menu. Three bucks gets young diners a PB&J, grilled cheese, or bagel and cream cheese. Double the price and the meal comes with milk or a juice box, popcorn and a cookie. Russ is still unfamiliar with the Happy Meal concept, so when his sandwich was delivered with a little plastic donkey, he was astonished by the unexpected gift. For adults who aren't already familiar with Garden of Eatin' for post-shopping snacks or work lunches, the veggie-loaded, soup-and-sandwich-focused menu does not disappoint.
In warmer weather, kids can run up and down the outdoor aisles between the shrubs and fruit trees and burn energy on the outdoor play structure. But even on a run-of-the-mill, freezing weekday, the greenhouse is a relaxing destination.
Russ was perfectly happy to lean over the side of the koi pond, peering down at the fish and talking about the things he noticed, taking an occasional break for a bite of sandwich. And I was perfectly happy to feel warm, damp air on my nasal passages and take in the season's low light, without a winter jacket.
Gardener's Supply Company, 472 Marshall Avenue, Williston
Gardener's Supply Company's Williston Garden Center & Outlet is open Monday-Saturday, 9 a.m.-6 p.m. and Sunday, 10 a.m.-5 p.m. The center hosts a monthly Saturday Kids Club with hands-on projects like worm composting and fairy-house construction. Membership is free; preregistration is required, and some programs have a fee. Find more information at gardeners.com/vermont-kids-club.