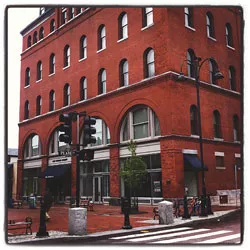 The only vacant storefront on Church Street
The Church Street Marketplace looks its best in high summer. Crowds of locals and tourists arc around street performers, line up at food carts and jam into the 80 restaurants, bars and retail shops on the four-block-long pedestrian mall.
Only a single space is currently vacant. It's on the previously problematic "top block" between Cherry and Pearl streets, where five stores had been unoccupied as recently as a year ago. The real estate in Burlington's festive, thriving shopping precinct commands some of the highest commercial rents in Vermont — up to $40 per square foot.
But even as they count their cash, Church Street merchants worry about troublemakers and panhandlers scaring away customers. Along similar lines, some shopkeepers are failing at "loss prevention"— the retailer's euphemism for shoplifting.
Curbing such unlawful behavior was the goal of the no-trespass ordinance the city council adopted earlier this year. It triggered controversy — but not among Church Street merchants. "There's been a noticeable improvement since the ordinance took effect," says marketplace director Ron Redmond. "Businesses generally say it's working."
Police chief Mike Schirling agrees the ordinance is proving effective. He suggests that the threat and actual orders of banishment from the marketplace have made disruptive incidents less common. As of mid-August, Schirling reports, 35 persons have been exiled from Church Street for one day, four have been banned for one month, and one has been told to stay away for a full year.
Local civil liberties attorney Sandy Baird has filed suit seeking suspension of the ordinance, partly on the grounds that it's unconstitutional to ostracize persons who have only been charged with — not convicted of — offenses such as disorderly conduct, vandalism and possession of open containers of alcohol. Defenders of the ordinance argue that banishment is a necessary response to such behaviors because the courts are too clogged to impose timely punishments.
Justice also proceeds slowly in the cases of individuals charged with shoplifting, says Burlington Business Association director Kelly Devine. "The court system can't send the message that you'll be swiftly punished for doing this," she comments.
And Schirling points out that "repetitive" retail thieves are responsible for a significant proportion of the pilfering on Church Street. "Addiction issues" mostly account for that pattern, he says.
It's not just an item or two that gets stolen, Devine notes. "Someone can run out with a whole stack of jeans, so you just know it's about reselling," she says.
Shoplifting was a key reason for Old Navy's relocation from Church Street to Maple Tree Place in Williston, Redmond reveals. The former Borders bookstore's loss-prevention measures were also ineffective, he says. And "Macy's braces themselves for the days when there's drug court" directly across Cherry Street from the department store, Redmond adds.
Marc Sherman, owner of Outdoor Gear Exchange, says shoplifting remains a serious problem for his business, even though one of his employees works full time overseeing OGE's security systems. Losses from theft have not been reduced since his store moved from Cherry Street two years ago into the former Old Navy space, Sherman notes.
Maven, however, has had the opposite experience. The skateboard boutique has experienced "a lot less theft" in the two months it's been on Church Street, says co-owner Trina Zide.
Maven had been eager to move from Cherry Street onto the marketplace for the past three years, "but there haven't been a lot of open spaces," Zide relates. "We jumped on it" when a store half the size of Maven's previous outlet became available, she says. And the move has paid off, even though she's paying almost twice as much rent on Church Street as she did on Cherry, Zide says.
Like other merchants on the pedestrian mall, OGE's Sherman says he's generally getting value in return for the mandatory dues paid for broad marketing efforts coordinated by the nine-member Marketplace Commission. The fee also pays for services beyond those supplied by the city, such as rapid-response snow removal.
But the Marketplace Commission has struggled in recent years to cover those costs without boosting the "common- area fee" paid by all merchants on Church Street. It's currently set at $2.75 per square foot of ground-floor space, up to a maximum of 20,000 square feet. Burlington Town Center, the mall within a mall, thus pays the fee on only a tenth of its 200,000 square feet of selling space; and with its 23,000 square feet on the corner of Church and Cherry, Outdoor Gear Exchange gets a break as well.
The maximum amount of space taxed in the form of the common-area fee was put in place in the early 1990s as an "anchor exception." Marketplace commissioners agreed at the time that large-scale tenants such as J.C. Penny, Woolworth and Magrams then doing business on Church Street were so valuable in the larger competition between the downtown marketplace and the University Mall in South Burlington that it justified extending them a big break in assessed fees. Also part of that deal: Stores eligible for the "anchor exception" have to pay only 80 percent of the common-area fee.
Now the Marketplace Commission, which functions as a self-sustaining unit of city government, could use a break itself. It's running a cumulative deficit of $204,000, two-thirds of which it racked up in fiscal year 2012. The largest figure in red ink for that year was an unbudgeted $50,000 for added security. From June to September, the marketplace hired guards to patrol alleyways and delivery entrances from 3 to 7 a.m.
That move came in response to what the marketplace's fiscal year 2013 annual report describes as "a serious increase in vagrancy, public inebriation and disorderly conduct." Specifically, the rental cops were assigned to prevent "sleeping, defecation/urination, alcohol and drug use behind our properties," the report says. "The program was effective but expensive."
Claiming that the mission had been accomplished, the marketplace gave up the enhanced security. The annual report notes that it's now implementing a variety of cutbacks in order to balance a "very lean" $926,000 budget that has been overspent due in large part to "unexpected capital repairs," including patches to a "failing electrical system." The lighting system on the 32-year-old marketplace has since undergone a $2 million modernization, largely covered by a federal grant.
For the current fiscal year, the marketplace expects to register $97,000 more in revenues than it racks up in expenses, with the surplus to be applied to deficit reduction. Redmond says savings are being achieved through cuts in travel, administrative overhead and staff salaries, which last year totaled $285,000 for seven full-time employees and a few part-timers and consultants.
The Marketplace also reaps revenue from licensing fees it charges street vendors. Similarly, restaurants that set up sidewalk cafés must pay extra for their use of a portion of the public right-of-way. Both types of levies are structured in tiers; food cart owners pay more to operate on the city hall block than on the top block, for example, while a sidewalk café offering only pastries and coffee costs its proprietor less than one serving full meals and alcohol.
Burlington city councilors did not raise the marketplace's budget issues during a recent session at which Redmond and commissioners Phil Merrick and Buddy Singh presented the annual report. Council members were more curious about the mix of local and national shops on the mall. Redmond assured them that Vermont-owned businesses make up the majority of marketplace outlets. In a subsequent email he specified that 77 percent of the shops are under local ownership — not counting the stores in Burlington Town Center, which mainly hosts national chains.
Redmond also offers a profile of Church Street shoppers, based on a weeklong survey conducted by merchants two years ago. It found that 55 percent of customers live in Chittenden County, while the rest were from elsewhere in Vermont or from 44 other U.S. states, five Canadian provinces and 17 countries.
It's that large, broad customer base that leads side-street retailers to ogle the marketplace. Many would gladly relocate there — if they could afford the rent. A sizable number indicated in a marketplace-sponsored survey last year that they'd be willing to ante up something in order to get a bigger piece of the action that now stays centered on Church Street.
Preliminary discussions are under way, Redmond says, on setting a side-street fee smaller than the $2.75 per square foot charged on Church Street proper. In exchange, the marketplace would launch promotional initiatives on Cherry, Bank and College streets that could include banners, lighting displays and an extension of the bricked walkway. Any move to expand the borders of the marketplace, even if only for marketing purposes, would require approval by the Burlington City Council.
Five side-street business owners or managers interviewed by Seven Days said they were interested in learning details of the proposal, especially the size of the fee that might be assessed.
But Adrianna Smith, manager of the year-old Liebling women's clothing shop on College Street, says her business is doing fine as is. "We're happy to be where we are," Smith declares. "A lot of our customers are Vermonters who don't necessarily always want to shop on Church Street."
Beth Garbo, owner of Tick-Tock Jewelers on Bank Street, echoes that assessment. "We're happy with the way it is now," she says. "We already get a lot of foot traffic from the garage" across the street, Garbo notes.
That main marketplace parking structure is now almost 40 years old and in need of a costly rehab, notes the BBA leader Devine. But in part because city taxpayers are unlikely to want to spend "several million dollars" for such a fix-up, she says, the association is exploring alternate sources of revenue. That effort is related to a plan to establish a downtown-parking district that would put all three municipal garages and most privately owned lots under single management.
Such a move could produce cost-saving efficiencies while providing the city greater flexibility and, potentially, higher tech capacity to accommodate cars downtown, Devine says. Parking fees could be made to vary from facility to facility, for example, and perhaps also be adjusted in accordance with time of day or night.
Businesses grouped into a Downtown Improvement District covering the entire area from Lake Champlain to South Winooski Avenue and from Maple to Pearl streets already pay a combined $300,000 a year to offset the city's cost of providing two free hours of parking at its garages. The payment results from a 1998 agreement by downtown businesses to continue paying a portion of Burlington's additional property tax levy on commercial enterprises. That extra assessment was eliminated as a result of the state reforms in education funding initiated through Act 60.
Sorting out parking plans is the marketplace's top priority at present, Redmond says. The possibility of levying fees for side-street merchants won't be addressed in a focused way until the car question gets answered. And that won't be easy, Devine acknowledges. "People can get very emotional when it comes to parking," she says.