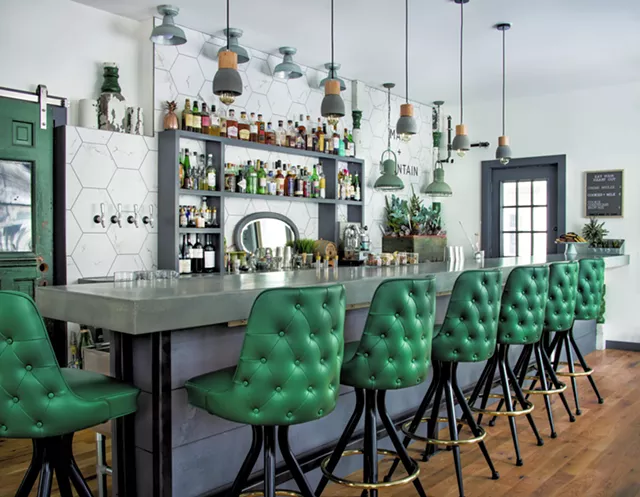 Courtesy Of Lindsay Selin Photography
Bar design at Main + Mountain by Joanne Palmisano
The first sentence of Joanne Palmisano's latest book reveals a lot about her: "Hello, my name is Joanne and I have a problem." Riffing on the standard introduction of attendees at an Alcoholics Anonymous meeting, she continues, "I'm totally addicted to old stuff, vintage goods, salvaging, junk — whatever you want to call it. I can't get enough."
Styling With Salvage: Designing and Decorating With Reclaimed Materials is Palmisano's third volume on the subject, so she clearly has plenty to say about it. And she does so with both good-natured self-deprecation and fervent opinions. Reading her copy is like hanging out with a passionate friend — particularly if you share her "addiction." That impression is only amplified in person.
When Nest pays a visit to Palmisano's Shelburne home — where she lives with husband Steve Booth — the petite designer and author is warm, welcoming and animated. She immediately offers a cup of potent coffee, brewed in a steampunk-ish glass contraption that, Palmisano explains, her husband made for her. In this home, no off-the-shelf coffeemaker would do.
In the open kitchen-dining-living-room area, clusters of personal collections are evident, such as the stacks of Nancy Drew and Hardy Boys books next to a comfy overstuffed chair. Palmisano has a thing for dice, old tablecloths and bowls. Also in the kitchen, "I have a little bit of a problem with cutting boards," she confesses with a grin. "But I got rid of half of them at the Vergennes Laundry!" There, she explains, she turned the wooden boards into a wall installation as part of the restaurant's recent redesign.
The couple's house is a former camp, deconstructed and renovated about 15 years ago using as many local, salvaged materials as possible, Palmisano says — including the gorgeous cherry floors. From her own home to the design jobs pictured in her book, it's clear that she walks the talk.
Courtesy Of Gabrielle Booth
Palmisano with her Hardy Boys and Nancy Drew book collection
For Palmisano, "styling with salvage" doesn't just mean picking up cute knickknacks or vintage fabrics at the secondhand store. She likes to get her hands dirty: cleaning, de-rusting, refinishing, painting — whatever it takes to transform, say, a musty old dresser into a spiffy bathroom vanity, or a pile of discarded lumber into a rustic-chic headboard.
"I try to find recycled when I can," Palmisano says. Like anyone who haunts antique and secondhand stores, salvage yards, or town dumps, she's thrilled to find a serendipitous treasure. But, more than that, she posits that using vintage and repurposed goods is a virtue — perhaps even a necessity at this point in time.
"An increased demand for these materials," Palmisano writes in Styling With Salvage, "leads to increased recycling, which is one of the best ways we can help our environment, save our natural resources, and improve our economy. That's a triple win!"
She also gives props to the people who do the hard work of salvaging buildings, to makers, and to trade and apprenticeship programs. "Recycle, reuse, hire local artisans," Palmisano asserts. "I think we should be aware of the decisions we make."
She has ample opportunity to spread that gospel. Palmisano has not only written three books — the previous two titles are Salvage Secrets and Salvage Secrets Design & Décor — she is a contributing designer for the DIY Network, a consultant for magazines and websites, and a stylist for product lines and the hospitality industry. She also gives talks and workshops around the country. That multifaceted career ostensibly evolved from her childhood obsession with crafting, albeit with a number of occupations in between.
A central Vermont native and Trinity College graduate, Palmisano hopped from coast to coast before returning to the Green Mountain State. She has had jobs in the nonprofit sector, owned and then sold Vermont Wedding Resource Guide, and worked as a designer for Peregrine Design/Build of South Burlington. After she penned her first salvage book, which was "a huge success, out of print in three months," Palmisano relates, the DIY Network got in touch with her. She proceeded to manage numerous projects, as well as a video series, for the how-to-oriented cable channel.
"The next thing you know, I was designing hotels and resorts," Palmisano marvels.
One such client was Ludlow's new boutique bar and motel, Main + Mountain. Co-owner Justin Hyjek explains that he and his partner, Eliza Greene, bought the run-down motel in January 2017 knowing "we needed to do a lot of work." They reached out to Palmisano based on her renovation of Waitsfield's Mad River Barn, and she agreed to work with the young couple.
"We wanted this place to look like Vermont, but modern," Hyjek notes, adding, "we had to rub our pennies together."
The challenge of working on a budget was right up Palmisano's alley. "She was able to find all the stuff secondhand," Hyjek says.
Courtesy Of Joanne Palmisano
The before (left) and after (right) of a townhouse rental in Stowe designed by Joanne Palmisano
Together they renovated 13 guest rooms and a bar that is open to the public. A prominent feature in the eclectic room is the distinctive teal-colored barstools. Like most of Palmisano's designs, the space melds vintage and modern to pleasing effect. "I'm pretty excited about how that bar turned out," she enthuses.
Hyjek seems to agree. "She really has a vision," he says. "It was great working with her."
A number of photographs of the Mad River Barn — the inspiration for Main + Mountain — can be seen in Styling With Salvage. But most readers will likely find inspiration in the residential rooms and objects, beautifully shot by Vermont photographer Susan Teare. Some locations are in Vermont, such as a rental home in Stowe; others are elsewhere in the U.S. While the images can make a homeowner dream, Palmisano doesn't neglect practical, hands-on advice.
"My goal is to make people comfortable with salvage," she writes. To that end, she includes a glossary of terms, guidance on where to look for salvaged items from hardware to old sweaters, and a lengthy resource list at the back. And that's to say nothing of her cheerful encouragement.
"Some people are intimidated by crafts or projects," Palmisano observes. "The nice thing is, you can start small!"