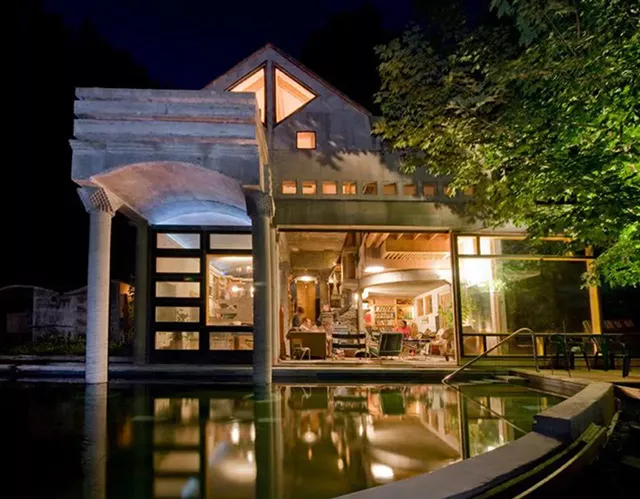 Courtesy of David Sellers
Architect David Sellers' home at Prickly Mountain
Inside a ramshackle 1845 house beside the covered bridge in Waitsfield is a design maven's heaven: the Madsonian Museum of Industrial Design. There, an antique, wide-mouthed robot about six inches high will swallow a quarter, the museum's admission fee for children. A sleek black 1934 DeSoto Airflow car shares a room with portrait photos of famous designers — Walter Gropius, Eileen Gray, the Eameses — as well as a row of architect-designed chairs, including an original Frank Gehry wiggle chair.
A table near the entrance displays ordinary building tools and a droll note penned in black marker — "1965 Tools of Our Ancestors!" That's a subtle introduction to what lies at the other end of the building. There, in two small rooms, an exhibit is mounted in honor of the 50th (or so) anniversary of Vermont's only architectural movement: the design-build experiment at Prickly Mountain, near Warren, which lasted from 1964 to 1977.
On a recent cold morning in those underheated rooms, architect and museum owner David Sellers regaled Seven Days with stories of his Prickly days of living communally and building houses without plans. Sellers, 77, started the movement with fellow Yale architecture student William Reinecke. The two purchased land near Sugarbush Resort with a plan to design and build ski houses. But their improvised building approach — architects of the time typically drew detailed plans in rooms far removed from building sites — soon drew eager converts from architectural schools around the country.
"We were pre-dope; the narcotics was building," quips Sellers, who has a shock of white hair to rival that of Sen. Bernie Sanders and a sense of excitement that hasn't flagged over the last 50 years. Many of the movement's radical houses — composites of angular and rounded shapes, with practical bump-outs in curved Plexiglas and bridges to nowhere but views — still stand a short drive away.
Sellers founded the Madsonian in 2011 partly to provide a home for his ever-growing design collection. He curated the Prickly exhibit, which is drawn from his own archives and those of Jim Sanford — a University of Pennsylvania architecture student who arrived in Vermont in 1970 and, like Sellers, never left — and Yalie Barry Simpson, an early investor who still lives in the house he built in the '80s on Prickly Mountain.
Somewhat lacking in context, the show immerses visitors in literature, media stories and memorabilia from the era. Architecture books and magazine spreads cover two tabletops; the walls are crowded with tacked-up photos, mementos and drawings.
In one 1960s House Beautiful spread on promising young American architects, Sellers and Reinecke are the only ones not sporting ties and jackets and sitting in an office. A Glamour story taped to the wall shows groovy 1970s types lounging on couches in Pinhead House, where the guest bedroom was a revolving cylinder. A fuzzy photo of white, curved shapes on another wall documents a failed effort to use snow to shape poured concrete.
A whole wall is dedicated to Dimetrodon, a steep-roofed apartment building that's still in use in Warren. On a Burlington Free Press article on this wall, Sellers has circled the words "money" and "Dimetrodon" in black marker and written in mock amazement, "These two words on same page!!" Prickly Mountain was never a moneymaker.
The show's focus on media is appropriate. Prickly was ignited by a 1967 LIFE magazine spread on Sellers and Reinecke's experiments.
Amy Lilly
Items in the Prickly Mountain exhibit at the Madsonian Museum
The day of Seven Days' visit, three other visitors were on hand: Danny Sagan, Devin Colman and Sanford, who was volunteering stories of his own, including memories of living in 900 square feet on seven levels in his Dimetrodon apartment.
Sagan, a Norwich University professor of architecture and design-build, is the movement's oral historian. His essays and interviews in Architectural Improvisation, the catalog for a 2008 exhibit about Prickly at the University of Vermont's Fleming Museum, are a good introduction for visitors to the Madsonian exhibit.
Sagan and Colman, the Vermont state architectural historian, were there to help Sellers find an archival home for the movement's documentation. "When the show's over, this all goes back on people's shelves," laments Sellers. The drafty Madsonian is not a viable venue for paper documentation.
But the legacy of Prickly Mountain is worth saving. The Yale School of Architecture has a design-build program called the Yale Building Project because of it, and Vermont is now populated with firms that specialize in design-build. Prickly alum John Connell founded Yestermorrow Design/Build School in Waitsfield.
The movement continues a vein of Vermont radicalism that reaches far beyond the red barn-white house image of the state promoted for tourism, according to Sagan. "Emma Goldman lectured here; Ira Allen dragged cannons over the mountains," he declares. "The concept that architectural students would actually build something with their hands was inconceivable in the '60s."
And the Madsonian, with its "half-demo-ed" interior walls and thickets of pushed-aside junk in the entry, is another aspect of nonconformist Vermont that Sagan would like to see preserved.
"The world is full of tastefully done white walls and corporate cleanliness," he comments dismissively. "Funky has not survived well into the 20th century."
For now, it survives in Waitsfield.