Amy Lilly
The Emerging Professionals Network design charrette at the BCA Center
Architects-in-training are usually consigned to detail work while they put in required licensing hours at firms and prepare to take the intricate exams prescribed by the profession. Rarely do they have the opportunity or time to conceive grand ideas — that is, to be architects.
Well aware of this pattern, the young members of the Vermont chapter of the American Institute of Architects — a group called the Emerging Professionals Network — held an afternoon-long design competition at the BCA Center last Saturday purely for creative fun ... and $800 in prize money.
Fueled by unlimited pizza and two drink tickets to the cash bar in the corner, 12 designers (not-yet-licensed architects) and architects licensed within the past five years hashed out responses to a surprise prompt. This was the EPN's first competition in the form of a charrette — the term architects use to describe designing under a time crunch.
The challenge was to create an all-season, flexible-use public event space on a slightly sloping site between a bike path and a beach. Competitors received copies of a fictional site map — highly suggestive of Burlington's waterfront — and basic materials, including paper, string, glue, foamboard and chipboard, a thin particleboard that can be cut with an X-ACTO knife to make models.
"This is what made us fall in love with architecture in the first place," declared EPN president Evon (pronounced "Yvonne") Calabrese. She earned a bachelor's in architecture and will enter a master's program in Massachusetts in the fall. Calabrese and her EPN successor, Catherine Lange, thought up the prompt together. Lange is a designer at Scott + Partners Architecture in Essex Junction.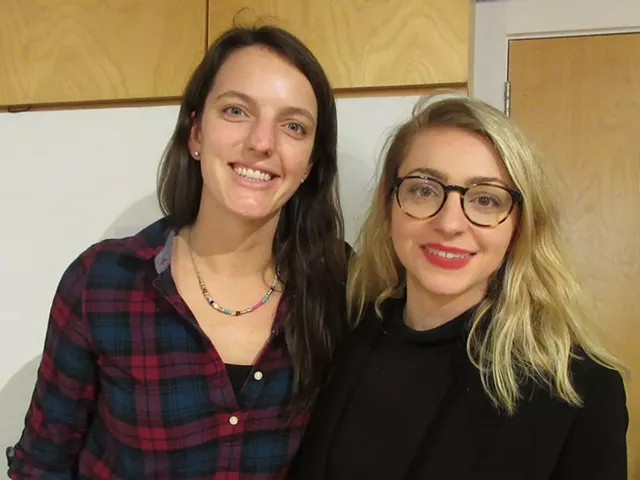 Amy Lilly
Catherine Lange (left) and Evon Calabrese
"At this stage in our careers, we're modeling stuff on computers, dealing with accessibility issues, meeting code and all these other constraints," Calabrese said. She recalled making "quick and loose" concept models out of physical materials in school but lamented that actual firms "don't do that anymore." Now that computer-aided design (CAD) dominates, architects only make models after the fact to sell a reproducible project — such as a ski resort — to more clients.
When a Seven Days reporter stopped by the three-hour event, contestants were sitting alone or in pairs at large tables spread around the room. Loud pop music played, and cans of beer and hard cider anchored piles of sketches. Most teams had already worked out floor plans and elevations. Some, such as Josh Chafe and Cam Featherstonhaugh, had begun fashioning tiny chipboard models, threading one with string to represent pillars.
Featherstonhaugh founded AIA-VT's Emerging Professionals Network in 2009 and served as its president until 2012. He and Chafe, who has also served as EPN president, work at TruexCullins Architecture + Interior Design in Burlington. Featherstonhaugh is a designer there, Chafe a project architect.
Their charrette project, Featherstonhaugh said — without looking up from the site section he was drawing — consists of pivoting vertical planes that open to the lake or close against bad weather. Chafe, meanwhile, demonstrated how one wall would work using a model he had just made from matchstick-size pieces of wood. The tiny moveable grid's horizontal planes pulled apart to let air in.
It seemed an ambitious idea for Vermont's climate. But, as Featherstonhaugh pointed out, "People don't understand this, but when you buy an architect's services, you're paying them to discover things. It's not like going to a doctor who's done the same procedure a million times."
Nearby, Nathalia Ellis, a designer at Smith Buckley Architects in Burlington, was working solo on a floor plan consisting of gallery, concert and classroom spaces. Her goal, she said, was to design a "community-friendly space that's not easily privatized."
Landscape designer Michael McCormick, of Wagner Hodgson Landscape Architecture in Burlington, had paired with Kevin Dennis, a designer at Maclay Architects in Waitsfield, to make an amphitheater-like structure set on a dramatic rise. McCormick said with a laugh that he took the opportunity to create a hill "'cause I went to school in Indiana and everything is flat there."
Solo competitor Rudy Polwin also modified the site, creating an artificial hill with a water trail weaving down it that simultaneously cleaned lake water being pumped up the slope. "My idea is to use recreation to clean the lake," said the architect, whose 4-year-old solo-practice firm, Rudy Polwin Architects in Waitsfield, made him one of the more experienced contestants.
Final presentations were juried by Rolf Kielman of TruexCullins; Diantha Korzun of gbA Architecture and Planning and Tolya Stonorov of Stonorov Workshop, both in Montpelier; and Liz Calabrese, a Philadelphia-based architect who previously practiced in Cavendish, Vt., and came by invitation of her daughter, EPN's president.
While honorable mentions went to Featherstonhaugh and Chafe for craft and Polwin for ecological design, the overall winner was the team of Taryn Barrett and Arthur Chukhman, an architect and a designer, respectively, at Duncan Wisniewski Architecture in Burlington. The two designed a fan-like structure that telescoped out or folded up to signal whether it was in use.
The charrette drew more participants than any previous EPN event, according to Calabrese. Submitting designs to traditional competitions requires hours of input that designers and newly licensed architects simply don't have, she said. But a half-day party? That they can do.
McCormick said his day job involves detail work such as "determining how this kind of wall will work with this gradient." He was thrilled with the charrette. "This level of conceptual work is not something I get to do," he said.