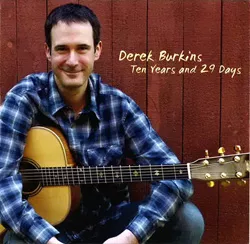 (Self-released, CD, digital download)
In 2012, Jericho's Derek Burkins took part in February Album Writing Month, an annual event that challenges songwriters to pen 14 songs in 28 days — or 29 in a leap year. Burkins didn't make his quota, finishing the month with a mere six songs. But the exercise was hardly a loss. Those tunes led to Burkins resuming a music career that had been dormant for a decade. The resurrection culminated in his debut album, the appropriately titled Ten Years and 29 Days.
Since returning to music, Burkins has quickly established himself in the local folk scene. He is a two-time finalist in the Advance Music Singer/Songwriter Contest and was the winner of the 2012 SolarFest Singer/Songwriter Competition. Based on the strength of his debut, it's easy to see how he came by those accolades. Burkins combines an emotionally measured, straightforward songwriting style with polished instrumental chops and a powerful, emotive voice, all of which suggest a distinct veteran savvy that belies his status as a relative latecomer.
For Burkins, it all starts with his voice. Certain singers are afforded leeway simply because, well, everything they sing sounds great. Not that Burkins is a bad songwriter. By most measures he is a capable, bordering-on-very-good one. He also happens to be blessed with tone and timbre that would be compelling even if he were singing the instruction manual for a smartphone. At times it is gritty and rich — "Burlington North," for example — evoking the emotive rasp of the late Richie Havens. At others, as on "Small Town Dirt," he evokes the mournful growl of Pearl Jam's Eddie Vedder.
Save for a guest appearance by fiddler Katie Trautz on "Coming Home to You," Burkins is backed only by his guitar or banjo. That lack of production might leave lesser songwriters feeling exposed and vulnerable. But, given the force of his performance and general strength of his writing, Burkins suffers no such wilting insecurities. With few exceptions, his writing is clear and well crafted, his melodies succinct and tuneful. In particular, "The Sweetest Girl I Know" is a banjo-driven gem.
Smartly conceived and executed, Ten Years and 29 Days could just have easily been called Better Late Than Never. Here's hoping Derek Burkins doesn't make us wait another decade for the follow-up.
Ten Years and 29 Days by Derek Burkins is available on iTunes and CD Baby. Burkins hosts the monthly Songwriters in the Round series at On the Rise Bakery in Richmond. On Thursday, September 5, he plays there with Laura Heaberlin and Linda Bassick.