File: Jeb Wallace-brodeur
Thom Lauzon
During the only debate in their mayoral race, Barre City Councilors Sue Higby and Lucas Herring sounded a lot of similar themes: growing the city's tax base, attracting new volunteers to local government and improving neighborhoods. But it was what they didn't say that was perhaps most telling. During the half-hour forum, both candidates seemed to go out of their way to avoid uttering the name of Mayor Thom Lauzon.
After 12 years in office, during which Lauzon's ideas, development projects and forceful style have dominated Barre civic life, the mayor is not seeking reelection. But he still permeates the current campaign, the results of which will serve as a referendum on his time in office.
Higby, who has been on the council for a year, has been one of Lauzon's most vocal critics, while Herring, a seven-year council veteran, has been his loyal ally.
"I am a candidate that represents change," said Higby, who would be Barre's first female mayor. "It has become clear that there needs to be a new energetic force and a more collaborative presence and somebody who understands how to build relationships."
In contrast, Herring sometimes sounds like a vice president running on the outgoing commander in chief's agenda.
"The ship is going in the right direction, and it just needs to head in that manner and not be stopped or turned around at all," said Herring. "We have a number of projects in the works that I want to make sure continue. I don't need to make a big change or a big splash."
Barre, a blue-collar city of 8,700, has struggled to keep pace with neighboring Montpelier and has long sought to attract more businesses and residents to its downtown.
Whoever wins won't bring Lauzon's chutzpah to the mayor's office.
It is difficult to envision either Herring or Higby hobnobbing with governors, bragging about their wealth or calling their critics "background noise." And it is impossible to imagine either one of them putting together million-dollar downtown development deals and then playing a role in the regulatory approval, as Lauzon has done.
"The styles of the candidates are noticeably different than Thom's," Barre city manager Steve Mackenzie said. "Thom is just a dominating personality. Not to diminish for a second the characteristics of either of the folks who are running, but they don't have the same type of personality."
Higby, 58, grew up outside Ann Arbor and later graduated from the University of Michigan with a degree in natural resources management. She worked for environmental groups in Washington, D.C., at one point serving as a communications and marketing director for the Nature Conservancy.
Higby moved to Barre 18 years ago and serves as executive director of Studio Place Arts, a nonprofit arts center downtown. After being elected to the city council, she immediately took on Lauzon, whom she's accused of having conflicts of interest and an autocratic management style.
Higby insists that her candidacy is about a fresh start for the city. She wants to establish an incentive program to lure first-time home buyers to the community.
She has vowed to serve no more than six years and said she believes in term limits — an implicit swipe at Lauzon, who has served six two-year terms.
Herring, 38, grew up in Worcester and got a bachelor's degree from Johnson State College and a master's degree in performance management from Champlain College.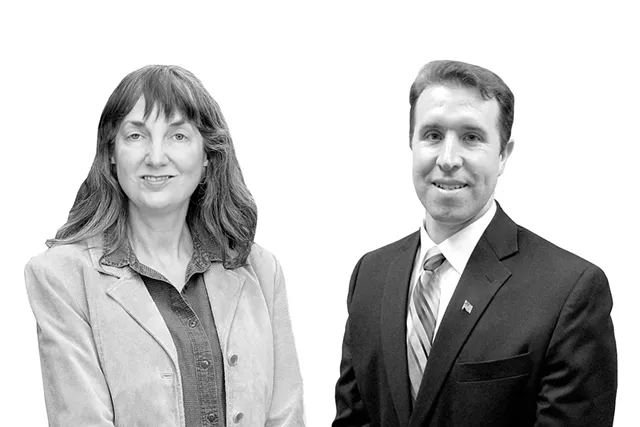 Sue Higby and Lucas Herring
The father of a teenage daughter, Herring is the IT director for the Vermont Department of Corrections and has served stints on the Barre City School Board and the Vermont School Boards Association.
Among his other campaign initiatives, he wants to redevelop Merchants Row, a downtown strip with some empty storefronts, and connect segments of the city's bike path.
Lauzon, unsurprisingly, endorsed Herring, though he has not donated to his campaign.
"I already know I'm going to miss it," Lauzon said of serving as mayor. "But life goes on, and I have to be realistic about where I am personally. There are a lot of demands on my time, and it's their turn to lead; it's their turn to push."
Lauzon is publicly flirting with the idea of running for lieutenant governor, something he has previously considered. He said he would decide in the coming weeks.
If Lauzon runs, he will inevitably have to answer questions about his proposed $30 million Park Center development. The project, as initially conceived, includes condos, high-end apartments, a grocery store and perhaps a hotel on a struggling two-block stretch of downtown Barre.
Last summer, Lauzon strong-armed the city council to go into executive session — possibly in violation of the state's open meeting law — to hear about his previously secret plans for Park Center. He said he would recuse himself from any direct votes on the project but insisted it was not a conflict of interest to hold office and be involved in the project.
Park Center is perhaps the sharpest point of disagreement between the mayoral candidates. Higby accused Lauzon of violating the open meeting law and having a blatant conflict of interest.
Herring said he considers word of the executive session leaking to the media to be a "breach of confidentiality." He said Lauzon adhered to the city's conflict-of-interest policy.
"It does not state you cannot have a conflict; it states you [have to] divulge what that conflict is," Herring said. "A conflict means something where you're gaining something ... The mayor is not gaining anything from these investments. He was divulging up front that there was property that he owned that would be a part of that project, and that's why he wanted to let everyone know ahead of time."
Herring says Park Center would be a shot in the arm for the Barre community. Higby is skeptical.
"There should be a huge focus on attracting small, independent businesses," she said. "I tend to be a little leery about the silver-bullet approach on downtown development, relying on large-scale structures."
Herring has raised $1,470 for the campaign — including $1,420 of his own money, according to the most recent campaign finance reports. Higby has raised $3,170, all from supporters. Her biggest donors are in Montpelier and Marshfield.
Both candidates have landed a smattering of endorsements. State Reps. Tommy Walz (D-Barre) and Paul Poirier (I-Barre) back Herring. Former Barre mayors Peter Anthony and Paul Dupre support Higby.
Despite some disagreements, the candidates aren't total opposites.
Neither supports an ordinance Lauzon proposed that would require residents to obtain a $250 license to grow marijuana in the city once it becomes legal on July 1 and to have an electrician inspect grow lights.
Higby repeatedly used the words "ludicrous" and "overreach" to describe the idea. Herring was less impassioned but agreed.
Both candidates also support the local option tax, which would levy a 1 percent surcharge on meals, rooms and alcohol sales to generate an estimated $217,000 annually for the city.
The proposal will be on the March 6 ballot. Were it to pass, the tax would serve as a final victory for the official who pushed for it hardest: Lauzon.