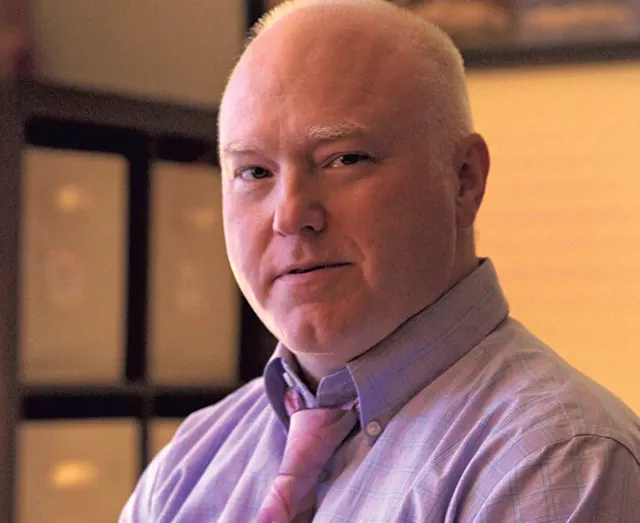 Matthew Thorsen
Dennis Wygmans
Dennis Wygmans is a believer in second chances. He's also a fan of finding alternative solutions to problems. For example, one night in the mid-1990s, a skinny punk-rock singer from Ukraine was onstage at Club Toast, which Wygmans owned with his brother, Justin. Eugene Nikolaev, front man for the local band the Fags, was putting on a hell of a show in his characteristic unhinged fashion. That included trashing a monitor speaker, to the delight of the crowd.
After the set, Wygmans approached Nikolaev. "I told him that I loved the theatrics, but that all he was really doing was ruining the sound guy's gear," Wygmans recalls. Nikolaev understood his mistake, says Wygmans, when he "realized he was costing a working stiff money."
Some club owners would have blacklisted the band. But Nikolaev, now better known as Gogol Bordello's Eugene Hütz, agreed to start bringing in his own junk speakers to pulverize onstage. And Wygmans says they never had a major problem again.
That's a small example of Wygmans' graciousness and faith in people to do right when given the chance. A punk band's destructiveness is inconsequential compared with the severity of the transgressions that have tested — and largely upheld — that faith during Wygmans' second life as a lawyer.
Most recently, he served as deputy state's attorney in Addison County, handling domestic violence and sexual assault cases. Even in those dire circumstances, Wygmans' belief in people shaped his progressive approach to criminal justice. And some important people took notice.
Earlier this month, outgoing Vermont governor Peter Shumlin promoted Wygmans, now 51, to the position of Addison County state's attorney. The appointment marks a big step in the unlikely journey of the onetime local rock-and-roll magnate.
Wygmans was born in Burlington and grew up in Jericho. He attended the University of Vermont in the 1980s and spent years as music director at the college's radio station, WRUV 90.1 FM. Wygmans was also a nightclub DJ, spinning at the downtown hot spot Border, which is now Club Metronome. His time there planted the seed that would germinate into Club Toast.
"Border was underground for Vermont," says Wygmans over drinks at a restaurant near his South Burlington home. "It had that exclusive underground vibe, and DJ culture was important there."
Toast, which opened in 1993, had a similar vibe but relied more heavily on live acts.
"We wanted to do more live music and have bands in from out of town," says Wygmans, with a slight Vermont twang that complements his nonlawyerly heavy flannel shirt. "The whole idea was to put Burlington on the map as a place to play. To put you in front of a good crowd and treat you like a local band while you're here."
For close to six years, that's precisely what he and Justin did. Toast became the cornerstone of Burlington's live music scene, hosting a steady stream of nationally renowned touring acts, as well as local bands. Club Toast closed on New Year's Eve in 1998, yet it's still regarded as one of the most beloved and important venues in the city's history.
Many assumed the club closed for financial reasons. Wygmans quickly dispels that myth.
"A lot of people thought the arrival of Higher Ground put us under," he says. "It had nothing to do with that. Our last year was our best year, financially."
Why close, then?
"[The club] was something we always wanted to do. And we did it," says Wygmans. "But owning a bar could be kind of a drag. We had other aspirations."
Justin Wygmans went on to become a successful carpenter and builder. "And I was thinking about law school," says Dennis, with the aim of getting deeper into the music business.
Shortly after Toast closed, Wygmans and his wife, Nicole Curvin, moved to Cambridge, Mass. While she attended graduate school at Harvard University, Wygmans worked as a promoter and manager, primarily handling R&B artists — most notably singer Ryan Leslie. The couple later moved to Jersey City; Wygmans managed the Times Square nightclub B.B. King Blues Club & Grill and comanaged the Wetlands Preserve. In 2001, he was finally accepted to law school at Seton Hall University.
"One night I went from working at the Wetlands until four in the morning and then started law school the next morning at 8:30," Wygmans recalls. "It was quite a schedule shift."
While he attended school, Wygmans interned with a New York firm that dealt with the music industry. He expected a job to be waiting for him there when he graduated in 2004. But by then the music business was on life support, owing to the rise of digital music service Napster and illegal downloads.
The firm "shrunk so much in size that when I graduated they were like, 'Do you want to rent office space from us?'" Wygmans says with a laugh.
In 2007, after a stint doing corporate contract work, he landed a job with a small firm, 21st Century Artists, which represented the likes of Maxi Priest, Steel Pulse and UB40. Wygmans stayed for about 18 months but didn't see eye to eye with the owner.
"I wanted to start bringing in younger acts, while he wanted to stick with ancient bands where, like, there's one guy who was an original member," says Wygmans.
In 2009, he took a contract gig with a larger company with the understanding that it would turn into a permanent position after a year. He didn't make it that long.
"I was there 10 months; then the financial crisis hit and they laid all of us off," Wygmans recalls. "Pink-slip Friday. There were well over a thousand attorneys that did basically the same stuff who were laid off citywide."
By that time, Wygmans and Curvin were expecting a child. Given the cost of living in the city, they started looking elsewhere for work.
Wygmans says he never expected to return to Vermont. But when Curvin was offered a job as the dean of Marlboro College, they jumped at the chance and moved to Brattleboro.
After his run of tough breaks in New York, though, Wygmans wasn't sure he still wanted to be a lawyer. "The no-sum decision you're not supposed to make is to justify continuing in a direction by saying, 'I've already invested all this time and money,'" he says. "So, of course, I ended up making that same no-sum decision."
Wygmans passed the Vermont bar exam in 2010. Work in corporate or entertainment law was hard to come by in southern Vermont, so he latched on to Dan Davis, a former state's attorney who had recently opened a private firm specializing in criminal cases. It was a far cry from the behind-the-scenes lawyering to which Wygmans was accustomed.
"I had never imagined being a courtroom guy," he says. But Wygmans soon discovered he loved the intellectual stimulation of criminal law. "I couldn't believe how much fun it was," he says.
"When I got out of law school, all my friends who went into criminal law were happy," he continues. "And all my friends who went the corporate route were miserable."
Rejuvenated, Wygmans thrived in a courtroom setting, in part because of the daily unpredictability of criminal law.
"People are pretty creative in doing the wrong things," he says. "They can create scenarios you couldn't even conceive of happening."
Wygmans ran his own practices in Brattleboro and Winooski before becoming a deputy state's attorney in 2013. He mentions former Addison County state's attorney David Fenster — now a Superior Court judge — as an important mentor.
"He was an excellent teacher and allowed me to flourish using my ideas," says Wygmans.
Wygmans works best when given space to do things his way, he says. That's a trait that dates back to his Toast days, at least.
"Dennis is always so focused on what he wants to do," says Clarence Davis, "and he does everything with joy." Davis worked for the Wygmans brothers at Club Toast from the night it opened until the night it closed. One of Wygmans' oldest friends, Davis helped Wygmans study for the Vermont bar. He's now a chief operating officer at the Burlington security consultant firm Margolis Healy.
"He's highly intelligent and has a broad worldview," Davis continues, describing his friend. "He's always had a very progressive outlook, and he's never rigid in one way or another. "
That progressive approach includes Wygmans' tendency to apply skills from his music-biz background to practicing law.
"You have to be highly organized, but you also have to be at least a little politically savvy in the music business," says Wygmans. "That came in handy as a deputy state's attorney. I'm a music guy and not the most typical deputy state's attorney. And I'm coming in as a defense attorney, having to convince police officers, who can be pretty steadfast in their ways, that I had some good ideas."
Those ideas, rooted in Wygmans' belief in second chances, have included instituting programs to help rural drivers with suspended or lapsed licenses get back on the road. He also hopes to adopt alternative treatment programs for rehabilitating, rather than imprisoning, Addison County offenders, using those in Chittenden and Rutland counties as a model.
"It's not all about putting people in jail or getting people in trouble," Wygmans says. "There are real family problems that require having a big heart and being willing to take a chance on people who have made a big mistake in their life but want to turn it around.
"If you give people the opportunity to succeed, they will," he concludes. "People can change. I've seen it firsthand, and that's an amazing thing to be a part of."