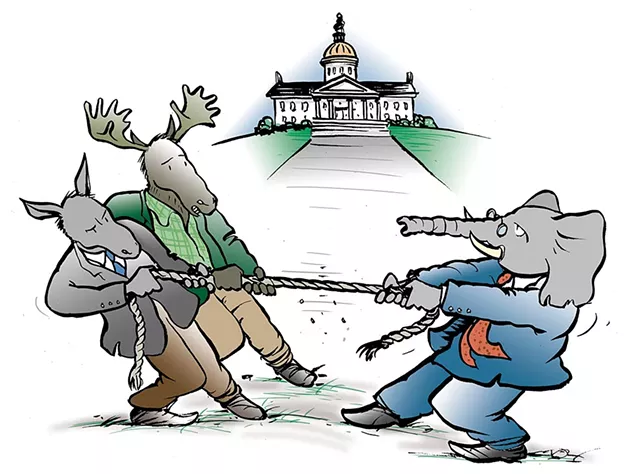 The coronavirus pandemic compelled Vermont lawmakers to set aside their partisan differences and swiftly respond to a once-in-a-lifetime challenge. The cooperative spirit stood in contrast to the sparring of their federal counterparts and sent a reassuring message to Vermonters in a time of crisis.
It was also fleeting.
As they campaign to win additional seats in the Statehouse this November, candidates in all three major parties are once again more focused on what divides rather than what unites them. Few observers expect the election to substantially alter the balance of power in the Democrat-controlled Vermont House and Senate. But even incremental shifts in the three-way tug-of-war could be consequential, particularly if Republican Gov. Phil Scott remains in office, his veto pen at the ready.
"We're writing the future for how Vermont recovers from this pandemic," said House Majority Leader Jill Krowinski (D-Burlington), who oversees the Democratic caucus. "Having the strongest, most thoughtful leaders sitting in that chamber in January is critical."
Leaders in all three parties claim they have momentum heading into the fall. Democrats and Progressives envision a blue wave — spurred by fear of four more years under President Donald Trump — that will fend off challenges from the right, backfill a slew of retirements and even flip some red districts. Republicans, meantime, fresh off their most successful recruitment season in years, hope voters will reward Scott's pandemic leadership by supporting the party down the ballot.
"Vermonters want some steady-hand-on-the-wheel balance to what has been happening in Montpelier," argued Paul Dame, a former Republican state rep who is political director of the Vermont GOP. "Gov. Scott can't do it alone. That's one of the reasons we've got to make sure he has the support he needs from the legislature — so that our candidates can run and actually feel like they can accomplish something."
Though Republican leaders hope to retake control of the legislature one day, they concede that a more realistic goal this year is to claw their way back from losses suffered during a disastrous 2018 election, in which they ceded 10 seats in the House.
Republicans now hold only 43 of 150 House seats and six of 30 in the Senate. Neither is enough to prevent Democrats and Progressives from amassing the constitutionally required two-thirds majority to override a veto. That poses a troubling reality for a party that has branded itself as a vital check on Vermont's liberal sway.
"Right now, we rely on the help," said Rep. Pattie McCoy (R-Poultney), the House minority leader, referring to independents and Democratic and Progressive defectors who don't always vote with the majority.
House Democrats and Progressives have successfully wielded their supermajority power only once during Scott's tenure, overriding his veto of a minimum-wage increase by a single vote in February. But Democratic voters are just as likely to remember the House's failure to overcome Scott's veto of paid family leave legislation that same month. A handful of moderate Democrats and independents joined Republicans to block that override attempt — also by a single vote.
Scott's vetoes have proven useful ammunition for candidates across the political spectrum. Many first-time Democratic and Progressive candidates cite paid leave as one of their top priorities, while Republicans have used the threat of that program as a recruitment tool.
"While we can celebrate this win," GOP chair Deb Billado wrote in a newsletter published days after the failed override vote, "I want every one of you to realize that we cannot leave [a] matter of this weight, and this kind of fiscal impact, up to chance."
"Vermonters cannot afford to have such razor-thin margins separating them from such massive tax burdens," she added. "In another vote, we might not be so lucky."
Republicans have some cause for optimism. After years of lackluster recruiting, the party has managed to field 97 House and 28 Senate candidates to run in November. If Republicans win a little more than half their races in either chamber, Billado wrote earlier this month, "we can shift the balance of power and put some strength behind Governor Scott's veto."
Gaining ground in the Senate poses the bigger challenge. Only two incumbent Democrats did not seek reelection, and both live in the left-leaning Chittenden district. And while Sen. John Rodgers' (D-Essex/Orleans) decision to run as an independent — after failing to file paperwork in time for the Democratic nomination — could offer Republicans an opportunity, that's only one of the five seats the GOP would need to gain to uphold gubernatorial vetoes.
The path appears only slightly easier in the House, where Republicans need to flip eight of the 107 seats they do not hold to surpass the 50-seat mark. Dame, the GOP political director, said some of the party's best takeover opportunities are in districts now occupied by top Democratic and Progressive lawmakers.
They include House Speaker Mitzi Johnson (D-South Hero). Johnson has survived several close races in recent years and faces another tough — and familiar — challenge in the Grand Isle/Chittenden district. In 2018, the uncle-nephew duo Leland and Michael Morgan sought to oust the speaker and her seatmate, Ben Joseph. Leland Morgan defeated Joseph, but Johnson survived. Two years later, both Morgans are back on the ballot, with their sights again trained on Johnson.
Republicans are also targeting Rep. Robin Chesnut-Tangerman (P-Middletown Springs), the Progressive caucus leader who has won his last two elections by an average of 136 votes, and Rep. Sarah Copeland Hanzas (D-Bradford), a former House majority leader who has run unopposed in her last three races.
Incumbency typically offers a significant advantage, but with the legislature back in session to work on a COVID-19-era budget, sitting lawmakers have less time and energy to dedicate to their campaigns.
That could help some Republican contenders get a head start on their competition. Of course, it cuts both ways: Some GOP incumbents facing their own tough challenges will also be stuck in virtual committee meetings.
Among them is Rep. Heidi Scheuermann (R-Stowe), one of the more influential Republicans outside of the House leadership. Scheuermann eked out a victory in 2018, and both parties view her race as one of the most hotly contested on the ballot.
The parties are also keeping close tabs on the Chittenden 8-3 district, where political newcomer Alyssa Black, a Democrat, is challenging Rep. Bob Bancroft (R-Westford). Black, a medical billing manager from Essex, told Seven Days earlier this month that she decided to run after Bancroft led the unsuccessful opposition to codifying abortion rights in state law.
Other potential takeover opportunities for Democrats, the party says, include Rutland Town, where Barbara Noyes Pulling is running against four-term Republican Rep. Thomas Terenzini; and Northfield/Berlin, where Denise MacMartin's strong showing in the primary has led some to believe she might be able to defeat one of the two sitting Republicans: Rep. Anne Donahue (R-Northfield) and Rep. Kenneth Goslant (R-Northfield)..
For Progressives, leaders said, the main goal heading into November is to maintain their current seven-member caucus in the wake of three incumbent retirements.
State party executive director Josh Wronski said he was pleasantly surprised by how well Progs fared in the August primary, headlined by Emma Mulvaney-Stanak's upset of longtime Rep. Jean O'Sullivan (D-Burlington) and Taylor Small's strong showing in a race for a House seat in Winooski. (Both candidates are running in November with the Democratic and Progressive label. Wronski said he expects them to join the Progressive caucus.)
With candidates fielded for all but two seats currently held by Progressives — and 14 candidates total — Wronski said he's optimistic the party will hold the line. The party may even pick up a seat or two, he said, pointing to Tanya Vyhovsky, a Progressive/Democrat running alongside Rep. Marybeth Redmond (D-Essex). They face a pair of Republican contenders in the two-seat district.
"A lot of new, young families are moving into that district [who] tend to be more progressive," Wronski said, explaining why he believes Vyhovsky has a good chance of flipping the seat now held by Rep. Linda Myers (R-Essex), who is stepping down.
As they drill down on individual races, leaders across the political spectrum say two names at the top of the ballot — Trump and Scott — are likely to play a role in the outcome of legislative elections.
Vermont Democrats and Progressives believe Trump's polarizing presence on the ballot will drive turnout, particularly among voters sympathetic to their causes. Even some Republicans, who are quick to note that Vermonters are well-known ticket-splitters, concede that they are unsure whether the president will help or hurt their prospects.
Still, Republicans believe their governor's widely admired handling of the COVID-19 pandemic will counteract whatever liability the president poses.
"If [people] are going to vote for Phil Scott," Dame said, "I think it's very reasonable that they're going to make sure ... to give him the strength and the tools that he needs to accomplish his vision."