Jeb Wallace-Brodeur
House Speaker Jill Krowinski
Vermont Democrats cheered wildly on the night of the November 8 election as their gains in the state legislature became apparent. For the first time ever, they would be positioned to override gubernatorial vetoes without having to rely on support from independent or Progressive colleagues.
Their elation was understandable. Republican Gov. Phil Scott has thwarted major Democratic initiatives in recent years simply by vetoing them, effectively halting plans for universal paid family leave and gun-purchase restrictions, to name just two.
However, as the 2023 session got under way last week, top Democrats said they hope to find the governor more willing to negotiate with the legislative majority to avoid vetoes and veto-override votes. House and Senate leaders are not saying they intend to ram things through but that they would like the governor to shift gears and engage more with lawmakers.
"I think that governing by vetoes and veto overrides is bad for democracy," House Speaker Jill Krowinski (D-Burlington) told Seven Days last week after Scott delivered his inaugural address.
Still, Dems signaled that they will push again to achieve goals that Scott has repeatedly frustrated, including paid family leave and gun control, as well as reducing climate pollution from fossil fuel heating systems in buildings.
If recent history has taught Democratic leaders anything, it's never to assume they have a veto-proof majority on any issue. Sen. Phil Baruth (D/P-Chittenden-Central), the newly elected president pro tempore of the Senate, said he thinks of his party as having only a potential supermajority on any bill until its details are fleshed out.
"We're pleased with the outcome of the election, but we're not counting our chickens on anything," Baruth said.
In 2020, Democrats and their Progressive allies appeared to hold enough votes to override Scott's veto of a mandatory paid family and medical leave bill. Then-House speaker Mitzi Johnson needed 100 votes, two-thirds of the 150-member chamber, but at the last minute could only muster 99. She blamed the failure on a single Democrat, describing former representative Linda Joy Sullivan of Dorset as "squirrelly" for failing to tell leaders about her change of heart.
A nearly identical scenario unfolded at the end of last session when another key Democratic priority, a bill meant to rein in carbon emissions from buildings, went up in smoke. After the governor vetoed the clean heat standard bill, one Democrat, Tom Bock of Chester, balked at voting to override. Bock had voted for the bill, but after the veto he unexpectedly withdrew support when critics raised concerns about the costs and the complexities of shifting Vermonters away from fossil fuel heating sources.
Jeb Wallace-Brodeur
Gov. Phil Scott
Democrats now have enough votes — 104 in the 150-member House and 22 in the 30-seat Senate — to achieve more easily the two-thirds needed in each chamber to override a veto. They may also enjoy support from five Progressives and three independents in the House; in the Senate, Sen. Tanya Vyhovsky (P/D-Chittenden-Central), has said she'll caucus with the Democrats.
Scott, who has faced strong Democratic legislative majorities throughout his governorship, has vetoed 38 bills in six years, far more than any other governor in Vermont history. Former Democratic governor Howard Dean comes in second; he issued 21 vetoes in his 11 years.
Officials in Scott's administration have often objected to early drafts of bills and then sat on the sidelines as the measures were refined, Krowinski said. That meant lawmakers had to rework bills without knowing what Scott might be willing to accept — only to have him veto the final version.
Krowinski hopes her party's new clout convinces Scott to see the importance of being involved early in the legislative process.
"I'm going to continue to offer him a seat at the table and be open and honest about what we are doing," Krowinski said.
Baruth agrees with Krowinski's analysis and approach. Scott has tended to wait until the end of the legislative process to negotiate with lawmakers, using the threat of a veto to get what he wanted, the pro tem said.
"That has some political advantages for him, but in terms of policy it's not ideal," Baruth said.
Take the case of lawmakers' attempt to mandate universal background checks for firearms purchases. Previously, if the Federal Bureau of Investigation didn't complete a check in three days, people could purchase a weapon anyway. That gap is referred to as the "Charleston loophole," so named because it's how a 21-year-old white supremacist in 2015 was able to buy the .45-caliber pistol he used to kill nine members of a church in Charleston, S.C.
The governor vetoed the bill and only then suggested that he would agree to a measure that would allow purchases without a completed check after seven business days, which lawmakers had little choice but to accept. The result is that a downsized Charleston loophole still exists in Vermont — and remains bad policy, in Baruth's view. The Senate doesn't plan to push the issue further this session, Baruth said.
Like Krowinski, Baruth hopes lawmakers' new power encourages the governor to come to the table sooner, rather than creating a dynamic where "the supermajority is going to roll over you repeatedly.
"I hope it's marked by an era of increased productivity together," he said. "I believe it's possible."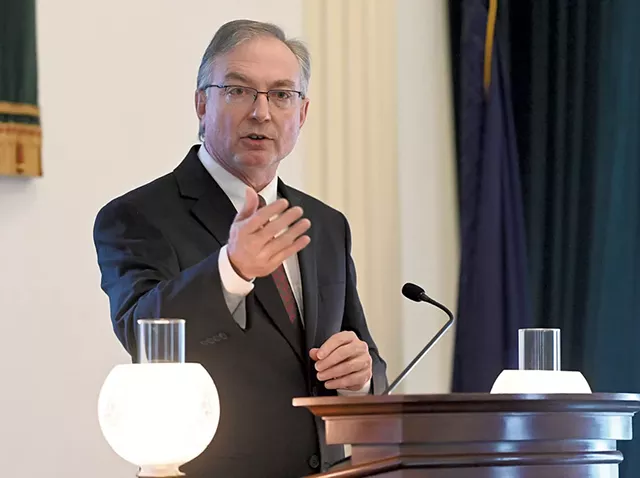 Jeb Wallace-Brodeur
Sen. Phil Baruth
Scott announced this week that his administration would, for the first time, hold policy briefings for lawmakers on priority issues. They're meant to give lawmakers an overview of key issues and "allow for an open exchange between executive and legislative branch officials." The briefings are in response to the large number of new lawmakers, not the new supermajority, said Scott's spokesperson, Jason Maulucci.
Gun safety bills will definitely reemerge this session, Baruth said. This includes establishing a 72-hour waiting period on gun purchases, which is meant to reduce suicide risk, and an initiative to require "safe storage" of firearms. Scott has previously vetoed both measures. Another would make straw purchases of weapons illegal under Vermont law, just as they are federally, Baruth said.
Some housing bills that Scott swatted back may also return. Scott blocked a bill that would have allowed Burlington to restrict evictions to ones in which landlords can cite a "just cause." He argued that this could worsen the housing shortage by making fewer landlords willing to rent their properties.
But Rep. Chip Troiano (D-Stannard) contends that such protections are vital during the housing crisis. While the governor rightly talks about speeding the construction of new housing, he seems less concerned about those being evicted from existing units, Troiano said.
Vermont Legal Aid told lawmakers last session that "no cause" evictions had increased 50 percent in the previous year. "We're displacing almost the same amount through landlords who are moving to Vermont and kicking people out so they can charge more," Troiano said.
He expects that Democrats' new influence will help reinvigorate a statewide "just cause" eviction bill he sponsored last year that never got out of committee.
In his inaugural address, Scott spoke about putting aside political differences, but he also signaled that he planned to double down on issues that have triggered past vetoes, suggesting he doesn't see the election results as a rebuke.
He urged lawmakers to give his new voluntary paid family leave program a chance to work before rolling out a mandatory version he views as unnecessary and burdensome to workers. And he also stressed that, while he supports drug abuse prevention programs, "law enforcement and accountability" need to be part of the discussion about harmful drugs.
Asked to speak with Seven Days about whether the Democrats' new power might change his approach, Scott provided a statement instead. It noted that while voters strengthened Democratic majorities in the legislature, they also elected him to office with nearly 70 percent of the vote, his strongest performance yet.
"They want balance," Scott said of the voters. "They want us to put partisanship aside and focus on delivering results."
He and the majority of lawmakers agree on most of the problems facing the state, such as the need to increase housing, expand and make childcare more affordable, and fight climate change. They just differ, at times, on how to get it done.
"When you share the goal for the outcome, the work to find common ground is much easier," the governor's statement said. "I look forward to continuing to work with our partners in the legislature this session to build a more prosperous Vermont."
Krowinski said she had a productive remote meeting with Scott soon after the election, and they agreed to have in-person meetings during the session. One hasn't happened yet, but she said she's optimistic.
"It's going to be up to him on how he shows up and changes his strategy or not, based on the numbers we have in the House," she said.