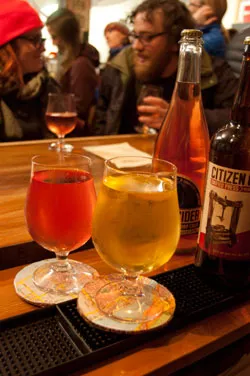 Finding Citizen Cider isn't easy. But on a recent Friday night, dozens of people undertake the search, for the company's weekly cider-tasting party. First they find the wooden sign in Essex's Fort Ethan Allen that reads "Drink Cider"; then they push open a heavy wooden door at the back of the building and enter a room that feels like a speakeasy, filled with the smell of fermenting apples. People cluster around a long wooden bar, glasses of cider in hand. The twangy sound of the Hackensaw Boys blasts from speakers overhead.
Five years ago, it would have been hard to imagine a crowd flocking to a bar that served only hard cider. The drink has long been seen as the awkward cousin of craft beer, particularly in the state with the most breweries per capita. For a couple of decades, Woodchuck Hard Cider — founded in 1991 — was the only Vermont cider with a high profile. The last two years, though, have seen a surge in artisan producers bent on resurrecting the region's centuries-old cider-making tradition. They're turning out artisanal sparkling, hard and ice ciders that run the gamut of styles and flavors, from flat to sparkling, sweet to bone dry.
Sales of U.S. hard ciders have tripled since 2007 — to roughly $600 million last year, according to market-analyst firm IBISWorld — and major beverage giants such as Carlsberg, MillerCoors and Anheuser-Busch have all introduced their own versions. For the first time since the 1800s, cider makers are a force to be reckoned with. With that growth have come both expanded opportunity and the need to organize — especially against a federal tax rule that keeps margins down and checks growth.
Hard cider's rise in popularity is embodied by Citizen Cider. Its Friday-night shindigs take place in the converted grain warehouse where three friends — a wine retailer, a chemist and a farmer — began making cider two years ago, using a salvaged 1950s apple press and fruit from Middlebury's Happy Valley Orchard. Their aim was to create a drink that fused the best qualities of Champagne and slightly effervescent Vinho Verde. The result was the inaugural 5000-gallon batch of Unified Press, their signature cider.
Now Kris Nelson, Bryan Holmes and Justin Heilenbach have quit their former day jobs and are sending bottles and kegs of their fizzy, bright Unified Press all over the state. "It's been a whirlwind," says Nelson, who left a wine-industry job to make cider deliveries. This year, the company's production will jump almost six-fold from its first batch; Citizen Cider is now sold in 180 retail stores and poured from 40 taps across the state. "We pick up new accounts every day," Nelson says. "I guess we hit it at a really good time."
This is cider's moment, and there are no signs it's going to end.
Though Nelson can't pinpoint the conversation that led to launching Citizen Cider, he says he had an epiphany of sorts four years ago while reading The Botany of Desire, food writer Michael Pollan's seminal book. In a chapter on apples, Pollan makes mention of New England's erstwhile thriving hard-cider industry. In those days, some colonists — even children — imbibed up to 40 gallons each of the low-alcohol drink every year. "I was thinking, Where could this have disappeared to?" Nelson says.
He chatted with Heilenbach, who at the time was living in Oregon, where cider production was beginning to flourish. As the friends sampled artisan ciders from both the U.S. and abroad, some with wine-like qualities, Nelson remembers thinking, "Wow, there's something to this. You can drink lots of [cider], it goes with a lot of different foods, and it's not cloyingly sweet," he says. "That's kind of how things got started."
When The Botany of Desire was made into a documentary, a segment on apples was filmed at Poverty Lane Orchards & Farnum Hill Ciders in Lebanon, N.H., about a mile from the Vermont border. This is the 80-acre domain of grower Stephen Wood, an iconoclast whom many young cider makers, including Nelson, cite as a mentor and influence, something of an industry uncle.
Wood has been tending orchards since the 1970s, when he took over apple production on his family's farm while continuing his studies in medieval history at Harvard. The business flourished for some years, but by the early 1990s Wood's profits languished as consumers turned to the uniform fruit sold by wholesalers — think waxy, shiny Delicious apples. Wood and his wife, Louisa Spencer, began planting heirloom apple varieties with unusual names such as Esopus Spitzenburg and Ribston Pippin.
"I started growing these weird apples, scrounging around England and France," Wood says. He also planted "difficult" varieties that were almost inedible on their own, yet ideal for making ciders with the aromatic and tannic qualities of wine.
Twenty years ago, hard cider wasn't an easy sell. In 1994, Wood's friends Terry and Judy Maloney of West County Cider in western Massachusetts organized an event called Cider Days. (Terry Maloney has since passed away.) Wood joined those early efforts, and the event grew slowly over the years, attracting "the few cider makers in the world," he recalls. "This was really before the market started to roll, and even though there was always muttering about regional or national associations, it would have been a little goofy to form one back then."
As the farm-to-table movement blossomed, so did consumers' interest in cider. Three years ago, the swelling number of cider makers inspired Wood and a few others to organize a much larger version of Cider Days: CiderCon. Forty producers attended the first conference in Chicago, where they exchanged ideas and began to organize around a shared, pressing concern: cider's awkward, undefined position within the federal tax code, which leaves it susceptible to a higher tax burden than other alcoholic beverages.
When the Federal Alcohol Administration was formed in 1935, it created a tax structure for alcohol that didn't include hard cider. As of the first CiderCon, those rules hadn't been updated. As Nelson of Citizen Cider puts it, "The whole industry is geared toward beer, wine and liquor," with a hole in the legislative language where cider — arguably America's oldest alcoholic beverage — should be.
Since cider's alcohol level fluctuates with each vintage's sugar content, it's sometimes classified as beer, which is taxed at a lower rate than wine. When its abv (alcohol by volume) hits 7 percent or higher, cider is taxed as wine.
Muddling things further, when cider's carbonation levels rise above 39 percent by volume, the drink gets hit with a federal Champagne-like "luxury" tax of $3.30 per gallon — far higher than that imposed on beer or wine. Yet, as some cider makers have learned, American consumers prefer "fizzier" cider. The result is a Catch-22: When manufacturers keep their drink within federal CO2 parameters, they have to work extra hard to market a "still" product. When they don't, they get hit with extra taxes that increase the cider's price and cut into margins.
The third CiderCon this past winter — attended by 300 cider makers — saw two breakthroughs on this policy front.
First, participants decided formally to band together as the United States Association of Cider Makers (USACM). Second, they finally managed to jumpstart legislation to change the tax code. Last month, Sen. Charles Schumer (D-N.Y.) introduced the CIDER Act — the acronym stands for Cider, Investment & Development through Excise tax Reduction. Its aim is to "modernize the definition for hard apple and pear cider," as Schumer's office puts it, by increasing the permitted alcohol level to 8.5 percent and the permitted CO2 levels to a European Union standard of 6.4 grams per liter.
By most accounts, Wood was instrumental in needling the senator to write and introduce the legislation. (A rep for Vermont Sen. Patrick Leahy says that the senator helped co-author the legislation and will co-sponsor the bill.) "You can't build a business on the assumption that you can dance on the edge of federal legislation," Wood says. "If you want this industry to grow, you need to take away the luxury tax that is the nub of the law. We've been working crazy hard on this."
In Europe, Wood points out, hard cider has long been a staple of bars, restaurants and home kitchens, and carbonation levels may be much higher. Changing the law in the U.S. will enable domestic cider makers to compete overseas, as well as granting them greater freedom of expression, Wood points out.
The code change could be a boon to tiny-but-growing producers such as Whetstone CiderWorks, the 2-year-old company in Marlboro, Vt., run by husband and wife Jason and Lauren MacArthur. Jason MacArthur began making cider after a trip to study wine making in France. "When he came back [to Vermont], he realized that this wasn't a great place to make wine, but there was this rich tradition of making cider," explains Lauren MacArthur.
After turning out their own batches for years, the couple went commercial in 2010 with their first 400 gallons of cider. Both still have full-time jobs — he's a carpenter, she's a stay-at-home mom. In their basement, they turn apples from Scott Farm in Dummerston into a quartet of sparkling ciders that have the dry, biscuity, nutty qualities of Old World white wines and Champagne.
In fact, the MacArthurs are currently working on a cider using the méthode champenoise, the traditional Champagne-making technique that involves aging the cider sur lie, or on its spent yeast, to add another layer of flavor.
"It's very dry, and it's just got that lovely Champagne quality," says Lauren of the cider, which will probably be released this summer.
And it will almost certainly get hit with the Champagne tax. "People expect carbonation and are disappointed by low levels," she says. "[The tax] is frustrating and sort of a bummer."
The legislative and organizational efforts of USACM have united small producers such as Wood and Nelson with bigger ones such as Middlebury's Vermont Hard Cider Company, which makes Woodchuck. "It's taken time to figure out that we can actually work together," Wood says. "It's something like the guy who makes a few barrels of triple IPA talking to Anheuser-Busch and finding out that we really like each other."
Vermont Hard Cider Company is experiencing its own meteoric growth, which was 25 percent per year even before its multimillion-dollar sale to Ireland- and UK-based C&C Group last fall. Regardless of size, "It's important to get our common goals together," says Dan Rowell, the company's CFO and board member and treasurer of USACM.
Rowell also offers some perspective on the cider industry. "Right now, it is two-tenths to 1 percent of the beer market in the U.S. We're hoping to go from tiny to small," he jokes. "Cider could reach 1 percent of the beer market someday."
At Farnum Hill, Wood says he's been making 15,000 gallons of cider per year "forever," and that number probably won't change. "I don't want to grow, particularly. I'm still trying to make sense of an orchard," he says. "But we can't put stuff in a bottle fast enough."
As his market continues to spread from state to state, Wood suggests he might tinker with price. "We're examining prices for our kegs in New York, in Boston," he says. "It's hard, though, because people who love your stuff might not be able to afford it anymore."
Meanwhile, back at Citizen Cider, the Friday-night tastings have expanded to several nights during the week, and the owners have added a cider fermented with blueberries, another with cranberries, and yet another flavored with hops. They've built a larger production facility at Happy Valley Orchard, too.
The growth "does feel fast sometimes," Nelson concedes. "We're opening up to the thrill of it, but we're still figuring it out as we go."
The original print version of this story was headlined "Pressing Forward: As the demand for hard cider surges, the industry organizes"