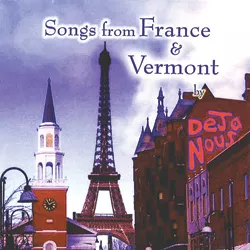 (Self-released, CD, digital download)
In his 2005 review of Deja-Nous' debut album, The Romance of Paris, then-Seven Days music editor Casey Rea openly committed a critic's taboo: admitting he had no knowledge of the band's genre, in this case traditional French music. I'm sorry to say the breadth of knowledge on that score has hardly expanded in the paper's music department since. Like Rea, I'm not well versed in the nuance or history of French music. And I recall little from middle school French classes — je suis désolé, Madame Day! However, also like my predecessor, I've found my Franco-philistinism is not at all a barrier to enjoying the latest from the Vermont-based musette quartet, Songs From France & Vermont.
As its title — and cover image of the Eiffel Tower superimposed on Burlington — implies, the album is composed of a mix of songs penned by French transplant and lead vocalist/guitarist Jean-Jacques Psaute and choice covers by the likes of famed French singers such as Jacques Brel, Edith Piaf and Charles Aznavour, among others. Psaute's bright originals coexist seamlessly with the likes of Aznavour's "For Me Formidable" and Piaf's culture-crossing classic "La Vie en Rose" — the latter of which many American audiences recognize thanks to versions by Louis Armstrong, Dean Martin or Bette Midler. That's a result of Psaute's sly, devilish charm and his band's polished and energetic performance.
The album opens on "Les Parapluies de Cherbourg," Michel Legrand's theme song from the Jacques Demy musical of the same name starring Catherine Deneuve. While few would confuse Psaute's gruff rasp with Deneuve's girlish croon, it's a pleasant and effective opener. And it segues nicely into the gentle lift of the first Psaute original, "Elle Tourne."
Psaute liberally sprinkles his own works throughout the record, and they are often standouts. "Les Conges Payes" is a rambunctious ditty highlighted by a nifty solo from drummer Dave Whittle. "Tracy" is built around a playful bass and piano progression courtesy of Peter K. K. Williams and Rob Guerinna, respectively. But as capable as his bandmates are, the focus is rightly on Psaute. While he's not an exceptionally gifted singer, his roguish delivery is irresistibly likable, tinged in equal measures with cheer and sadness. Nowhere is that more evident than on the acoustic album closer, "Jeremy," a song that is sweet and moving no matter what language you speak.
Deja-Nous release Songs From France & Vermont with a special performance at the FlynnSpace in Burlington on Saturday, September 14. For more info, visit theromanceofparis.com.